A lot of people are so used to just seeing the outcome of the work. They never see the side of the work you go through to produce the outcome.
—Michael Jackson
Step Back and Listen

We are rolling into the universally busy time for educators. These final weeks of the school year are intense. This week I listened Jacob Chastain interview Colby Sharp on the Teach Me, Teacher podcast. Colby said, "My students only have nine weeks left with our classroom library."
How many of us have started to count down? We feel pressure to do "all of the things," to make sure students have every experience possible to be readers and writers, to finish strong, and to get everything shipshape.
Take a breath. And breathe again. The pressure to hurry is not your friend.  
As I listened more to Colby and Jacob, the conversation shifted from making sure kids get to read books from the classroom library to making sure kids have access to books once the school year ends.
It is a subtle and wise shift. 
It is built on the belief that we have the responsibility to empower independence even after the school year ends. When we think about the future summer version of our students, what do we imagine? Do we imagine students who are going to the public library and reading every day? Do we imagine students who are engaging in writing projects? Do we imagine students who are creating content to influence others in positive ways? 
Or, are we so focused on "just getting through" that we hurry and rush and speed through the weeks leading to summer vacation? Do we think independence means students working on their own so teachers can get everything else organized? What might happen if we, like Colby and Jacob, take a moment to reflect on ways to be sure students are developing habits of independence and confidence in themselves as readers and writers that will last after the school year is over?  
This week we focus on slowing down and listening to students. The suggestions and ideas are offered by contributors who are on the front lines, just like you. They know the haywire interruptions and realities of field trips, spring programs, and PTO fundraisers at this time of the year. They know the pressures of testing and evaluations. 
And they know the importance of listening to students and adjusting our practices to keep in tune with their needs. This week we step back and share the importance of slowing down and listening so that students can learn and grow…more.
Shine on,
Ruth Ayres
Editor in Chief

Josie Stewart and Hannah Tills know the end of the school year is full, yet they take the time to reflect and celebrate what learners have built throughout the year by asking students to create a plan for a final celebration. This article was first published in 2022.
Jacob Chastain hosts Colby Sharp on the Teach Me, Teacher podcast. Listen in to part 1 of a powerful and inspiring conversation about classroom libraries. This podcast was first aired on April 10, 2023 
Jen Schwanke writes about the challenges of helping students develop conversational identities, providing prompts to help teachers reflect on their strengths and needs in fostering talk in classrooms. This article was first published in 2019.
Tara Barnett and Kate Mills use Monday Headlines to energize students after the weekend, and get a peek into what's going on at home. This article was first published in 2017.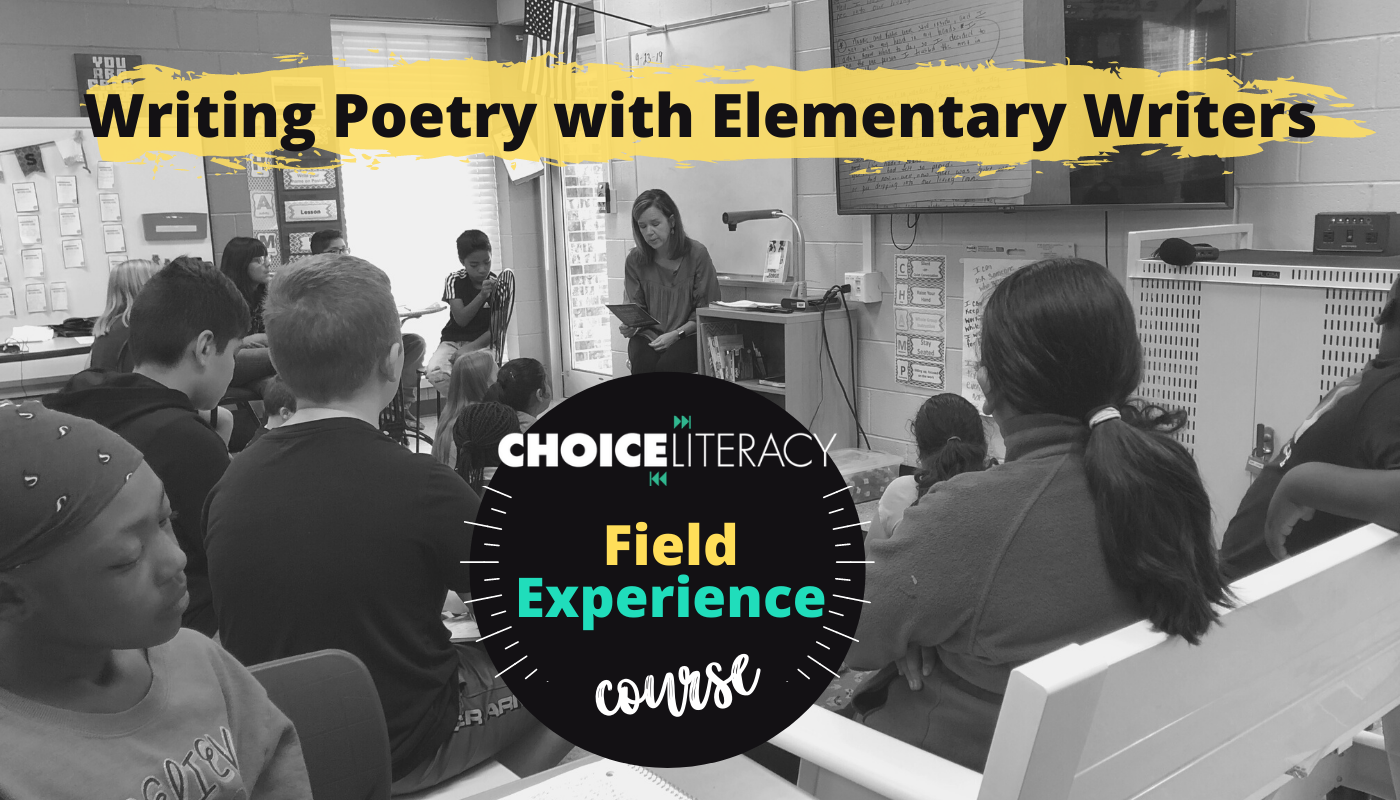 New members-only content is added each week to the Choice Literacy website. If you're not yet a member, click here to explore membership options.
In this era of pressure to perform, Vivian Chen suggests slowing down as an act of intentionality, equity, and meeting the needs of all learners.
Stella Villalba questioned her choice for silent writing time when she began listening to students. In this thought-provoking article, Stella gives direction in how to meet the needs of all students—those who need time to talk and those who need a quiet writing space. 
In a QuickTake video, Ruth Ayres shares the importance of giving students choice when planning their writing projects.
In an encore video, Gigi McAllister helps fourth-grade reading partners evaluate their success and areas to work on in their partnership.

New members-only content is added each week to the Choice Literacy website. If you're not yet a member, click here to explore membership options.
Helping students tune in to each other is an anchor for building classrooms where caring is common and where, as a result, learning blooms. Suzy Kaback gives suggestions for creating conditions where students can get to know each other more throughout the school year.
Curriculum director Inga Omondi spends a lot of time in meetings. To make connections, remember next steps, and stay organized, she keeps a journal with all of her meeting notes. 
How are you using your meeting minutes? In this encore article, Jennifer Allen discovers they can be a surprisingly useful tool for building common language and goals across grade-level teams.
Quote It:
A good leader must hate the wrong thing more than they hate the pain of doing the right thing.
—Angela Jiang

That's all for this week!