A few years into our teaching career, we came across the idea of using time on Monday mornings to have our students tell stories from their weekend. The idea was that most of us could use a slower start on Monday mornings and that there's value in building community through regularly sharing and listening to one another's stories. That's what many of us want to do after a few days away from one another and a busy weekend, right?
We were familiar with using storytelling as a way to rehearse stories before drafting, but had never thought of doing it regularly like this. We decided to try devoting some time each Monday morning to "Monday Headlines" to see if it felt worthwhile in our class. It did; we've carved out time every Monday morning ever since.
We begin Monday Headlines on the second or third Monday of the school year, and schedule time for it as early as possible in our day. Our preference is to start our Monday mornings with it, and it takes about 20 minutes in the beginning.
Getting Started with Monday Headlines
We follow the same process for Monday Headlines every week, so after a few weeks the students are able to start independently: They know what's expected and can carry on smoothly without us if we happen to be out on a Monday. After a month or two, the process takes about 10-15 minutes from start to finish.
Here's our process:
Students make a list of story ideas from their weekend in the back of their notebooks using the phrase "The time when . . . and . . ." Students begin this as they come to the carpet, and work for the first few minutes as we're waiting for everyone to join.

Students choose one of those story ideas to be the week's Monday Headline.

Students write their Monday Headline on a sticky note. If my story idea in my notebook was "The time when I was getting something out of my car and I slipped on the ice," my headline on the sticky note might sound like, "Woman slips on ice by her car." Over time, we'll give some tips on writing stronger headlines and have students share their headlines so that we can emphasize different things their classmates might want to try on their own.

One of us tells our Monday Headline story to the class.

Three different classmates give us feedback so that we get a total of two pluses and one wish for our storytelling. In our classroom, compliments on our writing are "pluses" and things we'll want to continue to do. Wishes are more critical feedback, suggestions for our writing—something we're not doing yet and could try or something we've done just a little of but would benefit our writing if we did more. We always start with the two pluses before sharing the wish. Sharing compliments as a whole class in this way gives our students a chance to practice giving and hearing feedback and allows us to model that there are always ways in which we can grow and improve. Welcoming feedback is one way to help us do that.

Students tell their Monday Headline to their partner.

Before switching storyteller and listener roles, the listener gives the storyteller two pluses and one wish.

Once both partners have had a chance to story-tell and receive feedback, we reconvene as a class for one student to tell their story to the class. Three different classmates give feedback to this student, so that the student gets a total of two pluses and one wish.

For homework Monday night, our writers write their Monday Headline story in their writer's notebook. We remind them that their written story will be even stronger than the one they just told because they've practiced it and gotten feedback on it. We also ask students to use their partner's pluses and wish to support their writing of the story that night.
The Benefits of Monday Headlines
Sharing stories is, quite simply, one of the most authentic ways to grow closer to others. The weekly ritual of listening to and telling our stories helps us know one another better. It's valuable for our students to hear us tell stories from our lives outside our classroom walls, and equally valuable for us to listen in as they tell each other their stories. It's important to us that our classroom community be positive and that everyone feel known, and Monday Headlines allow us to be intentional about that across the year.
Each year, at least half of our fourth-grade students' on-demand narrative writing pieces from the beginning of school are written as summaries. You know the type of writing we mean: They tell the story instead of showing it. Without fail, then, one of our biggest goals for our first unit of study, usually personal narrative, is to move our students from writing summaries to writing in the moment. Monday Headlines builds this skill quickly and naturally.
Narrative writing seems to be emphasized a little less every year, even though working on narrative craft can transform all types of writing. Focusing on telling and writing personal narratives every week, regardless of the genre our class is studying and writing in writing workshop, gives our students ongoing practice with the narrative work that we launch in September. It becomes much more of just what we do as writers, because they have the chance to write in this genre on a weekly basis.
Building Oral Storytelling Muscles for Struggling Writers
We're sure that you have writers, like we do every year, who have lots of stories to tell but struggle with the actual pen-to-paper part of writing. Monday Headlines are important for these students because it gives them a chance to practice the narrative craft moves orally, and to build confidence and familiarity with the work so that it transfers more easily to writing. The oral rehearsal offers some of them enough support to be able to write more successfully afterward. For others, being able to orally tell a story well gives them a boost of confidence that they're lacking in writing workshop because the physical part of writing is hard for them; Monday Headlines gives them the chance to feel like the writers they are inside.
Here are a few tips if you want to try Monday Headlines.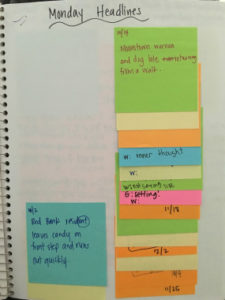 Keep a page for Monday Headlines in the back of the writer's notebook. One of the very last pages in the back of our students' writer's notebooks holds the sticky notes from every week's Monday Headline. We have students put their note on this page after telling it to their partner. Every sticky note has the date and the headline, and eventually will include a goal they set for their storytelling that week and their partner's wish. Having the page at the back of the notebook makes it easy to find; there's no flipping to a random spot in the middle of the notebook that gets lost as time goes on.
Create Monday Headline partners. Over a few years, we've evolved from having our students story-tell to whomever they sat next to on Monday mornings to assigning Monday Headline partners. We use partners in all subjects across our day and use them differently—in literacy, we have two different long-term partners for reading and writing. In math, science, and social studies, we have more flexible partnerships. We eventually decided to assign Monday Headline partners for a few reasons:
It eliminates anyone feeling excluded from a partnership, which can happen anytime students are choosing their own partners.

It gives a chance to pair students purposefully.

It feels good as a writer to have someone who knows you well and sees and encourages your growth across time.
We assign these partnerships so that no one has a Monday Headline partner who is the same as their reading or writing partner so that students have a chance to work with different classmates and hear different voices. We wait to create these partnerships a few weeks into Monday Headlines so that we get a sense of what different students need. We might pair a student who struggles with coming up with ideas with a classmate who easily thinks of story ideas. A student who story-tells in summaries can be paired with a student who is able to tell stories bit by bit as if they're happening, so that the summarizer is immersed weekly in what strong storytelling sounds like.
Develop a rubric for written Monday Headlines that grows over time. A few months into writing Monday Headlines as Monday night's writing homework, we introduce the rubric below. We show one row each week, so that it takes five weeks from the Monday we first introduce it to the Monday the students have seen the entire rubric.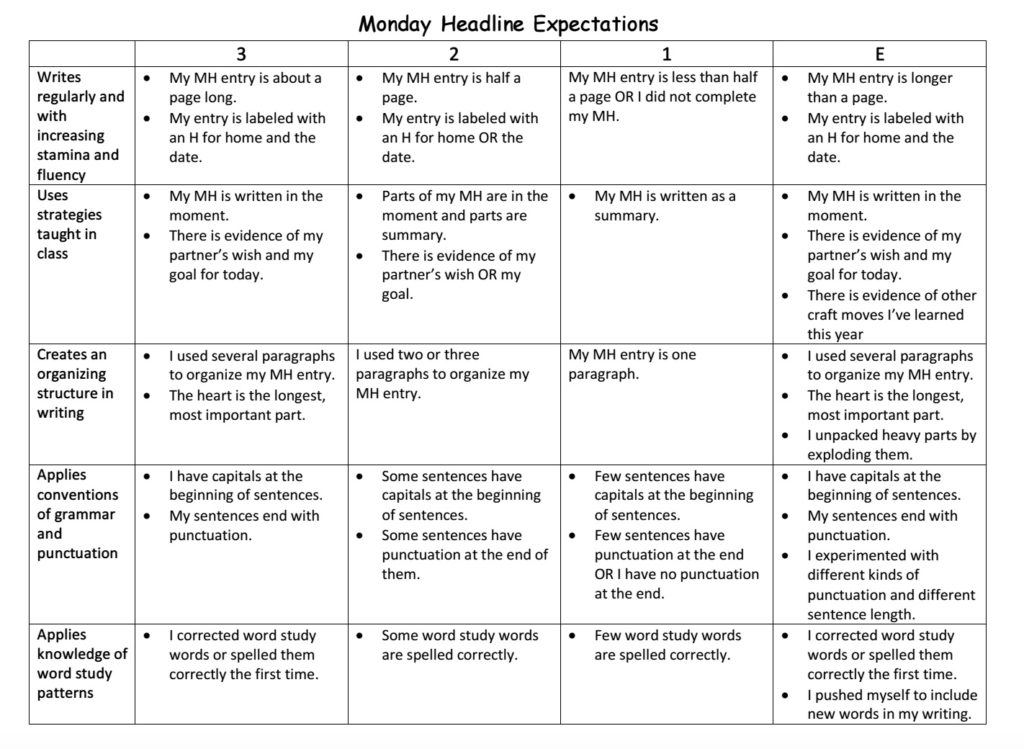 A few notes about the rubric: "MH" is our class's abbreviation for Monday Headline. We have a standards-based report card, and our grading scale is E, 3, 2, 1, with E being "exceeds expectations," and 3 meaning "meeting expectations." We put E at the end of our rubric because our expectation would be first that everyone work to being a 3; we want the E to seem separate. Each row is a different writing standard from our report card (though not all of the writing standards are on this rubric; we chose the ones we wanted to focus on for Monday Headlines).
As we introduce each row of the rubric to our students, we show it to them as they're setting up their notebook page for that night's writing. The next day, before they share their Monday Headline entry with their writing partner, we show them the row again. We ask them to reflect on how their writing went last night for that category and to give themselves a 3, 2, 1, or E and write it above their writing. The following week, we'll remind them of the row they've already learned about and then reveal the next row, having them reflect on both the next day. We emphasize the importance of outgrowing ourselves and that we shouldn't be content to stay in the same place for multiple weeks.
Once all five rows have been introduced to students, we post the rubric on our class homepage and send a copy in an email to our students' families along with an explanation of how to use it to support students' weekly Monday Headline writing at home. Our suggestion is to choose two rows at a time to focus on so that it's less overwhelming and students can be more thoughtful in what they're trying to do in their writing.
Write down goals and wishes on Monday Headline sticky notes. Another thing we'll do once Monday Headlines are up and running and seem routine for our students is ask them to set a goal for their storytelling and record it on their Monday Headline sticky note. We'll ask them to share their goal with their partner before they story-tell so that their partner can listen for it (and ideally use it as one of the pluses they give). Recording their goal along with their partner's wish gives them some concrete things to focus on as they write their Monday Headline at night, and also reinforces our classroom expectation that we always have things to work on and grow toward.
Time will have to be carved out for Monday Headlines, but we've found the benefits of this weekly ritual are well worth it. Community is built around the weekly sharing of stories, and beginning by sharing the stories orally helps more students enter it in a way that helps them feel successful.