Poetry is the mother-tongue of the human race.
—Johann Georg Hamann
The Color of the Sky

I answered the phone and Jordan, my senior-in-high-school son, said, "Mom! Look outside. You won't want to miss the moon." I stepped out the front door. 
"It's a full moon," I said. "That's a fantastic color of orange."
"It's the color of promise," Jordan declared. "And it's huge! I didn't want you to miss it," he said before hanging up.
A few days later my daughter Hannah FaceTimed me from Southern California where she is stationed as a marine. "You have to see this view, Mom," she said. She flipped the camera. "The mountains to one side and the way the road cuts through the rocks…It's amazing." 
"The sky is super," I said.
"I wish you were here to see the color. You might say it's cotton-candy-and-baseball-game comfort. I didn't want you to miss it," she said before hanging up.
The next day my youngest son, Sam, opened the door and called, "Mom! Come to the back deck. You have to see the clouds."  
I went outside, and sure enough the clouds were breathtaking. The sky was alive as a thunderstorm rolled in, the clouds churning and twisting with rich colors of charcoal and sharkskin and curiosity.  
We stood together on the deck, and Sam said, "I'm glad we didn't miss this. It's like the sky is angry and the color of turmoil." 
"That's a good one," I said in reference to the way he named the color of the sky. 
I've been naming the color of the sky for several years. It's a challenge I've given myself: Pause long enough to notice and name the color of the sky. I didn't realize my kids had absorbed this practice, too. 
It's poetry—learning to pause and notice and name the color of the sky. It's poetry that has sneaked into the fibers of our lives. It wasn't something I set out to do. (I'm still a little surprised that in one week all three of them took time to connect with me about the way nature was striking to them.)
There was a time in life when I claimed to loathe poetry. It didn't make sense to me. It seemed silly and a waste of time. I'm grateful for growing up. And I'm grateful for this week's content, because it is full of powerful and transformative practices. Maybe if my younger-self had read these articles, I wouldn't have missed so many opportunities to be open to the power of poems.
I'm struck by the way simple invitations can transform hearts and minds. Poetry is organic and naturally fills the spaces in our lives with goodness and understanding and connection. This week we share articles about infusing poetry into writing and reading experiences for kids—plus more, as always.
Shine on,
Ruth Ayres
Editor in Chief

Poetry can be the glue that holds many virtual classroom communities together. It works for quick morning meeting openings, transitions, or even a bit of laughter when energy is flagging. Cathy Mere shares her favorite poetry resources for remote learning. This article was first published in 2020. 
David Pittman delights in a student's enthusiasm for poetry, leading him to reflect on how teachers often need to overcome their own negative history with poems to spark student love of the genre. This article was first published in 2018. 
Jillian Heise uses the lowly paint-chip board to inspire poetry in her middle school students. This article was first published in 2015.
 In the spring of 2020, children's poet Amy Ludwig VanDerwater offered a daily notebook chat to help teachers and students nourish their notebooks. Throughout the month of April, she offered inspiration for writing poetry. Amy curated all 72 chats as a phenomenal resource for teachers.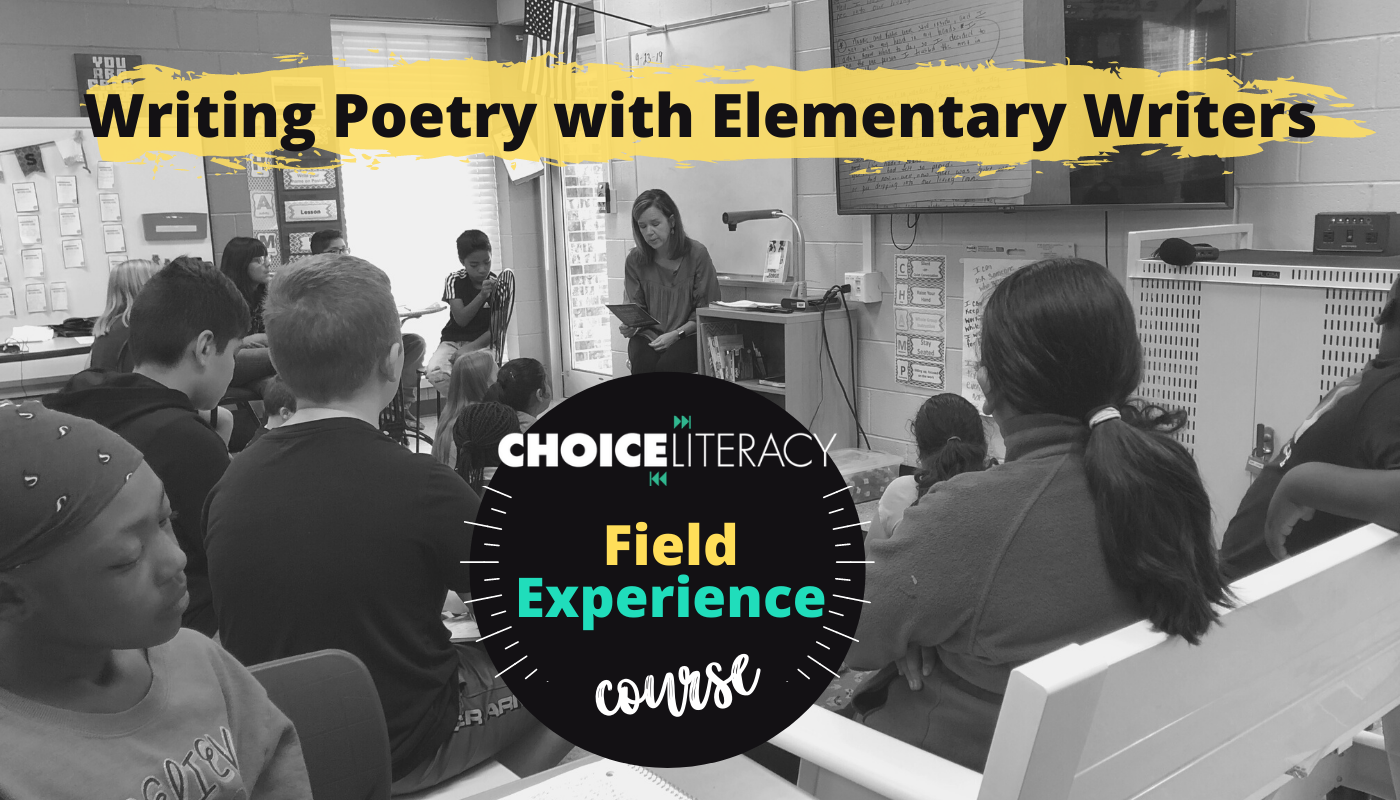 New members-only content is added each week to the Choice Literacy website. If you're not yet a member, click here to explore membership options.
Mandy Robek delights in the surprises that emerge as her students read, write, and share poetry.
Gretchen Schroeder offers three poetry writing activities to take the pressure off of the writing process by using another poet's structure and/or words as a starting point. You'll be amazed by how deep and personal the resulting poems can become. Download a PDF for students to collect lines for a cento poem. 
In a video, Christi Overman introduces onomatopoeia to her second graders in this brief minilesson. 
In this encore article, Tara Barnett and Kate Mills show how to infuse poetic techniques into writing other genres.

New members-only content is added each week to the Choice Literacy website. If you're not yet a member, click here to explore membership options.
Joanne Emery lets poetry be her guide when writing reflective notes to teachers after spending time in their classrooms. This creative approach to feedback softens hearts and opens doors for conversations.
 In a Coaching Minute, curriculum director Inga Omondi understands the tension that can build in meetings. She offers advice for instructional coaches on what to do after a tough meeting. 
In a PD2Go Gretchen Schroeder encourages teachers to make time for the things that are important. For her, it was poetry, and she outlines how she created a weekly poetry ritual in her high school classroom that enhanced the curriculum.
Quote It:
Raise your words, not your voice. It is rain that grows flowers, not thunder.—Rumi
That's all for this week!