It's close to the end of the year.  We are reading aloud a powerful book, The One and Only Ivan
by Katherine Applegate.  The students are listening attentively as I read the book, and they are also jotting down their thinking in read aloud notebooks.  I notice that Ben is sketching pictures of important parts of the story, Kathleen is making a list of bullet points to track the key events of the story, and Sam is webbing out what he learns about the different characters. Evan is writing down inferences about the characters, and supporting them with evidence from the text. Tommy is writing down favorite quotes and jotting his thinking about them, and Madison is tracking amazing vocabulary and figurative language.  I see other students doing several different combinations of the things mentioned above.  I marvel at how far each of them has come this year in their ability to think about text in deeper, meaningful ways and share that thinking via their read aloud notebooks.  I realize we have worked very hard this year to become critical, independent thinkers while reading.
In the Beginning
The productive thinking I saw in the students' read-aloud notebooks at the end of the year was not in place when school started in August.  Much of their early thinking was surface level, with no diving into deeper meaning.  Many students had no idea what to do when faced with a blank page and asked to track their thinking about a book.  I needed to model frequently for students in the beginning of the school year.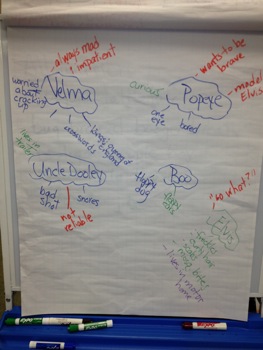 Our first read aloud of the year was The Small Adventure of Popeye and Elvis
by Barbara O'Connor.  Each student had a composition book they labeled "read-aloud notebook."  I kept a chart pad near me during our read aloud time daily where I displayed my own thinking for the students.  I shared with them that I would be thinking in a variety of ways about our read aloud. If one of my ways helped them think more deeply about the text, they were welcome to try it along with me.  If not, they could try something else that would foster more thinking.
After a week or so modeling my thinking about our read aloud and encouraging students to try their own independent thinking as well, I began to ask students how they were using their notebooks to help them think more deeply about our shared book.  We spent one entire read-aloud block on this conversation, and it was well worth every minute.  Students had some great ways of tracking their thinking.  I made sure to capture those ideas on an anchor chart, so students would have a visual aid to refer to at any moment during our read aloud time.
A Month Later
For our next read aloud, I wanted to scaffold my students' thinking in different ways to push them to be more independent and thoughtful when using their read aloud notebooks.  We were reading Capture the Flag
by Kate Messner.  This time I didn't visually model my thinking, but I continued to do some think-aloud work as we read.  I relied more on students to brainstorm what might be most useful to them as a reader/thinker.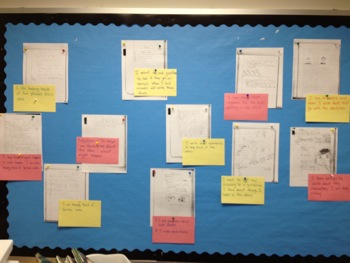 Two weeks into our read aloud, I captured some of their thinking in two separate ways.  First, I had students put post-it notes on sections of their Capture the Flag
thinking in their notebooks, and then copied those for each student.  I handed the copies back to the students, and asked them to write a short blurb on an index card to explain what they chose to do and how that thinking strategy helped them understand the story better.  The students shared these, and then they were placed on a bulletin board to serve as visual reminders of the different ways thinking could be recorded in their read-aloud notebooks.  The quality of thinking in the notebooks dramatically improved after this sharing session.
A few weeks later, I asked students to take an even bigger risk by standing in front of their classmates and share parts of their notebook on our document camera.  Not everyone was willing to take this risk, but as a class, we learned so much from those who did.  It was a powerful activity that allowed us to notice how much richer and more thoughtful students' thinking had become.
Continuing with Read Aloud Notebooks
As the year progressed and we shared a wide variety of books and authors in read aloud, it was clear that different books motivated different thinking. No student captured the same type of thinking the entire year. There was a definite evolution of thinking in our classroom.
I have used read-aloud notebooks for several years now, and am continually refining their uses.  I want to help students move from point A (beginning of year examples) to point B (my observations during The One and Only Ivan
) to whatever leads them to be quiet, confident, thinking readers in a community that depends on writing as an essential tool during read aloud.  What a wonderful tool our read-aloud notebooks have become to help us achieve that goal.
Helpful Hints for Using Read Aloud Notebooks in the Intermediate Grades
1. Share models of read-aloud notebooks from former students, or if this is your first year using a notebook, model some entries of your own.
2. Instead of "telling" students what to do in their notebooks, allow them to discover possible ways of thinking, and then share with their classmates.  Student models are so powerful.
3. Have students share using a bulletin board display with copies of their work. I frequently have them share using our document camera.
4. As students share, it is a great idea to list their ideas for how to use their read-aloud notebooks on an anchor chart to display in the room.
5.  For organizational purposes, I buy stick-on file tabs to help students separate their notebooks into sections for the different books we read.  Each time we begin a new read aloud, they mark that page in their notebook with a tab, and title it with the book name.  This helps organize our class read aloud history.