Everything I know I learned from dogs.
                                                                  Nora Roberts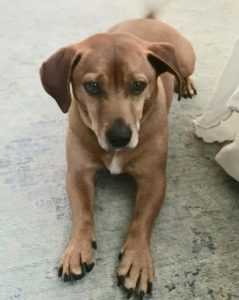 I always imagined my dog Ranger would be a therapy dog. I pictured him curled up next to someone in a hospital bed or lying next to a child as she reads aloud. However, there was one thing standing in the way of Ranger becoming an official therapy dog: the item on the therapy dog test titled "Leave It."  For the Leave It test, Ranger needed to approach a person sitting in a wheelchair. The person would bend down, hold out a chicken nugget and say, "Hi doggie. Would you like a treat?" Yes—the treat was a chicken nugget. I could command Ranger to leave it, but I could not pull on his leash. Ranger is a smart dog. But resist a chicken nugget? No way.
We practiced. Neighbors young and old came to my house, sat down, and offered Ranger a chicken nugget. Time and time again, Ranger snatched at least one nugget during each visit. We practiced in our house, the neighbors' homes, and in the yard. We practiced with strangers in Starbucks and we practiced with people at the pet store. Things slowly began to change, because no matter where we went and who had the chicken nugget, the task was the same. LEAVE IT.  When it was time for the certification test, Ranger saw that chicken nugget in the man's hand, and as soon as I said "Leave it," he sat down.
Watching Ranger made me think about the role of practice in learning. When I learn something new, I need to do it over and over again. More important, I need to alter my environment and circumstances.
When I first learned to drive a stick-shift car, I didn't just practice in the parking lot. I started there, but then I drove on hills and busy neighborhood streets. I drove in stop-and-go traffic and on the highways too.When a child has difficulty learning to read, do we give them opportunities to practice in different circumstances and environments?  Do they read in the busy classroom with students all around, or do we pull them into a quiet room? Do they get a chance to read by themselves, or is there always a teacher or paraprofessional by their side?
I wonder how much newly learned skills might stick if we stayed the course a bit longer and practiced in different ways. Imagine a student learning how to cross-check the words and pictures and having lots of opportunities to practice. Imagine them trying the strategy in book after book written by different authors.  Now imagine them practicing the strategy when reading in the classroom, during partner reading, and even when reading to an upper-grade book buddy.
Teaching children to read is far more complicated than training a dog, but the experience can still help us think about how we can vary the environment and the circumstances learners need.  As I plan instruction for readers, I want to think about how practice doesn't mean only more. It can also mean variety. This week we look at ways to vary how you lead book groups. Plus more as always—enjoy!
Tammy Mulligan
Contributor, Choice Literacy
Tammy Mulligan co-authored It's All About the Books and Assessment in Perspective with Clare Landrigan. At work, you can find her teaching and thinking alongside elementary teachers and kids. On other days, she is in her garden, hiking in the woods, or hiding behind a pile of children's books. Connect with Tammy on Twitter @TammyBMulligan.


New members-only content is added each week to the Choice Literacy website. If you're not yet a member, click here to explore membership options.
Tammy Mulligan shares the importance of giving students choice and agency with book club tools to improve engagement and the quality of the conversations. 
Heather Fisher explains how viewing excerpts from the same video multiple times can help students in book clubs hone their conversation and reflection skills.
In this week's video, Andrea Smith checks in on a group of boys who are doing research into owl habitat, helping them organize their work and plans. 
In an encore video, Gigi McAllister helps a group of fourth graders evaluate questions for fostering good group discussions.

Lead Literacy now has a new home as the Leaders Lounge at Choice Literacy. We'll be posting the new content updates here in the Leaders Lounge section of the Big Fresh newsletter.
Shari Frost coaches a third-grade teacher, and in the process reflects on the challenges of literature circles and book groups where some groups are reading much shorter books and finishing more quickly than others.
New PD2Go: Previewing books for book clubs can make all the difference in the quality of the groups. This workshop and video features the work of Gigi McAllister and Stephanie Affinito, and takes participants through a sample "book tasting" to experience how to help students preview texts.
In this demonstration small group, Clare Landrigan guides first graders as they practice discussion skills around a common text.
There is an art to apologizing and it's something leaders need to master. Kristin Wong writes about apology misconceptions, as well as the push for women to apologize less.
Quote It:
Sometimes things become possible if we want them bad enough.
                                                                    T.S. Eliot
That's all for this week!