This year, inspired by Kelly Gallagher's "Article of the Week" activity, our seventh graders started reading a weekly nonfiction article. This weekly reading has many benefits, including building background knowledge, which was the initial purpose of launching this assignment.
As part of this weekly reading, students were asked to annotate the article and write a brief response to it. The first week's responses tended to summarize the central idea of the article. Although this helped demonstrate an understanding of the topic, it didn't show what students thought about the topic or how what they learned fit in with what they already knew—the synthesis necessary to reach a deeper understanding. It was clear that students were trying to produce the response they thought we wanted.
We needed to ask ourselves what we really wanted students to get out of this and not let it become a rote assignment where the most important part was a grade on a written response. Yes, it was important to be able to summarize what they had read as a step in building background knowledge, but we quickly realized that that wasn't enough. It wasn't enough to extract information that somebody else asked for. We needed students to engage with the text in a more meaningful way.
After reading Disrupting Thinking by Kylene Beers and Bob Probst, we were inspired to infuse new life into our article-of-the-week activity by incorporating some of our learning. Disrupting Thinking spoke to us in many ways, but perhaps one of the most poignant was considering how we help create responsive, compassionate, and responsible readers. These types of readers don't just extract information from a text because they're asked to find the main ideas or supporting evidence; they are awake to how a text makes them feel or challenges what they believe, taking a questioning stance. They read with the expectation that a text has the ability to change how they think. Those are the kinds of readers we wanted to grow in our classroom.
For our next article, about guns in America, we decided to slow down the process a bit. We modeled skimming the article and jotting down our prior knowledge about the topic, a strategy our students had certainly been introduced to but not one that we had noticed them applying. After we had modeled jotting a couple of bullet points, we asked students to add to our list with what they already knew.
A Student List of Prior Knowledge
Thinking about what they already knew, or thought they knew, about a topic prepared them for the annotations we would ask them to do next. We modeled for students how after preparing ourselves by thinking about what we already knew, we could better determine what was new or challenging to us. We modeled how we stopped to annotate when something challenged our thinking and then asked students to do the same on a sticky note as we read on. Here is a student list of prior knowledge.
A Sticky Note with the Annotating We Modeled
T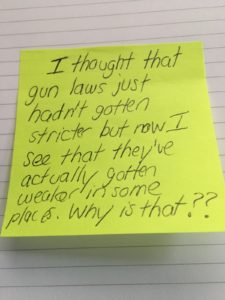 o give students different entry points into this work, we provided several sentence starters:
One thing that challenged my thinking was . . .
One thing that surprised me was . . .
Something that is making me change how I think is . . .
One thing that broadened my understanding was . . .

Here's a snapshot of student thinking after trying this strategy.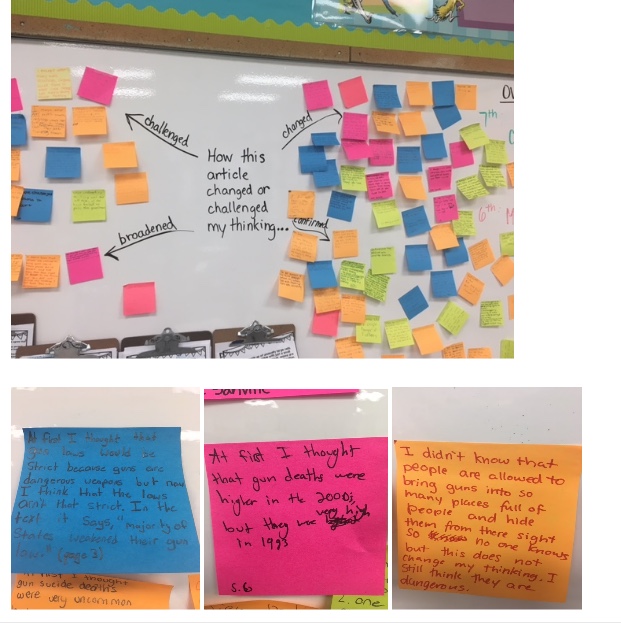 With this thinking collected, we began a whole-group discussion on the article and the topic. Instead of recounting a summary of what was read or saying just what they already knew about a topic, students were able to use the "challenged thinking" sticky notes to launch a student-led discussion that asked questions of the author's point of view, compared and contrasted differences in information, and pushed them to refer to the text.
Collecting and storing information is only part of the challenge in reading nonfiction. Students need practice synthesizing information as they receive it. Prompting students to actively look for the parts of a topic that challenge what they thought they knew helps them grow their understanding of a topic. It also gives them a launching point for the types of discussion that grow thinking.