This year, one of our district goals was to improve and increase our communications with families. We accomplished this partly by using Google Classroom and sending updates to families about our units and upcoming assignments. We also increased our use of Twitter as a platform to send quick recaps on the big things happening in our school lives. Although these platforms provided communication, all of the communication was coming from us and didn't require any input from our families. To remedy this, we decided to launch family book clubs.
Book clubs are something that most of us use in our classrooms, and our eighth-grade classrooms were no different. We chose a collection of books, each of which had some kind of ethical dilemma embedded in the story line, and let parents know our plan to invite them to join us as we read. In our book clubs we read the following titles:
Tuck Everlasting
Me Before You
Fall of Marigolds
The Help
Lone Survivor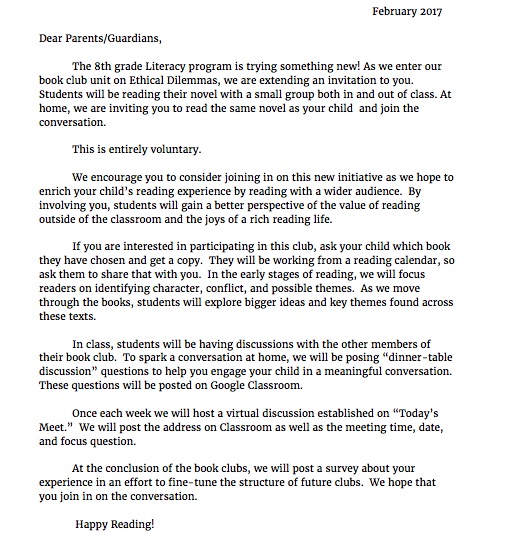 The response we got was enthusiastic, so we started to plan logistics.
Choosing a Platform for the Meetings
We had decided early on that our parent book clubs would use a digital platform. This was to ensure that we didn't exclude any families because of work schedules or child care needs. We also thought that some people might be more willing to voice their ideas on a digital chat than they would face-to-face.
After some debate about what platform to use, we decided on Today's Meet. The platform has since shut down, but you can find alternatives here.  We're sure that many other digital platforms could work just as well or better.
Choosing a Structure for the Meetings
We had a few goals in mind when we launched this project. The first was opening two-way communication. We also wanted to create a bridge for families to discuss literature with their children, if that wasn't something they already did. It was important that we show them how they might have discussions with their children rather than asking questions that appeared to be more like quizzing to see if they'd done their reading. We didn't expect parents to come to the discussions with their own discussion questions, so we structured it more like the book clubs that we participate in as adults. We created a list of "discussion questions" that could lead us down paths to think about the bigger ideas in our books and used them to moderate the discussions. We would post a question and then let the discussion begin. We'd stick with the question until it seemed to be exhausted and then pose another question. Although we had prepared questions, we let the conversation lead our discussion down other paths. This gave us enough structure to guide the discussion but not so much that we seemed to be quizzing our families.
What Went Well
Even though students didn't participate in the digital chats, we heard from students and families that they had rich discussions about the books. Disclaimer: Rich is our word choice, not our students'. But based on what they told us about their discussions, we would call them rich.
Today's Meet was easy for everyone to use. No one had trouble joining the conversation. Families appreciated the opportunity to be involved in a part of their students' school lives. They seemed all the more appreciative as middle school parents, since classroom visits and parent participation are minimal at this age, as is the amount of communication from their children. It was an opportunity for us to "show, not tell" parents how to discuss, instead of quiz, children on their reading.
What We'll Change Next Time
Although the initial response was enthusiastic, we didn't have as many participants as we would have liked. One thing we might try is having students personally invite their parents into the club along with our more formal invitation, which spells out the details. We may also try providing some thinking points ahead of time to help families set a purpose for reading.
Students were welcome to participate as well, but they didn't. Maybe we didn't make this as clear as we should have. Next year, we'll be sure to provide clarification, because the discussions would be richer with student participation and might also support greater parent participation.
We may add some links to videos, songs, and photos to our discussions to complement the novels we're reading. We're inspired to do this by Deborah Wiles's documentary novels, Countdown and Revolution, that embed different types of texts to support understanding of the time period.
Parent book clubs in middle school are a great idea for inviting parents to become involved in their child's reading life in a meaningful and supportive way. It also provides some common ground for conversations at home. And what parent can't use a little more common ground with their child?