No one is perfect—that's why pencils have erasers.
—Wolfgang Rieb

Learning to Receive Feedback

The team of teachers gathered around the table. They had hauled so much stuff into the room with them, we should have provided a wagon—in addition to some resources, their computers, and a good cup of coffee. They each had collected a stack of student writing from their classroom. Of course, you can't have planning time without books, so each teacher had also selected a few favorite picture books they thought might work as mentors in the upcoming unit of study.
Eager to have time to talk together and reflect on this group of young writers, it didn't take long for us to dig into the piles of writing. Teachers looked through the writing of their students and celebrate the growth beginning to shine in their pieces. It wasn't long until they were sharing some of the writing with their colleagues. We laughed over stories. We were wowed by some of the authors' messages. We noted the emerging craft moves.  
This time had been carved out to plan the next focus of instruction for this group of young writers, select a few mentor texts, and determine look-fors to guide minilessons, conferring, and observations. As we talked about what might be next, the conversation took an unexpected shift when one of the teachers inserted, "I'd really like my students to be able to have more ownership in their writing. I don't want to be the only one offering advice and suggestions." There was a bit of a pause as her colleagues weighed her words. I could feel the amens rumble in the room. Heads nodded and the group began to buzz.  
I hadn't expected this turn toward agency, but I knew our conversation was about to be next level. Within seconds this fifth-grade team was talking about feedback. They had been trying to build partnerships, but getting students to take feedback was proving challenging. 
As they talked, I thought about all the work we do to teach writers to give feedback. We teach kids the stems for their feedback. We teach them to give compliments. We teach them to make suggestions. I've seen teachers have students give two stars (two things you like) and a wish (something you think the writing needs). We do a lot to help students learn to give feedback, but do we teach them to take feedback?  
I left that day, unable to shake that very question. I love questions like these: the ones that stay in your head, spinning for days and days. 
This week we curated content about offering feedback in conferences (and inviting kids to take the feedback)—plus more, as always. 
Shine on,
Cathy Mere
Choice Literacy Digital Content Curator

Balancing small groups and conferences is essential for transferring learning from lessons and units, and it's one of the trickiest tasks for teachers. Dana Murphy explains how she works toward balance in her classroom, weighing everything from the timeline of the unit to the intensity of the minilesson. This article was first published in 2020.
Ruth Ayres explains why conferring records that stay with kids are useful for teachers. This article was first published in 2018.
How can we help students be more reflective in our classrooms, giving us the feedback we need to make them better places for learning? Heather Rader has suggestions. This article was first published in 2012.
Don't miss our NEW live virtual events. Join our contributors in a live virtual series to sustain your professional learning all school year and have access to the recordings (and additional resources) until June 30, 2023. These events will nourish your professional heart and provide practical ideas you can use now.
---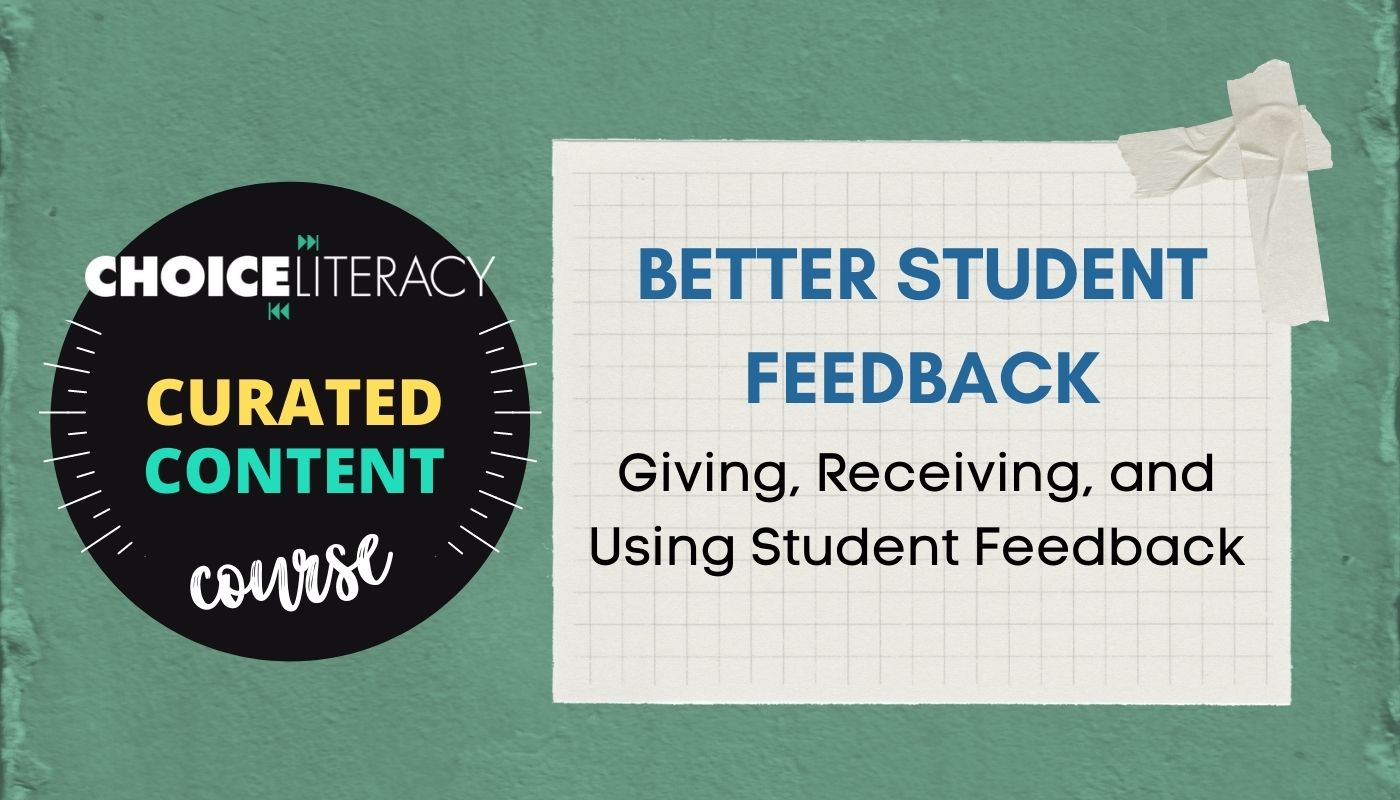 New members-only content is added each week to the Choice Literacy website. If you're not yet a member, click here to explore membership options.
Bitsy Parks opens her conferring notebook and shares powerful ways to use conferring notes to differentiate instruction for students in reading and writing. 
Tara Barnett and Kate Mills guide us in determining what to teach in a writing conference. Download a template to use for conference notes. 
Jodie Bailey shares the importance of conferring with students during math to reinforce what students are doing well and differentiate instruction.
In a new video, Melissa Quimby suggests listening in on students' conversations to find their interests. These tidbits will help you in building connections, recommending books, and encouraging writing topics.

New members-only content is added each week to the Choice Literacy website. If you're not yet a member, click here to explore membership options.
Ruth Ayres thinks about intentionally designing professional learning experiences to support transformational change by recognizing and lifting the heavy load many educators carry. 
In a new PD2Go we focus on uplifting student voices by pairing an article by Becca Burk and a conference with Dana Murphy. 
In an encore article, David Pittman explains the improv roots of the phrase "Yes, and . . ." and applies it to a coaching conversation that will lift professional conversations to a new level.
Quote It:
If you look at life one way, there is always cause for alarm.
—Elizabeth Bowen

That's all for this week!