Pay close, foolish, even absurd attention to things.
—Ian Bogost
The Art of Noticing
I am constantly trying to live an unhurried life. It's been a quest for most of my adult life, but I've only consistently attended to it for the past decade.
My default is efficiency. I like to get things done. I tend to stay busy. I move fast and think constantly. 
I have to remind myself to be still.
It is a frequent and necessary reminder in order to live the life I want to live—a life of awareness of the world around me and availability to encourage others.
For the past year I have been dipping in and out of Rob Walker's charming book titled The Art of Noticing. The premise of the book is that by noticing what matters to you, you can begin to discover what is important. It is stacked with invitations to notice different aspects of the world. It has been a delight to my creativity and a comfort to my soul. 
It is full of memorable quotes, such as these:
The one thing more than anything else, is learning to pay attention.—Robert Irwin

For anyone trying to discern what to do with their life: Pay attention to what you pay attention to. That's pretty much all the info u need.—Amy Krouse Rosenthal

Over the coming century, the most vital human resource in need of conservation and protection is likely to be our own consciousness and mental space.—Tim Wu
This week we look at mentor texts. As I was thinking about this week's theme, I was reminded of the importance of slowing down to notice. Mentor texts is a buzzword in literacy. Let's not fall into the trap of believing the experience of using a mentor text can be canned. It takes time to learn to notice and more time to allow the things we notice to be usable. I hope this week's content gives you pause and allows you to think in new ways about mentor texts. I know it did me.
Shine on,
Ruth Ayres
Editor in Chief, Choice Literacy
---
Ruth Ayres is the editor in chief of the Choice Literacy site and the director of professional learning for The Lead Learners Consortium in northern Indiana. Ruth previously worked as a middle and high school language arts and science teacher and a K-12 instructional coach. She is the author of Enticing Hard-to-Reach Writers (Stenhouse, 2017) and other books for teachers of writers. When not writing professionally, Ruth collects stories of adoption, faith, and whimsy. You can follow her at Ruth Ayres Writes or @ruth_ayres on Twitter or Instagram.
---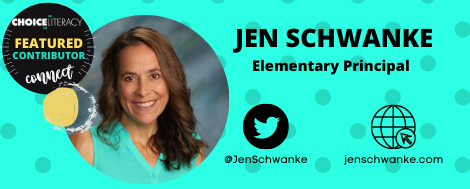 This month's Featured Contributor is Jen Schwanke. Jen has been an educator for more than 20 years, teaching or leading at all levels. She is the author of two books: You're the Principal! Now What? Strategies and Solutions for New School Leaders, and The Principal Reboot: 8 Ways to Revitalize Your School Leadership. She is an instructor in educational administration at Miami University and a doctoral student at The Ohio State University. She is a principal for the Dublin City School District in Dublin, Ohio. Follow Jen on Twitter @Jenschwanke or her website jenschwanke.com. Find all of Jen's articles and videos on the site by clicking here.

Don't miss the Choice Literacy Big Fresh podcast! You can find all of our episodes on the site or wherever you listen to podcasts!
Join the Choice Literacy Book Club! Stella Villalba selected the June pick. It is Hear Our Voice/Escucha Mi Voz compiled by Warren Binford. Grab a copy, and join the conversation using the hashtag #ChoiceLiteracyBookClub. 
It's Monday! What Are You Reading? is a weekly blog hop co-hosted by Teach Mentor Texts (Jen Vincent) and Unleashing Readers (Kellee Moye and Ricki Ginsberg). It's a great way to share what you're reading and get recommendations.
Jillian Heise discovers her students need more access to the mentor texts she reads aloud, so she develops strategies to get them to students. (This article was first published in 2015.)
Stephanie Affinito uses Instagram to stay on top of children's literature and deliver timely recommendations to teachers and children. (This article was first published in 2018.)
Featured contributor Jen Schwanke is taking over the @Choice_Literacy Instagram feed this week. Follow along for a glimpse into Jen's corner of the world in Dublin, Ohio.

New members-only content is added each week to the Choice Literacy website. If you're not yet a member, click here to explore membership options.
Bitsy Parks outlines how to select personalized mentor texts in order to have more ownership over the lesson and engage students.
Melanie Meehan unlocks a few craft moves in Before the Ever After by Jacqueline Woodson.
In an encore video, Aimee Buckner explains how she selects mentor texts for writing, as well as the importance of using writing by students and teachers in lessons. (This video was published in 2012.)
Deep Dive Course Gradual Release of the Primary Classroom Library: Bitsy Parks takes you into her primary classroom for a close-up look at how she organizes and then gradually releases the library to students over days, weeks, and months. She provides lesson tips, strategies, and templates to help you plan and make choices about when to introduce bins and browsing skills. You end the course with the information and resources needed to integrate instruction on how to use the library into your daily minilesson and conferring routines. (This course was created in 2018.)

Jen Schwanke gives advice to literacy leaders about organizing and humanizing books in a school book room.
Ruth Ayres offers reflection questions to guide teachers to consider the way their classroom libraries can be updated to continue growing readers.
Instructional coach Brian Sepe offers three reminders for facilitating a coaching conversation. Staying focused on action, clarity, and energy ensures the conversation will be fruitful.
Field Experience Course Picture Books and Older Students: The value of picture books with secondary students is often questioned. This field experience allows insight into the depth and power of picture books for adolescents.
Quote It:
Appreciate the random participation of others in our lives.
—Speed Levitch
That's all for this week!