I first heard the whispering of literacy coaching back in my very first year of teaching. The gifted and talented teacher worked with a few of my students each week, and as part of her position, would collaborate with teachers to lift the level of learning in the classroom as well. I adored these think-tank sessions and knew it was ultimately what I wanted to spend my career doing.
Eventually, I took my first position as a coach of the coaches . . . before I even knew exactly what a coach was. I ended up returning to school to research exactly what coaches did, why they did it, and how it affected teachers and students. Here's what I found:
Coaches have incredibly responsive positions, shifting and changing to meet the wishes and wants of the teachers and students they work with, and sometimes, those positions shift and change in ways that take coaches away from what matters most. But I found that the schools that had a clear vision for the coaching role and articulated that vision in a tangible way better protected the position over time. 
Much of my work as a coach of the coaches focuses on creating a vision for coaching, articulating that vision in a tangible way, and then offering teachers invitations into coaching partnerships that align with that vision and coaching ideal. And I'd like to invite you to do the same. 
First, let's consider a vision together. What would your ideal coaching position look like? How would you spend your time with teachers and students? What, according to the data, do your teachers and students need next to support teaching and learning? You can think through these questions in a few ways:
Create an ideal schedule for your day. Where would you spend your time? What coaching activities would you engage in? How would you feel at the end of the day?

Craft a short job description for yourself. Include only the coaching activities that matter most to you, your teachers, and their students. 

Create a six-word vision. If you could capture your coaching role in only six words, what would they be?
Once you have a clear vision for your coaching role, it's time to structure your work with teachers around that vision, better ensuring that your daily coaching actions are aligned with your core beliefs. A coaching menu or choice board can help you do just that.
A coaching menu or choice board is exactly what it sounds like: a listing of coaching activities inviting teachers into coaching partnerships. If we create a coaching menu based on our vision for the coaching role, we can ensure that our activities are focused on what matters most. 
So, take a look at your coaching vision and create a list of coaching activities that could help you reach your coaching goals. Individual coaching cycles? Book studies? Classroom demonstrations? Take that list and turn it into a coaching menu to offer teachers as a tangible invitation to work together. You'll find an example of a coaching menu below to jump-start your thinking.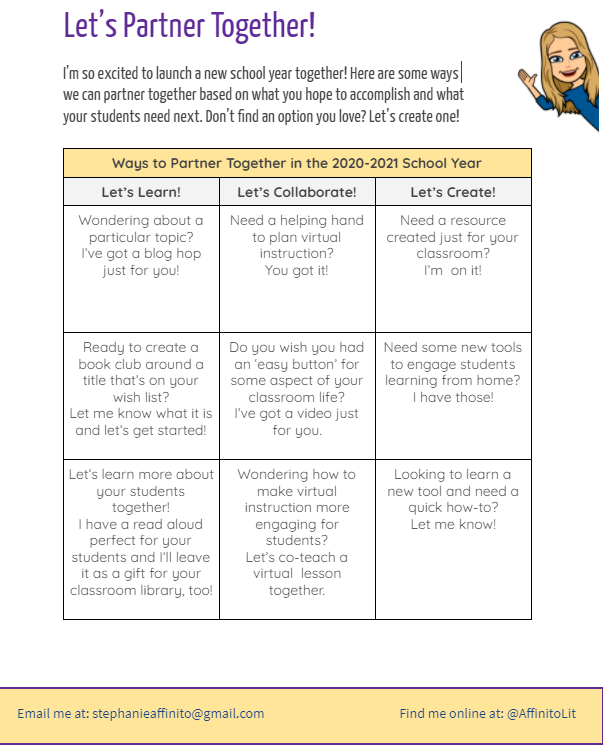 Next, it's time to share your coaching menu with teachers. Here are a few options:
Send an email to faculty, inviting teachers to browse the menu and see where your coaching could support their teaching. 

Present the coaching menu at the next faculty meeting, or visit grade-level meetings instead, for a more personal feel.

Offer voluntary, informal, drop-in sessions to discuss coaching options in more depth. Bring snacks, and keep it light and conversational.
Keep in mind that your coaching vision, and therefore your coaching menu, is a continual work in progress, always subject to change based on your work with teachers, the needs of the students, and the curriculum the world is handing us. Be open to feedback, listen to your teachers, and revise accordingly, collaboratively creating a coaching position that preserves what matters most, yet still responds to teachers and students.
Download