Five of us meet on a beautiful Pacific Northwest Saturday morning at a park that overlooks the falls. After we connect about our summers, I begin with an excerpt from Writing Alone and with Others by Pat Schneider.
"'Everyone is a writer,'" I read.
"You are a writer," I say to Heather. "You are a writer," I say to Rynelle. "You are a writer," I say to Jen. "You are a writer," I say to Katie.
"'When we write, we create, and when we offer our creation to one another, we close the wound of loneliness and may participate in healing the broken world. Our words, our truth, our imagining, our dreaming, may be the best gifts we have to give.'"
"Today is about you," I say as I finish.
"Oh good," Katie jokes, "because the whole summer has been about me."
We open by talking through what we could write about with the prompt, "If I wrote about __________ . . ." One writer wants to capture the stories of her family inspired by the cataloguing of over 2,000 pictures this summer. Another is inspired to see where the different settings of our marathon will take her if she lets her writing lead. We laugh in recognition when one says, "I'm just excited not to be interrupted."
Finding Our Place
We go our own way to write for an hour. Sun, shade, noisy, quiet—we all have our special preferences. In my opening journal entry I recognize the low-level anxiety of what an entire day of writing "should" produce. What if I end up writing nothing and the day is a total waste? I trust it won't be and try to put my fears aside to get something on the page.
As I'm sprawled on a bench at the top of a hill, my writing is interrupted from time to time by puppies, squealing toddlers, and intertwined couples. Each time, I pause and make a note. Who knows? It might be material at another point of the day. As usual, getting started is tough, but I am surprised when my alarm goes off, marking the end of the hour.
Meeting back at the picnic table, each of us choose, as Pooh might say, "a little smackerel" of something to read out loud. I've composed a rant that felt cathartic. The not-interrupted writer had short jots of thoughts until she finally came to her topic—and ran out of ink! I am touched by their images, word choices, truth, and openness.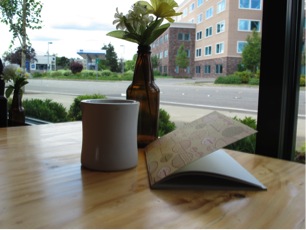 From earthy to urban we move to a coffee shop. After the hard-rock music is turned down for us and I'm chai-fueled, I am ready to write. I reread my last piece and start a new one. My fingers move a little faster and my thoughts flow. Again, I'm surprised when the timer goes off.
During lunch we discuss our final writing spot. The carnival in town will keep us from going to the waterfront as planned, so someone suggests the cemetery close by. We all agree. Taking off in five different directions we wander for longer this time, looking for the right tree, shade, or gravestone to pay our respects. I plop myself next to a gravestone with the phrase "Just a minute" in quotation marks. I'm flooded with wondering questions and end up writing a free-verse poem about this person I've never met: Chuck. At the end I feel satisfied that I've written something I hadn't even planned on. The writing in the end has taken me by surprise. Katie sums it up with humor: "There was something very fertile for writing here . . . Maybe it was the decomposing bodies."
We debrief the writing marathon over libations and salted-caramel truffles at the wine bar. We feel closer to one another and more sure of ourselves as writers. The clink of our glasses marks the crossing of the finish line.
Planning Your Own Writing Marathon
For those of you who appreciate low-prep, low-tech, high-engagement professional development, this event is for you. The prep involved sending out invitations, choosing a starting time and point, selecting a text for read-aloud, and showing up.
Here's how our schedule went:
9:00 Meet, connect, read aloud, discuss writing ideas
9:45 Independent writing time for one hour
10:45 Read writing to group
11:00 Drive to coffee shop, get beverages
11:30 Independent writing time for one hour
12:30 Lunch, read writing to group, drive to cemetery
2:00 Independent writing time for one hour
3:00 Read writing to group, debrief
4:00 Cross the finish line!
Norms in Place
During our ending reflection I pose the question, "Do you think our norms from our Saturday writing group came into play for how well this marathon worked?"
"Definitely," everyone agrees.
Here are the basic norms from our Saturday writing class:
Yuck is okay. We have the right to write badly.
No apologies for your writing when we begin writing. No exceptions to no apologies.
No talking during independent writing time.
What is shared in the group stays in the group.
Profanity in writing is acceptable, though it's always good to check with group's comfort level.
Give space for emotional moments. Don't touch or hug a writer unless invited.
Passing is always an option.
Asking for warm feedback only is always an option.
Be honest.
Use "choice" words in your honesty.
Three years ago now our group began with the belief that if we invested the time in ourselves as writers, we would become better teachers of writing. Time and again educators say they learned more about teaching writing by writing themselves than anything else they've studied. We may not have run 26.2 miles, but it's amazing what we can do with 26 letters.