I'll tell anyone who listens that the women who care for my own children are brilliant. Every afternoon, when I slip my shoes off, wash my hands, and step carefully into my son's infant room at his child care center, a sense of calm washes over me — an impressive feat given the children in the room range in age from four months to young toddlers.
The children's teachers talk to them in soft, lilting tones, engaging even the littlest babes in conversation.
"Baaa ba BAAA ba BAAAA," my son Clark babbles on, drool sliding over his chin and hands slapping wildly against the wind chime that hangs over the changing table.
"Oh really? Tell me more about that, buddy," his gentle teacher Ms. Marilyn encourages as she skillfully changes his diaper.  Clark continues to babble on, telling Ms. Marilyn all that's on his mind.
Three Simple Words
Sometimes, the simplest ideas are the best ones. Ms. Marilyn's three little words — tell me more — are words that have shifted not only how I speak to my own babies, but to my seventh graders as well. An early school year writing task underscored the power of these words. The second week of September, I worked with Billy on his reaction to Hilltop, a character in Roland Smith's Elephant Run.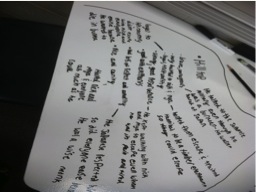 I sat side-by-side with Billy, studying the list he'd been stuck on, as he circled his marker around the whiteboard in scribbles of frustration, trying to elaborate on his ideas.
"Hilltop was important," Billy told me, doodling around and around as he avoided eye contact with me.
"Can you give me more details about that?" I asked Billy. He gave me a blank look.
Come on, Billy, I thought. You know the word DETAILS.  For goodness sakes — I had you in class last year!
"Uh . . . he just was important. Because he was really brave," he stammered. I breathed deeply.
"Can you tell me more about that?" I blurted, thinking of the phrase I'd adopted to help my toddler daughter sort through her own words.
"Well, yeah. I mean, Hilltop was really brave, because he talked to the Japanese, and then later on he helped the kids escape," Billy told me.
Not wanting to lose momentum, I asked Billy, "Can you tell me more about talking to the Japanese?"
"It was brave for him to talk to the Japanese, because they were the enemy, and he didn't seem to be scared of what could happen to him," Billy continued.
Billy's dry erase marker suddenly began to move systematically across the whiteboard, webbing out everything he was telling me, as I continued to prompt him with those three simple words.
What I discovered that day was that for Billy and many other students, phrases like "give me more details" or words like "describe" can often be inhibiting. I noticed that asking for details loaded Billy's brain up with another task, rather than helped him get to the root of what I was asking him to communicate in the first place. Although I know my students need to develop an agile understanding of academic language in order to read, write, speak, and think like readers and writers, when we're in the idea generation phase, these three little words help us accomplish our primary purpose.
Billy couldn't articulate exactly what he wanted to say about Hilltop, and the idea that he had to give details or description added a layer of complication to the task.  Asking him to simply tell me more gave Billy permission to let his ideas tumble from his brain — much like my son Clark and his changing table ramblings.  I found with Billy, and then with other students, that keeping my prompting simple and consistent empowered my readers to open their brains without overwhelming them with the task of unwrapping a complicated prompt.
Monitoring Understanding
After the time I spent with Billy, I continued to experiment with the power of "tell me more."  The next month, I spent time with students in their book clubs, and we discussed a chapter they'd just finished reading in The Giver
.
"It was confusing," Joe told me.
"Tell me more about that," I prompted him, even though I was tempted to ask him to show me right away what was confusing.
"Stuff is missing. She doesn't have descriptions about things," Joe continued.
I held back my temptation to try to jump right into the book and solve the problem I perceived, and instead answered, "Okay — tell more more about that."
"Well, the Giver transfers memories. There's no description."  I then felt comfortable prompting Joe more specifically.
"Tell me more about description."
"She doesn't say why the Giver transfers memories. Is he magical?"
Joe's confusion was not rooted in a literal misinterpretation. Instead, Joe had led me down a path to a conversation about why authors leave things out. This prompted me to guide the group's thinking about why authors might have gaps in information.
Had I prompted Joe more specifically by asking "Where are you confused?," Joe would have immediately tried to pinpoint a specific area of confusion. I would have tried to assist with that particular confusion, and I would have steered Joe away from the broader issue he was struggling to articulate.
Breaking Down the Walls
I've also found the "tell me more" prompt to be a strategy that with some practice and parental coaching, students can easily transfer between home and school.  Katie is a sweet, shy student who has trouble explaining her ideas and her needs, both verbally and in writing.  Her parents expressed in a conference this fall their concerns about Katie's challenges in advocating for herself, made messier and more urgent by the fact that Katie often needed more help than she was willing to show her teachers. She was so paralyzed by shyness that she struggled to say more than two or three words at a time, and was certainly too scared to raise her hand or approach a teacher.
Katie's parents and I decided that a little practice with talk would do Katie good.  Specifically, Katie's parents offered to read aloud with her each night and prompt her thinking with a familiar phrase — "tell me more."  Katie knew this phrase from working with me, and we decided that using the same gentle, non-intimidating approach at home would help Katie learn to expand on her ideas, giving all of us a window into her comprehension at the same time.
As I navigate a new grade level — seventh grade, after eight years of teaching sixth grade — and also begin to implement the Common Core, I keep thinking about how to make the work I do with my students more sophisticated. But the lesson I'm rapidly learning is that sometimes the most simple approaches are the most effective.