Around the holidays last year, we came across several articles about the political incorrectness of the movie Rudolph the Red-Nosed Reindeer and other holiday classics of our childhood. We were intrigued. We had watched these movies countless times, but had never thought about them through this lens.
Was Santa Claus really portrayed as a bully? (Spoiler alert: yes!) And more importantly, did the overall film suggest that individuals with disabilities are valuable only when their "disability" is useful to others? When we watched the movie again, we had a new lens that gave us a completely different perspective on the classic. We decided this lens might be useful for teaching students about theme.
The Challenge of Teaching Themes
Uncovering a theme is a reading skill that we are always returning to in school. It seems that we can never have too much practice uncovering the theme or themes hiding in a text. Finding the theme is finding the purpose of the text, the reason it was created. Theme is the crossroads where we can decide if our thinking has been confirmed, broadened, or challenged.
We decided that using the Rudolph the Red-Nosed Reindeer movie as a "text" in our classroom could serve multiple purposes. It offered a common text accessible to all of our students, it gave us an opportunity to teach kids about using lenses to uncover different themes, and it was a lighter approach to important literacy work at a time in the school year when it can be difficult for students to focus.
Getting Started
We placed students into groups based loosely on the work we had seen them do on theme both in their reader's notebooks and class discussions, giving each group a lens through which to view the film. The lens was written at the top of a large piece of chart paper using a format that would result in a "Top 3" list.
| | | |
| --- | --- | --- |
| Skill Level | Lens/Chart Title | Goal |
| Summarizing the text or a part of the text but not naming rather than naming a universal theme | Three Reasons that Differences Make Us Uncomfortable | Gives students a basic theme but prompts them to elaborate on it and pushes them to find support within the text |
| Using one word to name a big idea but not saying what the text is teaching about this idea. "This text talks about friendship and racism." | Three Things This Movie Teaches Readers About Differences | Readers are given a specific big idea and are pushed to think about what the text is saying about that big idea. |
| Readers are naming a theme but may need support in using more sophisticated language or making the theme more nuanced. | Three Things that Readers Can Learn from Rudolph | This prompt pushes readers to come up with multiple themes and to use sophisticated, nuanced language within the theme. |
As students watched the movie, we paused it every so often to give them a chance to jot ideas based on their lens. They did this independently, knowing that they would be returning to discuss with their groups around the chart paper at the end of the movie.
After watching the movie, students met with their groups and used their notes to decide the top three ideas that would fit on their list. They then determined how this idea was developed throughout the story, jotting parts of the texts down on a sticky note that supported each idea and putting it on the chart. In the end, each of the three ideas would be surrounded with sticky notes that could be moved around as students thought about the sequence of their ideas.
This process took us about two class periods, one to watch the film and another to do the group work. At the end of the second class, we had a gallery walk so each group could see the other groups' work.
What We Learned
This is the chart that one group made using the lens of "differences" as they watched the movie.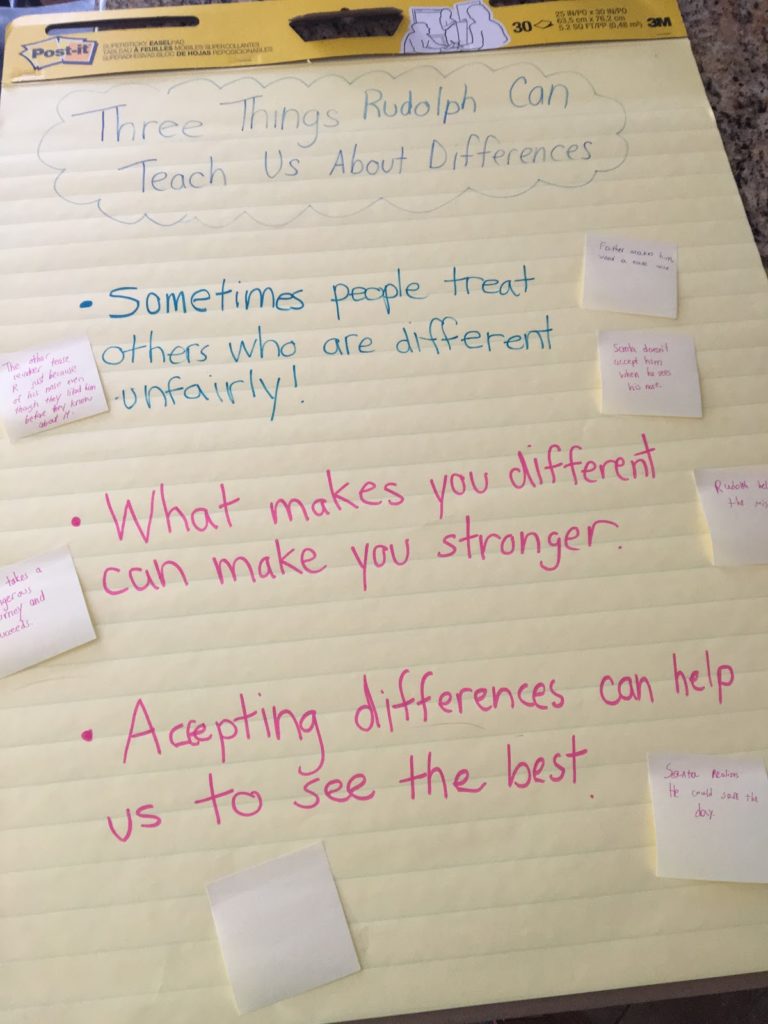 These sticky notes represent some of the evidence that students gathered to support their idea as they watched through the lens of "differences." Later, we could work on elaborating and explaining how the evidence supported their ideas.
The discussion, charts, and gallery walk demonstrated to students how any text, even a children's movie from popular culture, can be "read" through a critical lens to uncover themes that we didn't notice the first time around. We practiced important skills at a time of the year when our students (and we) are distracted by the excitement of an upcoming school break. Fitting authentic and challenging work into a tricky part of the school year is something we'll try again this year.