Last school year was my most challenging in terms of classroom management. I was faced with more students who had greater emotional needs than ever before—students neglected by absentee parents, students struggling with gender identity issues, students broken by low self-esteem. The choice between pausing instruction in an attempt to meet emotional needs and pushing instruction forward in hopes of providing temporary escape from emotional burdens consistently tripped me up. I reached out to our student services department for support. However, I quickly became frustrated, because getting support from student services meant students were missing entire class periods, leaving them even less connected with classmates, class instruction, and me—their teacher.
I was determined to come up with a plan for this school year. Although I knew I would meet a whole new set of students, with a whole new set of needs, I knew one thing would remain the same: emotional needs would sometimes interfere with student learning.
I found the answer when I was arranging my classroom at the start of the year. One corner was being used solely for storage. I easily found another home for the items that had been tucked away, unused, for the past year. I wanted to make better use of the space, and it turned out it was the perfect size for a single student desk and chair.
A partial wall made it an excellent time-out area—a sort of stepping-stone for students before seeking help outside of class, in student services. I began to imagine the corner as a space where students could choose to take a brief mental break before rejoining their classmates to focus.
Getting Started
The corner needed to be clearly marked. I wanted anyone entering my classroom to plainly see that a student sitting there was not being isolated as punishment. I also wanted the corner to feel more inviting than punitive. So, I created the acronym SITO, standing for Self-Imposed Time-Out, to capture the purpose and use for the space. I hung a banner with SITO on it, in large letters, and the words spelled out underneath in smaller letters.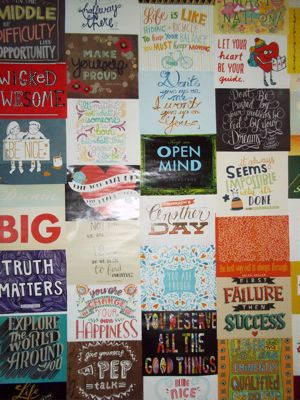 To add to its sense of invitation, I decorated the corner. One purpose of the corner is to provide a break from the pace of the classroom and allow time for reflection and introspection. Rather than leaving blank walls, I filled the space with motivational mantras to help turn a negative or hopeless attitude around. Most of the sayings and images are taken from an inspirational Page-A-Day calendar.
Because I knew some students would need more than a simple break from the classroom routines to interrupt a negative schema, I wanted to provide a couple of activities to engage their minds and their hands. Thinking about the previous school year, I knew I needed items that would be virtually indestructible and unlikely to become a distraction to students outside the SITO area.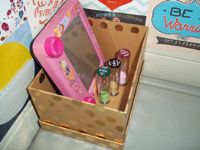 A mini-sized etch-a-sketch provides a silent kinesthetic option for students to engage in creating line images. The other option is to write an entry in our class journal 642 Things to Write About: Young Writer's Edition from Chronicle Books. Even if students choose not to write, flipping through the prompts is bound to trigger their minds to wander.
Managing the SITO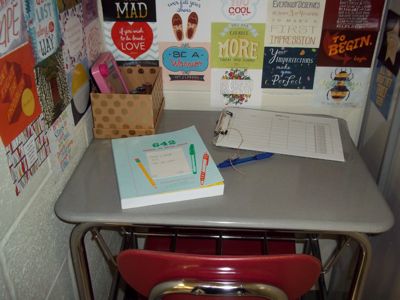 The SITO is meant to result in a brief break from the classroom routine, allowing students to rejoin class activities with a renewed focus. Without tools to monitor its use, the SITO could become a means to avoid work entirely. I use hourglass timers to help students manage the duration of their visits to the SITO. The timers are similar to those you would find in a board game, but these are clearly labeled with the three options for a SITO: three, five, or seven minutes. Students must select a timer and leave the SITO when their time is up.
Students are allowed to revisit the SITO as often as needed, but each visit must be logged. I attached a pen to a clipboard with a piece of twine and filled the clipboard with copies of a log. The log requires a student to record his or her name, fill in the date and class period of the visit, and check a box noting the duration of the visit. The log allows me to check in with students. I am not always able to get to a student during his or her visit to the SITO, depending on what is going on in class at the time, but it is important to me to follow up to see if a student needs additional support.
The log is also helpful in looking for patterns. For instance, at the beginning of the year, I was able to identify that a student was visiting the SITO daily at the start of independent reading time. The log provided evidence I could use in a conversation with that student about his use, and my suspicions of his abuse, of the SITO as a means of avoiding reading.
Introducing the SITO to Students
I waited until the second week of school to introduce the SITO to my students. I wanted to make sure the procedures would be meaningful to them. The first week of school, students are bombarded with new routines, and I didn't want the SITO to get lost among all that new information. I started by making sure they understood the term self-imposed. As soon as students realized they were going to have control, they were intrigued.
Instead of providing a list of acceptable reasons for them to use the SITO, I asked students to brainstorm a list of reasons why they might need a self-imposed time-out. They mentioned things like being stressed about something that had happened in another class, being worried about someone at home, or feeling sad about something. I added some scenarios that I had imagined as well, such as being really annoyed with someone (even me) and wanting to stop themselves from having an outburst, being really tired and needing a break to wake up their brains, or simply being curious about what it would feel like so that they might know when to use it in the future.
Finally, I went over all of the options during a visit to the SITO corner and how to complete the log. I emphasized that it would not be necessary to tell me why they were visiting the SITO, but rather that I trusted them to use it wisely. After their initial curiosity wore off, student use of the SITO was reserved for times of great need. Students generally impress me by rising to the occasion when I set high expectations. Use of the SITO has been no exception.
I had one student ask to return to my class for a SITO after an altercation in the hallway with a group of friends on his way to math. I welcomed him in and contacted his teacher. When I followed up after class, she thanked me, because he was able to participate in class with greater focus than usual. That is the difference a self-imposed time-out can make.