What teacher hasn't experienced the subtle (and sometimes not-so-subtle) position shifting that happens when students are asked to turn and talk? If kids haven't already chosen a spot on the carpet next to a favorite friend, they'll shift and shimmy so that when they turn to a partner, it's one of their choosing. And if you think you've solved that problem by establishing guidelines for everyone to turn to the person next to him, what do you do about the looks of disappointment and barely audible sighs when they realize that the partner next door may not be their top choice?
We don't want anyone to be on the receiving end of that feeling of rejection if we can help it. Of course, we teach kids in our class to respect one another and use read-alouds to build empathy, but we have a better way of avoiding the hurt feelings that can happen during turn-and-talks: long-term partnerships.
Long-term partnerships are valuable for reasons beyond avoiding hurt feelings. They ensure that turn-and-talks or any time spent collaborating can happen quickly and efficiently. They also ensure that students get to know each other well: well enough to engage in meaningful conversation and reflection that helps each member of the partnership grow.
As co-teachers in a fourth-grade classroom, we can clearly see the power of this type of partnership. Having a professional relationship as partners is one of the most rewarding parts of our job. Who wouldn't benefit from having another person they know and trust to bounce ideas off of, give feedback to, and get feedback from? Because we see the benefits, we make sure to set up structures in our classroom so our students can see the power of partnerships as well.
That's why, in our class, students have long-term partnerships in several areas throughout the day, including reading workshop, writing workshop, and read-aloud. To help these partnerships be set up for success, we put several procedures into place to form and maintain the partnerships.
Purposeful Pairing
As much as we like to avoid the hurt feelings that can happen when one partner makes it clear that he is not paired with a student of choice during random turn-and-talks, we also want to avoid surprises when we place students in long-term partnerships. To this end, we make sure students are involved in the process.
During the first month of school, we make sure that students experience different partners. We have them partner up with the person adjacent (which is also embedded math vocabulary instruction), opposite, and diagonal from them at their tables. We have them sit next to this partner at the carpet during minilessons. Then we'll move on to partners who are at different tables, and throughout this "trial" period, we are sure to have some same- and opposite-sex partnerships. Throughout the first month of school, students have the opportunity to work with many different peers and get a feel for what partnerships feel most and least supportive to them.
At the end of the month we introduce partner want ads. We were inspired by Shana Frazin, and want ads always give our students a sense of empowerment that they have a voice in the decisions that affect them.
Want ads are exactly what they sound like: similar to the want ads for jobs that we see in the paper, they list the qualities they are seeking to fill the position of partner. We show an example to students of a want ad that lists the behaviors that we noticed over the past month that work best for us and would help us grow as writers. Then students get to work creating their own personal want ads for partners. Once they've created their own want ad for a partner, the ads are assigned a letter and posted on a reserved space on our closet door.
The next day we give students some time to read the posted want ads and write down several letters of ads for which they think they may be a match. Students write down several letters, and our work is to blend their choices with the data that we've been collecting all along based on what we've observed during the previous month.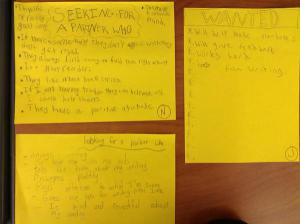 Once we've created the partnerships using the student input, we make a big deal about announcing the partnerships. We're met with very little resistance, because students know that their voice was heard in this process and they personally chose the partner with whom they're being paired.
Here are some guidelines for want ads:
They are anonymous. Yes, we're fully aware that students may have some idea about who want ads belong to based on clues like handwriting, but we find this step important so that the focus is more on the qualities of a partner and deciding if you hold those qualities. Each want ad is assigned a letter rather than a name. We make certain that every student writes several letter choices so we're sure to be able to match students with one of their choices.
When Problems Arise in Partnerships
Problems arise in most relationships in life at some point, and we think it's important to try to solve them. That's why our first reaction to conflict isn't to change partnerships. First of all, we've spent a lot of time forming these partnerships, so there must be a reason that these students are together. Secondly, changing one partnership has to disrupt at least one more partnership, which may not be facing any challenging issues. Finally, solving relationship problems is a life skill.
Rather than making changes when there are signs of conflict, we support partnerships in finding solutions to their problems by creating opportunities for open conversation about them and brainstorming ways the partnership can address the problems in a proactive manner, checking in frequently and celebrating with the partnership when they work through their trouble.
One partnership that comes to mind is Brian and Katie. When we observed them, their frustration with each other was visible by their body language: rolling eyes, arms crossed, turning away from each other. We decided to check in individually first to see if there was an issue, and sure enough there was. Katie felt that Brian was being "bossy," and she was able to explain it by naming the language he used. Instead of making suggestions that Katie could try, Brian's suggestions sounded more like, "You should . . ." During the time the following day when students were giving one another feedback on their writing homework, we pulled up alongside Katie and Brian to check in, supporting Katie in telling Brian about the problem she was having. Since we are sure to focus very explicitly on the language we as teachers use, as well as the language that our students use with each other, Brian was able to recognize that the language he chooses matters, and we were able to support him in naming what he could do differently going forward.
During turn-and-talks in the following weeks, we made sure to listen in to their conversation to help hold them accountable to the plan that Brian had made with Katie. We noticed when Brian made that subtle shift in his language from telling Katie what she should do to suggesting what she might try, naming what he had done and why it was so important.
Once partners work through conflict, we think it's important to help them name the steps that they took so that it's transferable to future conflicts. In the case of Katie and Brian, it might sound like, "Do you see how when you had a problem, you were able to tell each other what it was? And then, because you're the kind of people who care about what the other person has to say and how each other feels, you made a plan to fix the problem. You kept working at it until it felt like your problem was solved. Any time you have a problem with each other, you could try this."
We find that when we take the time to help students form partnerships and work through conflicts that arise in the partnerships, they can be a rewarding experience for everyone involved.