Knitting is a perfect metaphor for life. You might spend months knitting something, but you could probably unravel the whole thing in hours.
—Gabbo de la Parra

[Now you can listen to the Big Fresh as a podcast.]
Pass Along the Big Fresh!
I've been knitting Little Cotton Rabbits. Actually, that's not true. I've been knitting one Little Cotton Rabbit. Since June. Little Cotton Rabbits are small stuffed animals that are adorable.
For years I've wanted to knit these sweet rabbits, but I've not trusted my skills. My friends Ingrid and Karianne knit them. My mom knits them. Her friends knit them. They send me pictures, and I lament about wanting to knit Little Cotton Rabbits.
I joined the Little Cotton Rabbit Facebook group. I'm not really a Facebook user, but I found myself scrolling through the Little Cotton Rabbit pictures and comments. The members of the group make up stories for their Little Cotton Rabbits, and it makes me wish I would knit a Little Cotton Rabbit.
Perhaps I was borderline whining, but whatever the reason, for my birthday in June my mom gave me the supplies and patterns to knit Little Cotton Rabbits. She also sent me a link to tutorials for all of the stitches and abbreviations that I don't know. 
"You can knit these, Ruth," Mom insisted.
So I started. I made a bunny head and a bunny body. It didn't take long, and they were the correct shape. Then I quit. I'm not sure why, but I started telling myself that knitting a Little Cotton Rabbit was impossible. I debated about where to put the supplies, because it was silly for them to take up space in the basket in the living room when I wasn't working the needles. They kept taunting me for months. Ironically, I kept checking the Facebook group.
Then my nephew and his wife announced they are expecting a baby. I decided a Little Cotton Rabbit would be the perfect gift. As the baby shower quickly approached, I picked up my needles again, intending to finish the bunny I began and then create a kitten for the new baby. (Little Cotton Rabbit patterns come in an array of sweet animals.)
As I knit, I thought about literacy instruction. There is so much information on how to get started, how to troubleshoot, how to lift the level of instruction, how to assess, and more and more and more. I wondered if there are a lot of teachers out there like me when it comes to knitting a Little Cotton Rabbit.
They have everything they need at their fingertips, yet they are still frozen. They don't need more resources or more ideas, they need someone who insists, "You can do this."
We all know teachers who are working to strengthen their literacy instruction. Let's be the people who encourage them by passing on this Big Fresh to one person who needs a little inspiration.
This week we look at encouraging readers and writers—plus more, as always.
Shine on!
Ruth Ayres
Editor in chief
P.S. Check our social media feeds this week if you want to see Henry, my perfectly imperfect Little Cotton Rabbit.
---
This month's featured contributor is Melanie Meehan. Melanie has been the elementary writing and social studies coordinator in Simsbury, Connecticut, since 2012. Melanie wrote Every Child Can Write, published by Corwin Press in October 2019, and The Responsive Writing Teacher, co-written with Kelsey Sorum, published in March 2021. Connect with Melanie on Twitter @melaniemeehan1.
---

Join the Choice Literacy Book Club! Melanie Meehan selected the picture book Octopus Stew by Eric Velasquez as our November read. Grab a copy, and join the conversation using the hashtag #ChoiceLiteracyBookClub. 
Ruth Ayres and Cathy Mere discuss this week's theme, formative assessment, on the podcast.
Tara Barnett and Kate Mills use the Sara Bareilles song "Brave" to help their fourth-grade students move from bed-to-bed stories to more emotive writing early in the year. This article was first published in 2016.
Katrina Edwards moves her first-grade class out of a rut with writing shares by introducing many new options. This article was first published in 2017.
Ruth Ayres catalogs her favorite types of share sessions (from old favorites to creative innovations) in writing workshops. This article was first published in 2018.
UPCOMING NEW COURSE! We are getting ready to release Stella Villalba's new course Honoring Our Students' Stories: Building an Intentional and Inclusive Learning Community.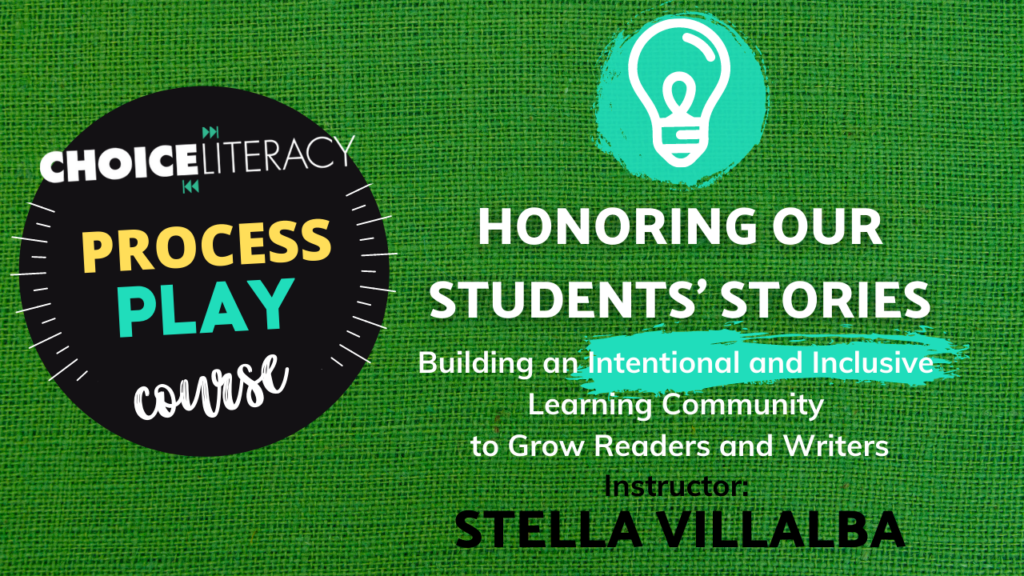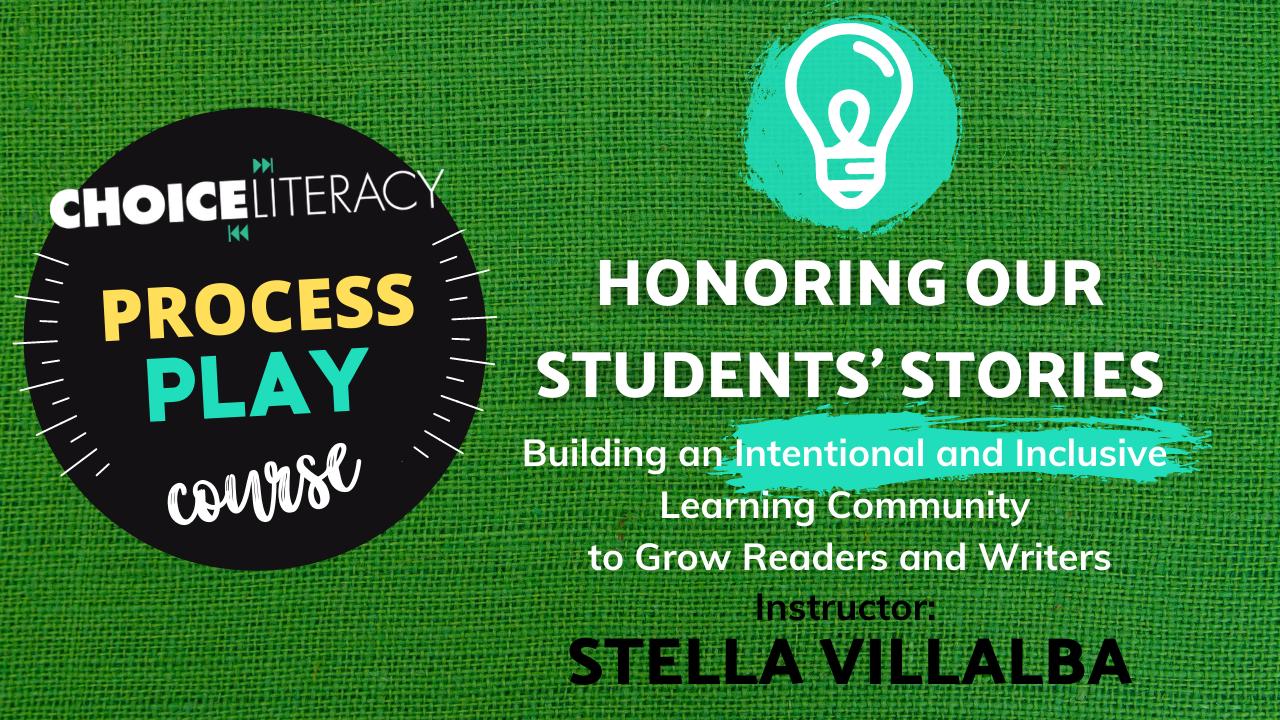 Stella Villalba teaches us how to discover, honor, and share student stories to create an inclusive learning community. With special attention to English learners, Stella walks educators through a process to intentionally honor the past and present of students to position all students to grow as readers and writers.

New members-only content is added each week to the Choice Literacy website. If you're not yet a member, click here to explore membership options.
Ruth Ayres outlines different kinds of share sessions and different formats for the share, including some that take advantage of technology.
Inspired by a stranger on a walk, Jen Court clarifies the importance of sharing our writing lives with others. She identifies three important qualities of a writing community.
In this encore Quick Take video, Katie Doherty explains the choices students have in her sixth-grade reading workshop.
The course General Workshop Routines invites us to consider the routines of opening the day, workshop norms, meeting areas, and transitions to make workshop run smoothly.

The Deep Dive course Getting Organized for Literacy Coaching with Ruth Ayres is now available for free to Literacy Leader members. In this course, experienced literacy coaches unzip their bags to share what they carry into classrooms and open up their coaching notebooks to show you the pages and lessons they can't live without. You'll finish the course with sample calendars, templates, checklists, and insider tips for launching your coaching year with confidence and enthusiasm. The best time to get organized is now! (This course was created in 2019.)
Matt Renwick makes the connection that learners are engaged when there is a meaningful goal. He outlines ways to make the process and progress visible to lead to a sense of accomplishment. Download a copy of the Reading-Writing Portfolio Table of Contents.
In a Coaching Minute, Ruth Ayres shares the importance of having a place for instructional coaches to learn, as well as process their own situations. This is part of a series about professional learning norms.
Shawn Achor shares the happy secret to better work.
Quote It:
Strive not to be a success, but rather to be of value.
—Albert Einstein
That's all for this week!