Communication, the human connection, is the key to personal and career success.
—Paul J. Meyer
Maintaining consistent contact and connection with teachers is essential for a strong relationship between teachers and instructional coaches. During busy times of the year, it can be easy for me to let weeks pass without communicating with certain teachers very much if I don't intentionally reach out. To help maintain this connection when I am involved in coaching cycles with individuals, I have found several small ways to communicate and stay connected with all teachers. 
Newsletters
Teachers have a lot of emails coming at them from parents, administrators, and colleagues. It can be hard to sift through all of them. I try very hard to limit the number of emails I send teachers. That being said, there are times where I need to share information such as reminders and tips. I decided to try sending bimonthly newsletters for this purpose. 
My goals for this newsletter were to give teachers a one-page document that provides a tip or two, reminders of recent work, and important dates to remember. 
The content of the newsletter varies. Near the beginning of the year, for example, it is filled with links to documents they will need throughout the year, tips on getting workshops up and running, read aloud ideas, and so on. As the year goes on, I pay attention to what I am seeing in classrooms, questions I get often, and ideas from conversations with colleagues. If I see a helpful article or resource, I am likely to share it in the newsletter rather than send a single email. 
I use Google Drawing to create my newsletter, which I call Coach's Connection. I purposely keep the information in boxes or lists so teachers have less text to sift through.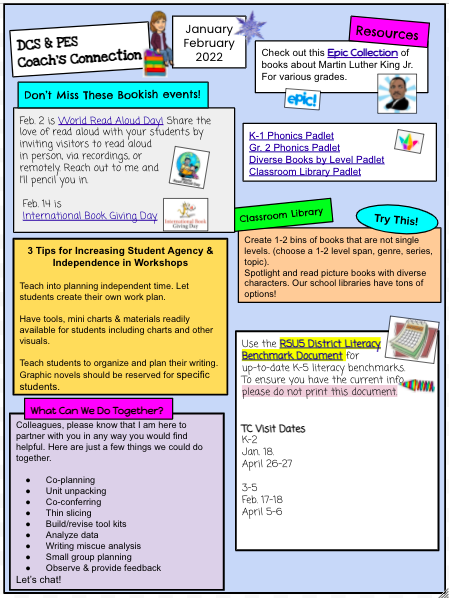 Short Videos
Let's face it: Sometimes it's easier to convey information through video  than through long emails. If I want to share something with teachers that is not urgent or pressing, rather than risk catching them in person at a bad time or trying to schedule a meeting, I might make a quick video for them to watch when they have time. I call the videos "Two-Minute Tips" because I try to keep them really short, and because I like the catchy alliteration. 
Short videos are not a good choice for all purposes. I find that they work best for reminders, sharing a tool, or sharing a "how-to." If what you want to share requires collaboration or a lot of explanation, or is new learning, then video would not be the best choice. 
Here are some examples of two-minute video topics:
How to use the sign-out process in the book room

Ideas for ways to keep conferring notes

Reminder of a tool we have used in the past that teachers may have forgotten about


Quick book talks 
To film these videos I have a strict one-take rule. They are not meant to be flawless, so I always film in one take even if I mess up my words a bit. 
There are many ways to take a video, but I choose to start a Zoom call with just myself and hit Record. This also allows me to use a document camera or share my screen. Zoom has an auto-delete feature that can be turned off so the videos don't disappear. It also has password protection, which you can leave on or turn off so teachers won't need a password to view the video. Here is an example of a Two-Minute Tip video on using status of the class in reading. 
Following Up After Meetings
The weeks at school tend to fly by quickly. We all have lots of meetings where decisions are made, and it can be hard to keep everything straight. Soon after meeting with teachers, facilitating PD, or other work, I send a follow-up email outlining the decisions that were made. I include links or attachments to any necessary resources. The email also contains any agreed-upon next steps to implement. 
In addition, I may send an email a few weeks after a PD session to offer my help and to see how things are going. I may offer a follow-up step or ask if the teachers would like me to drop by their classroom. These follow-up messages help me stay connected, and teachers appreciate the reminders. 
Email Signature
Email signatures are another simple, unobtrusive way to share information with teachers. I always include what I am reading with a link to my Goodreads shelf. 
Since I work in two buildings, I also keep a generic version of my schedule on Google Calendar so teachers can see when I will be in the buildings. I put a link to this calendar in my email signature. If I find an article or resource that I would like to share, I may also post it in my signature.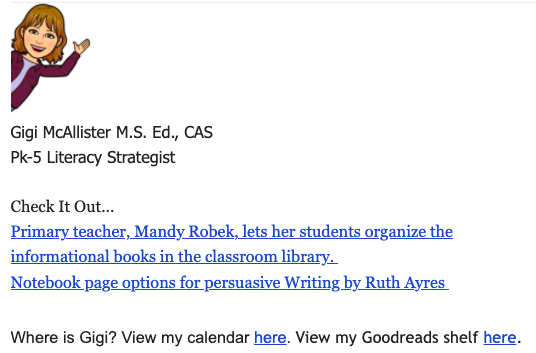 Maintaining consistent communication and connections with teachers helps ensure a healthy teacher-coach relationship. Time is precious in our profession, and coaches should be as respectful as possible when deciding when and how to share information.