In Peter Johnston's book, Opening Minds
, he tells us, "Formative assessment isn't only the teacher's responsibility.  In the end, the community members need to be able to recognize how to take stock of their own and each other's learning and respond to it in ways that provide a productive path forward." (p. 50)  When we think about learning conversations in our communities they occur on a variety of levels: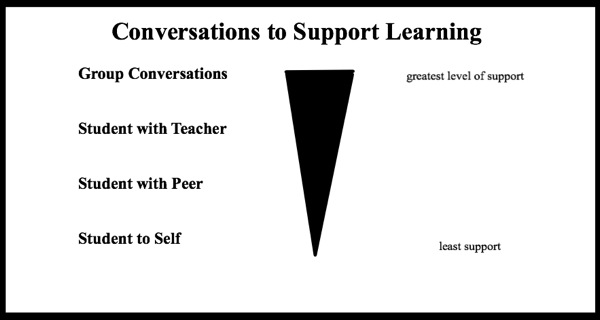 Community conversations about learning help students to think deeply about the work they do.  They provide opportunities to look at strengths in work as we learn from one another.  They also allow us to think about what is next in our learning.  Being a part of a writer's workshop isn't just about doing our own writing each day; it's about being a part of a writing community.  In our writer's workshop we learn to have conversations with one another.
As a writing community we:
celebrate new successes
talk about risks we have taken in our writing
share crafting techniques we've used to create a more meaningful piece
notice the shifts in the writing of our peers
seek clarification of ideas
ask hard questions
In our classroom we begin these conversations around the work we do as writers by creating a concrete way to talk about our journey.  I've found using bulletin board space to display each student's writing journey is a powerful way to grow the conversations we have as writers.  Not only does it provide a visual to help me quickly assess and monitor growth, it provides a way for our community to talk about our writing together.
The Beginning
In any journey it's important to have a starting point.  Our journey begins with our first piece of writing on our first day of school in our first writer's workshop.  At the beginning of the year I hang a folder for each child on our bulletin board.  The first piece of writing for each student is displayed in the child's folder so we can see the starting point.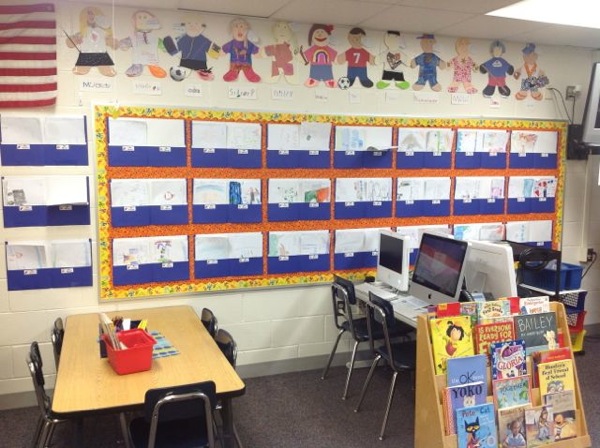 In the beginning weeks, students create an "about the author" piece to attach to the folders.  We want anyone who enters our room to be able to learn about the writers who work within our community each day.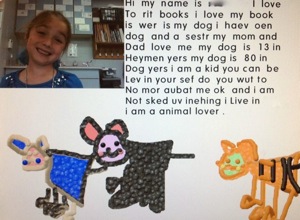 The left side of the folder where the first piece is kept never changes across the school year.  The right side, however, is continually updated.  After a few weeks of school we begin the discussion of our best work and chart our thinking.  It's hard to talk about the moves we make as writers in these first days of writing.  In each focus lesson, each shared discussion, each mentor text we study, we will begin to notice the way writers work and discover ways to talk about the writing we do each day.
The Journey
As the year continues, these conversations grow.  Using our writing, the work of authors, and the snippets of conversations about the writing process, we learn to talk about our writing.  We name the moves we make as writers to help strengthen our message for readers.  The expectations the community has about finished pieces that can be added to the class display continually evolve.  In our writer's workshop we continually set goals for our writing based upon particular genre studies, crafting techniques, organization, and areas we are working to improve.
Writers continually add pieces to the right side of the folder as they:
reach goals
try new crafting techniques
create quality finished pieces in which they feel they've tried something new or important as a writer
write a particularly powerful piece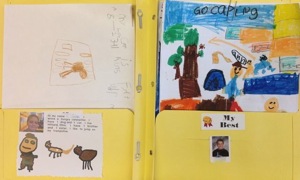 These "best work" pieces are then placed in the right side of the folder.  Students always have a view of their first piece and their current best piece of writing.
Not every piece of writing goes into this folder.  Many pieces go into the "finished" folders in our classroom.  Students understand that this display folder is for the very best work we do.  This folder is for work that demonstrates a new step in our writing journey.  There is always a point with young writers where they want to add a piece that is important to them because of its topic, but not necessarily as an example of best work.
This is always a powerful discussion in the classroom.  Do we place what I like to call our heart stories in the folder if they are not truly our best work?  I find the community usually comes to a thoughtful resolution about this dilemma.
As you can imagine, folders could grow quite cumbersome.  For this reason, when a new story is added to the best work side of the folder the previous piece is then placed in the student's portfolio which works much like a container of best work examples.  These folders make it easy to talk with parents at conferences about their child's growth as a writer and to notice students who may be stuck in their writing and need more support.  Most importantly, they provide a way for young writers to reflect upon the progress they have made.
Closing Our Workshop
When the final weeks of school draw near, we will begin to discuss all we have learned as writers.  Our journeys are different, yet connected.  We will celebrate our accomplishments, laugh over our beginnings, reflect on the growth, and smile over our favorite pieces.
Students will take time to personally reflect on their writing.  We will talk together about what they've learned as writers, their current strengths, and the areas they still are working to improve.  The focus of the conversation is always on the journey.  At the end of a school year we haven't reached a destination, but instead a new place along the path.
At the end of the year I will take the folders off of the bulletin board.  Students will look through their portfolio of best pieces and choose three to five pieces they feel are most important in their journey.  We will place these pieces in the right side of the folder beside the very first piece.  Students will use these pieces to reflect upon their journey.
We will talk about all we have learned as writers and place a reflection sheet in the folder for parents.  My hope is that even if all of the stories students have written across the year do not get saved by parents, these folders will.