Look at your learning space with 21st-century eyes: Does it work for what we know about learning today or just for what we knew about learning in the past?
The Third Teacher, p.57
We asked a few Choice Literacy contributors to share their favorite classroom spaces with readers. We hope you'll get some ideas for your own classroom design from these amazing teachers. This is the second installment in a two-part series.
Cathy Mere, 1st Grade Teacher in Hilliard, Ohio and author of More Than Guided Reading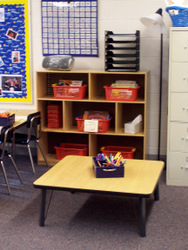 My favorite space this year is an area that has worked just as I had hoped. Students are using it as a place to read and write, by themselves and with friends. Taking the legs off of a small square table in the classroom places it at a height kids enjoy. Adding the shelves beside it provides space for writers and readers with plenty of books and writing tools, right within reach. This has turned out to be a favorite writing space for students, as well as a comfy place for reading.
Karen Terlecky, 5th Grade Teacher in Dublin, Ohio
I re-designed my classroom this year, so it's difficult for me to choose just one space I like more than the rest. Yet when I thought about it, I immediately knew which space my students would choose, so that's the one I'll share. It's a "prime real estate" place in my classroom — right in front of one of my two large windows.
This year, there is a rectangle table right in front of the window, with many different stools around the table for students to use. At the end of the table, I put a bookcase to "anchor" the table. On the other side of the table, are three tall bookcases, stocked full with great nonfiction reading. It's a wonderful workspace with a great view surrounded by books — no wonder it is so popular with my students!
Ann Marie Corgill, author Of Primary Importance: What's Essential in Teaching Young Writers
This was one of my favorite classroom spaces of all time — my second-grade classroom at Manhattan New School. I loved this part of the room because of the built in bookshelves, the cozy guided writing/conference area, the foam board word wall and anchor charts, and the children's self portraits that lined the walls of the classroom (with collaged teeshirts of photos/words/pictures about themselves — with their arms around each other).
It was a space that represented much of what I believe about teaching and learning . . . that children deserve to have the best, most interesting pieces of literature at their fingertips, support to guide their thinking and learning, and comfortable and beautiful places to work. The room is "decorated" with their art, their writing, and their projects. It's a place where the children we teach and learn from are most important.
Patrick Allen, 3rd Grade Teacher and author of Conferring: The Keystone of Reader's Workshop
What does it take to cultivate anything? Rich soil and productive space. I love the gathering area in my classroom. This year I'm in a "portable" classroom, a glorified double-wide really. But we've dedicated a large plot of our small classroom to our gathering area. I love when I sit on my park bench, fourth graders at my feet. I see and hear so much from that vantage point . . . seeds planted, rich talk surfacing, eyes lighting up, and thinking germinating. I have all the tools I need within reach — the document camera and projector at the ready on an antique coffee table, shelves of my favorite mentor texts within reach, markers/sticky notes/chart paper available at a moment's notice, a comfy place for both my students and I to sit and ponder and reflect.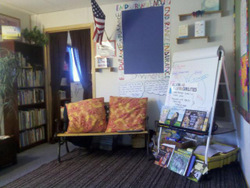 Like most teachers, I love the intimacy that's developed when we're sitting in a central location with talk, laughter, wondering, and joy bubbling to the surface of each
interaction. I love looking in my students' eyes. Cultivation, indeed. It doesn't take a large plot to reap a bounty at harvest time . . . for me, it's in this space that it all comes to fruition, where the hard work pays off. Given the tight confines of our humble abode, I'm so glad we have a comfy space "to gather," so we can watch learning grow together!