My students tend to skim the surface with their writing, covering a lot of ground in not a lot of detail.  Come to think of it, my young adolescents are often tempted to skim the surface with their perceptions of life as well.  They're deep thinkers, yes, as well as wonderful, compassionate, complex human beings, but in their fast-paced, constantly-connected world, snap judgments and quick conclusions are easy. I'm always looking for new prompts and points of entry to help them deepen their writing and perceptions of the world.
Ironically, I stumbled upon the beautiful Humans of New York (HONY) blog through a social media connection. One afternoon, my co-teacher and I spent a good twenty minutes gasping/"aww"-ing/laughing/sighing at the photos, captivated not only by the fascinating photos, but also by the stories accompanying them.
Each HONY photo tells a story beyond what the viewer can see in the photo. For example, one captioned photo of a silver-haired New Yorker bearing a colorful woven beret reads, "A lot of young people seem to have this illusion about old people, and think they're all wise and sweet like Grandma. But there are some real nasty ones at my senior center. Some sweet college students brought cupcakes today, and some of the residents were running off with them by the armful. They could make a sitcom about that place."
We decided that this powerfully engaging blog could inspire our students to think beyond the surface about themselves and others, as well as go deeper in their writing.
We thought carefully about how we could have students replicate the HONY idea without turning the writing into cheesy, surface-level narratives.  With the guidance of Robin Holland (Deeper Writing: Quick Writes and Mentor Texts to Illuminate New Possibilities), we decided to have students bring in "selfies."
Students were abuzz as soon as we assigned them to each bring in a "selfie," which by the way was Oxford Dictionary's word of the year for 2013.  My Instagram-loving students might agree with actor James Franco, who in a New York Times piece proclaimed, "In a visual culture, the selfie quickly and easily shows, not tells, how you're feeling, where you are, what you're doing."  As a teacher of young adolescents, I am more skeptical.   My students' obsession with selfies, like their writing, tends to reinforce an appreciation for the superficial over the substance.
They giggled and whispered to each other about which photos of themselves they would bring.  Some decided to bring a traditional "selfie," featuring a close-up shot of their smiling/pensive/silly faces, while others wanted to include some scenery, choosing to bring in photos of themselves in front of a Christmas tree, doing a toe-touch on the beach, or proudly displaying a Lego village.  A few asked us to take photos for them.
Putting Selfies to (Writing) Work
By the time they arrived in class on "selfie" day, they could hardly contain their questions. They quieted when I put a picture on the whiteboard — a photo of my infant son and me exchanging smiles.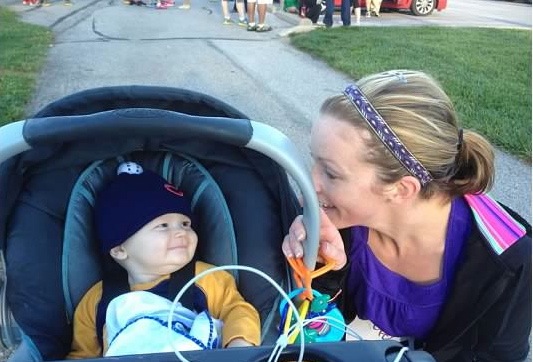 "Take a moment to check out this photo. When you first look at it, what do you see?" I asked them.
"I see a baby!" One student blurted.  Other students chimed in, noting that they also saw me, saw that my son was wearing a hat, and saw some kind of white circle in front of our faces.
"Okay, now take a look again. Now what do you notice?"
"Um . . . I think that white circle is a cord," the same student piped up.  Other students agreed, and then began to question whether it was an iPod, and, noticing my outfit and my hair, as well as feet in the background, then wondered if we were at a race together.
"It looks like you and your son are really happy," one sweet girl mentioned.
"I wonder if he's in his stroller and if you ran a race with him," another student said.
"Are you at a race with him?" one blurted out. "How does that work?"
Because students were moving into questioning territory, I gave them a few moments to jot down a few wonders drawn from their observations.
They were rolling.  The next step was for them to try a deepening observation technique.  Students traded photos and, working silently, they reflected on each other's "selfies":
When I first looked at this photo, I saw . . .
As I looked again (or closer), I noticed . . .
Finally I realized . . .
After a few moments of focused writing, I prompted them to jot down questions he/she had developed for the subject of the photo.
"Look at everything she wrote," Gabriela whispered to me, after Hannah passed back questions.  It turns out, Hannah had probed a lot deeper than Gabriela had considered when she'd handed over her traditional "selfie" — a close up of her made-up face, beautiful hair, and a peek of a fancy outfit.  One question Hannah asked was where Gabriela was going, which led Gabriela to share out that she was going to her cousin's quinceanera, an interesting backstory that led us into the next "deepening" prompt.
I posted on the board, "Using all of your thinking about your selfie, come up with one central idea that's either conveyed or NOT conveyed in the photo.  Develop the idea through a poem or through a narrative nonfiction essay telling us more about the central idea/detail you've chosen.  Consider that the narrower you keep your focus, the more detailed and interesting your piece will be."
To scaffold students, we generated together a list — in addition to the "food for thought" questions their partners had given them — of ways to find central ideas:
What were you doing before the photo was taken?
How did you feel in the photo? How about the rest of that day?
What does the photo say about your hobbies, interests, or habits?
What else were you doing at or around this time that wasn't in the photo?
What was going on in the background?
What were the people around you doing and how did it affect you?
What had to happen to get there?
The message was clear: each writer needed to find the story that dug deeper than the "selfie" level.
Given time to write students began to hone in on one or two central ideas to share.
For example, Dorne shared that beyond her grinning webcam photo "You don't see that I am extremely nervous.  I felt like a balloon and that air was how nervous I was; it was like I got bigger every minute."  Instead of skimming lightly over the contents of her day, she focused deeply on how her nerves about a math test had been getting to her, a fact hidden in her smile but, upon closer scrutiny was visible in her eyes.
Sarah shared a similarly happy looking "selfie" in front of a Christmas tree, hands on hips.  The story she shared was unexpected: the reason why the tree was up early was because her injured grandma was staying with Sarah's family, and the tree brought her cheer.
In his photo, Thomas stood stoically in front of a piano, eyes and mouth unsmiling, piano books stacked behind him.  He wrote that he "used to like sitting on a piano stool, pressing my fingers against the now dreaded piano."  He detailed the difficulties of practice, his fleeting desire to quit, and his reason for continuing: "that ping of joy that I experience after going through a piece without mess ups or mistakes."
Much to my delight, the "selfies" had served many purposes:
They'd helped students understand firsthand how an author might develop a central idea for his/her writing.
They'd reinforced to students that their stories were worthwhile.
They'd reminded students that those stories were worth going below the surface to find.
Gabriela didn't like dressing up, but she took pride in celebrating an important rite of passage.  Dorne sometimes seemed quite flighty with her work, but it turns out she might care more than she had shown.  Sarah was quiet and had faced family challenges over the past few years, but she found joy in bringing happiness to her grandma.  And Thomas, who had always looked quite grim during class, showed vulnerability in admitting that sometimes he didn't want to reach for perfection anymore.
Finally, they'd nudged me to remember that perhaps the young writers in front of me aren't quite as "selfie"-oriented as I had thought.