The better you know yourself, the better your relationship with the rest of the world.
                                                                                        —Toni Collette
The words rattled around my ears and tapped the low beat of a timpani as they wrapped around my mind.
If you want to write, you must know yourself.
The timpani, or kettledrums, create an ominous sound that often shows up low and steady in an orchestra or soundtracks. You might know it from George of the Jungle or Space Odyssey.
Boom!
If you want to write,
Boom!
you must know yourself.
Boom!
Just like the timpani produces bold notes and commands attention, so does this statement: If you want to write, you must know yourself. Perhaps the most alarming part is that it is true for all of us, not just writers.
If you want to teach, you must know yourself.
If you want to lead, you must know yourself.
If you want to ________, you must know yourself.
Whatever we want to do well, it begins with knowing ourselves. It has become trendy in some circles to create a manifesto. The point is to create a public declaration of your aim.
Although trendy, manifestos are not new. Often manifestos are associated with politics. The most famous political manifesto could be the Declaration of Independence. Long ago, human rights were declared to be America's aim: "We hold these truths to be self-evident, that all men are created equal, that they are endowed by their Creator with certain unalienable Rights, that among these are Life, Liberty and the pursuit of Happiness."
Often manifestos stand on the shoulders of those who came before. "I Have a Dream" was Martin Luther King's manifesto of equality. He spoke truth: "I have a dream that one day this nation will rise up and live out the true meaning of its creed: 'We hold these truths to be self-evident, that all men are created equal.'"
In 1997, Apple launched a manifesto with an ad campaign, proving that manifestos belong in more realms than politics. "Here's to the crazy ones" serves as a mission for Apple and a call to action for all who are determined to live well by knowing ourselves.
I've been writing mantras for years. Whenever I need an anchor, I discover a mantra. Often there are common threads, like bringing light to the darkness and making Story matter, and there are always things that are unique and necessary for the season.
It's impossible to write a manifesto without knowing yourself. It's impossible to live well without knowing yourself. Why not take the time to declare who you are by writing a manifesto?
Getting Started
Let's not make writing a manifesto more complicated than it needs to be. Sometimes there's a phrase (or quote) and I know it is mine to claim as a mantra for the season. Check out these examples where I claimed a quote and a phrase as mantras.
Other times I garner a list like I did on my original blog, which is now offline, although you can see the post here. Perhaps you just want to start writing and see what unfolds, like I did here. By contrast, you might want to focus on just one area of your life and fancy things up like I did here.
If you're a notebook person, open it up and scribble some words. Maybe you are inclined to type or use your thumbs and phone. Open a document and unleash your words. Perhaps you're a blogger and it's time to create a new blog post. If you prefer a guide, here are a few questions to get your thoughts moving.
What are some of the important things about the work you do?

How do you wish you felt at the end of most days?

If you had a magic wand, what is one thing you would change?

What virtue would you like more of in your life?
Here is what I created: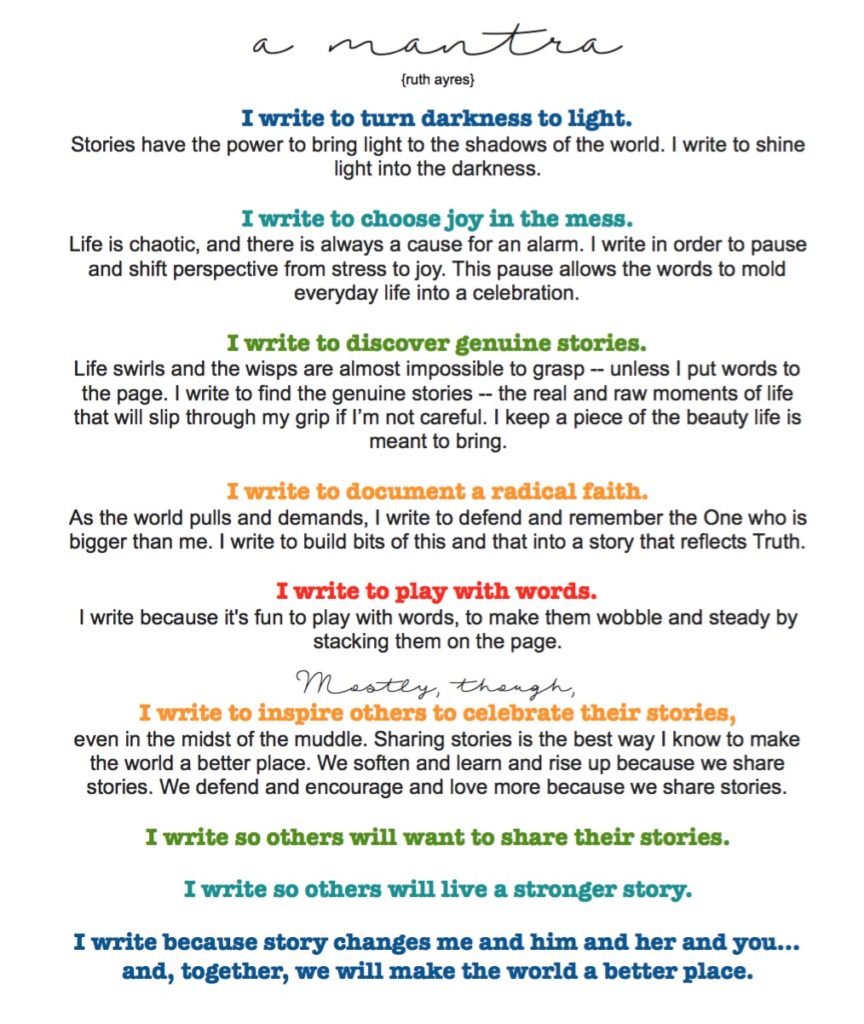 Create Your Manifesto
Taking time to reflect is important because it helps us know ourselves. We live busy lives, and without intention, it is easy to lose ourselves. Creating a mantra is a powerful process both personally and professionally. We need more educators in this world who are sure of themselves.
Here's a Manifesto Creation Guide if you want to grab a friend (or a staff member) and craft manifestos together.
Live It!
Interestingly, the word manifesto stems from the Latin word manifestus. Manifestus means "obvious." When we know ourselves, then it becomes obvious what we are to do as writers, teachers, leaders, and humans. In the beautiful way the world works, as we live out our manifestos, our relationships with one another become stronger. Here's to the crazy ones, who are willing to know who they are and become the best versions of themselves!