It's a busy Tuesday morning and my classroom is buzzing with the conversations of children. I settle in a chair beside Hirokai, a beginning English language learner, who is still shy about approaching peers for word study conversations and activities. Today, I can tell he would like me to be his partner; we always make eye contact during transitions and I could tell by his "eye message" as he calls a wink, he wanted to work with me. I try to capitalize on our short, but intensive partnerships during word study, taking advantage of our one-to-one time. We trade opportunities; he works on his English speaking skills and I work on learning how ELL students think and learn as they absorb a new language. We never know what we might learn together.
It sounds like a storm in here." Hirokai said to me. "Words are falling everywhere."
"Like raindrops," I said, smiling at his poetic language.
"Yes, I'd like to catch those words on my tongue." He giggled.
His wish caused me to stop and think. "We can catch those words," I answered.
From Natural World Images to Words
The day's word study activity involved a photograph, an amazing moment from our school's outdoor learning lab called "The Habitat."  We are fortunate to have this amazing space right outside our classroom window. The outdoor lab provides a natural setting for unlimited learning and the children are not the only ones to benefit. Flora, my teaching partner is a wonderful photographer and the Habitat provides a perfect place to shoot pictures. She has a magical way of capturing moments in nature, and I am learning how to use her stunning photos in the classroom.
For today's word study lesson, I selected her photo of a productive bee working overtime as a pollinator.
Children were asked to observe, discuss and brainstorm interesting words and observations of the bee going about its work. I asked students to also think about this photo in terms of interesting nouns and verbs. My intention was to use students' observations and discussions as a lead into my lesson on prepositional phrases – how they are constructed and more importantly, how prepositions help readers better visualize the ideas in our literary nonfiction, poetry, and narratives.
"We can catch words?" asked Hirokai, looking puzzled, thinking he misunderstood my message.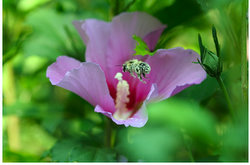 Flipping open his word study notebook, I nodded. "Yes, we keep words on our notebook page; catching words with a pencil helps us think." He smiled broadly and in his "let's get down to business" voice he answered, "Okay, show me."
As Hirokai chatted about the bee, I scribed his observations using a quick three-column table to organize his ideas. My students are accustomed to using tables from previous note-taking opportunities and I've discovered that my ELL students really benefit from the organization; their thinking and words are captured on a page and can be accessed for writing ideas at a later time. What do you want to call this picture?" I asked Hirokai.
"The bee is working and looks like he is ready to return to home . . ." Hirokai said with a furrowed brow. "Lots of pollen . . . so let's call this picture "End of the Work Day."
And so we chatted. I asked questions, probed his answers and gave him some new vocabulary to consider. As we chatted, Hirokai rapidly checked words on his electronic Japanese/English dictionary and he smiled and nodded as we connected new words with familiar ideas he understood. Hirokai had constructed a great deal ofbackground knowledge about bees in Japanese, and now workedto translate these ideas into English.We used a plastic toy bee to act out the prepositions. After 10 minutes, thisiswhat our table looked like:

The regular text shows Hirokai's ideas and the italicized/bold text are words I supplied or encouraged through prompts and questions.
After 10 minutes, I had him strike our garden chime, signaling my students to gather in our community area to share ideas about the photograph. When I constructed a three-column table on chart paper, students who did not eavesdrop on my conversation with Hirokai were curious. "Why are you using a three-column graph? You asked us to think about nouns and verbs…" several fretted. And so I launched into my lesson on prepositions, taking their discovered nouns and verbs and supplying several related prepositions. "I get it!" one perceptive girl commented. "The prepositions give you details about where things are happening in this picture, stringing the action along. If you couldn't see this photo and I just said 'the bee is in the flower and then he flew home' it would not help the reader really understand the moment. The prepositions build up the story."
Isn't it amazing when children drive home your teaching point?
I shared how Hirokai named this word study activity, calling it "Word Storms." "When Hirokai and I started our discussion today, he commented that it sounded like a storm in the classroom and how words were falling all over, just like raindrops. Words were falling everywhere in great conversations. Why was there so much to talk about?" I asked my kids as we wrapped up our lesson.
The picture had a lot of action . . ." said one child.
"There was a lot of hidden information waiting in this picture," said another. "You really needed to use what you knew about bees, pollination, and how bees help the garden."
"We were probably using a lot of prepositions while we talked," added a third student. "We just didn't know the word groups could be called prepositions."
"Can we do this again?" asked Hirokai.
"Of course," showing a stack of photographs, waiting to be discovered.
"Can we keep using Mrs. Marlatt's photographs? She'd like that. We sure like using her pictures!" another student tagged on to Hirokai's request.
This is the story of how my student named a new learning routine "Word Storms," and helped me connect the power of photographs to our word study work. After showing students how we captured our words in our notebook, the varying word storm template became a routine in student word study notebooks. The tables changed to meet our studies. Some photos inspired webs. Other times, lists seemed natural. Children startedusing their word storm pages during writing workshop for story topics.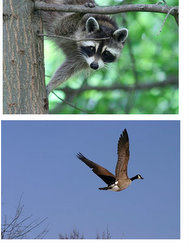 If children were inspired by certain photographs, I encouraged them to use the language they gathered to create narrative or informational drafts during Writing Workshop.

Images and Experiences to Support Word Study
I wanted to incorporate the use of a digital camera and a variety of images to bring my students' word study program to life. Using our school's outdoor learning lab and the talents of photographers, I wanted to capture our shared nature experiences and discoveries, creating a word wall that would bring context to the abstraction of word study.
Word Storms takes the power of pictures one step further. Through the use of photographs and conversations, our language and spelling lessons were supported and enhanced through intriguing pictures. Our conversations led to expanding vocabularies and inspired writing.
Digital cameras and web resources are waiting to bring your children's language learning to life. Explore the unlimited visual images available just one click away! The conversations and observations have infinite possibilities for your students. Language activities like word storms offer support to ELL students in a respectful and useful way. Students can put their observations to work in future writing projects.
Capturing the words that fall like rain during a storm turned out to be an accidental and powerful activity for my students. My partnership with Hirokai resulted in new learning experiences for all of my students.
In case you are not as lucky as me to have a talented photographer for a colleague, then take advantage of the resources available on the web. Here are a few resources to try:
Shahi: http://blachan.com/shahi/
National Geographic: Photo of the Day http://photography.nationalgeographic.com/photography/photo-of-the-day
Journey North: http://www.learner.org/jnorth/
Take a virtual tour of the many resources waiting for you just one click away on your computer. How could visuals and experiences support your word study?