In my work with literacy specialists in our school district, I am always searching for discussion frameworks that will support reflective conversation. The group, made up of 16 individuals, usually changes slightly from year to year with the addition of a few new members as teachers return to the classroom or retire. Consequently, there are always some members with years of experience, while others are new to the role.
Two years ago we had an unusual turnover in staff and the group consisted of nine new members. At the end of the year I wanted to be sure they were able to look back on their first year and acknowledge their learning and the support they had provided to the students and teachers in their schools. They had started the year with many questions and the usual apprehensions that come with leadership roles. To support this exercise, I posted the following pieces of chart paper. The first two titles focused on their own learning, while the third and fourth titles were intended to help us focus staff professional development for the next year. Teachers moved among the charts and added their ideas,and/or put a checkmark beside an idea already recorded.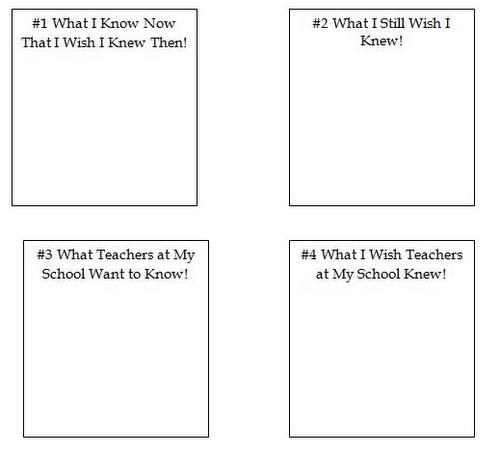 Some of the ideas listed that day, as well as discussed at subsequent meetings, were:
What I Know Now That I Wish I Knew Then
most teachers welcome you into their classrooms
modelling is sooooo important
how to organize a classroom library
the absolute importance of finding time for small-group instruction
I knew more than I thought I did!
the importance of a supportive administrator
allow more time for talk before writing
how to organize a bookroom for a school
learned more about our youngest learners (kindergarten) since my experience has been with older primary students
to pay more attention to specific reading strategies, not just accuracy
What I Still Wish I Knew
how to motivate the passive learner
how to bring more commonality to staff practices
how to better use data without adding to pressure of testing
how to work with resistant staff
how to deal with transition among staff members – new teachers, long-term substitute teachers
how to "hook" more of the boys
more about the role of fluency in comprehension
how to better embed phonological awareness instruction in context, rather than isolationÂ
What Teachers at My School Want to Know
how the report card relates to new achievement standards
organizing and establishing student portfolios
how to "fit in" all the components of a literacy block
how to motivate students to write
how to promote more independent/small group learning
classroom management for smoother transitions
What I Wish Teachers at My School Knew
It's okay to take time for the process of writing, reading books, sharing ideas, modelling, modelling again
To look at reading skills/strategies and not just the text level
Start the year with bare walls and put items up as they are taught
In-class support can be a positive interactive experience
Spelling does not have to be a commercial program
Comprehension strategies need to be taught in a focused manner
Guided reading can be a relief more than a pressure
What I Learned from the Charts
The first two lists were shared with new literacy teachers the following year to offer some solace for the new year "jitters." It helps to know others had similar questions but worked through them. The "What I Wish I Knew" list also provided some guidance when selecting topics for the upcoming year for the literacy teachers' personal professional development.
What strikes me about the last two lists is the mismatch that can occur between the questions teachers in our schools are asking and the questions we want to answer! When teachers take on leadership roles perspectives change and the bigger picture becomes more prevalent — In many cases, classroom teachers' concerns revolved around classroom scheduling and management, whereas the literacy specialists' lists focused on the why and the how of the reading and writing workshop. We need to find the connections between the two lists in order to deal with immediate concerns, yet lead teachers to deeper questions. I'm thinking that if the literacy specialists' concerns about writing, spelling, comprehension and reading strategies, and guided reading were reframed into solutions for scheduling and managing, they might help teachers think through how their schedules and routines need to support these aspects of literacy instruction.
These charts are a good record of where we were, where we are, and where we are going in thinking about our own learning and the needs in our schools. I look forward to revisiting the charts at the end of another year. What will I know then that I wish I knew now?