When you think positive, good things happen.
—Matt Kemp

What's the Best That Could Happen?
I have made countless trips running up and down the stairs. In the eight years that I have lived in my home, I have endlessly traveled this path in my two-story foyer. And with every trip along this path, I find myself staring at the empty beige wall spanning the length of the staircase.
Truth is, I have had a vision for this wall space since day one. I have assembled decor possibilities in my mind, including signs, picture frames, and accent pieces. Yet with each vision, I quickly tucked the ideas away, with fear of the "what-ifs." What if the color scheme is off? What if the gallery of images doesn't coordinate with the rest of the house? What if it doesn't look good?
Then one trip up the stairs recently, I paused. I found myself thinking differently about my vision for the vacant beige space just waiting to be filled. My mind was embracing a new kind of "what-ifs"…What if the color scheme is spot-on? What if the gallery of images coordinates beautifully with the rest of the house? What if it looks good? And then I heard Debbie Miller's phrase I proudly borrow, and use when coaching teachers, the title of her 2018 text:  "What is the BEST that could happen?"
What is the best that could happen? With a mindset shift, I set about ordering the canvas photos to illuminate the wall and took a trip to my favorite home store to discover the coordinating accent pieces. Within a week, the once empty beige wall became a gallery wall of beautiful memories, representing my family. And now every trip up and down the stairs, I admire the wall and think, Why didn't I try this sooner?
Every September, we have an amazing opportunity for a fresh start. We dream of the creative lessons that we could try. We contemplate innovative ideas for integrating technology. Instead of thinking of what might not go right with our ideas, consider the beauty that will become of them. We enter each new school year with a blank slate, or beige wall! Let's not let our fear of the "what-ifs" mask our visions for a prosperous new year. Let's take full advantage of the beauty that could be and set out to turn our instructional visions into realities. After all, what's the best that could happen?
This week we take time to consider listening to readers—plus more, as always.
Shine on!
Heather Fisher
Featured Contributor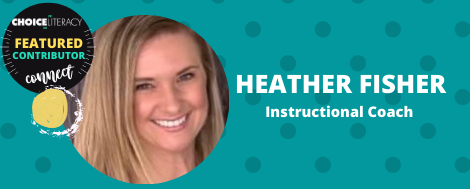 This month's featured contributor is Heather Fisher. Heather is a K-4 instructional coach at Mulready Elementary in the Hudson Public Schools in Massachusetts. Prior to this role, she has experience as a first grade teacher, second grade teacher, reading specialist, and a literacy coach. In her everyday coaching practice, she seeks to radiate positivity, in her mission to celebrate the small things as students and teachers continue in their daily growth.
---

Join the Choice Literacy Book Club! Heather Fisher selected So You Want to Be an Owl by Jane Porter and Maddie Frost as our September read. Grab a copy, and join the conversation using the hashtag #ChoiceLiteracyBookClub. 
Tammy Mulligan joins the Choice Literacy Big Fresh podcast to talk about this week's theme: listening to readers.
Gretchen Schroeder has only 42 minutes with her high school students each day. She explains how she establishes priorities, including making time to listen to students. This article was first published in 2016.
Jennifer Jones finds there is a world of difference between hearing and genuinely listening to the teachers who come to her for support. She shares some simple questions she uses at the start of professional conversations to ensure she is providing the right kind of response. This article was first published in 2016.

New members-only content is added each week to the Choice Literacy website. If you're not yet a member, click here to explore membership options.
Angie Miller reminds us of the importance of making time to listen to student readers so we can add enrichment and make instructional adjustments.
Mandy Robek reminds us of the power of a Status of the Class to build a reading community.
In a new video, Katrina Edwards guides two first-grade readers who are partners early in the year.
In an encore article, Tammy Mulligan explains how the use of the popular "reading mats" can help build reader confidence.

Cathy Mere provides a guide to determining the reliability of digital reading resources.
In a Coaching Minute, Jean Russell explains the expectations for a six-week coaching cycle.
Matthew Howell offers three tips to help school leaders establish and achieve their goals while keeping their workload manageable.
In a Deep Dive course, Matt Renwick guides instructional leaders to implement and strengthen instructional literacy walks. Through literacy walks, leaders seek out promising practices, note and name them during formative visits, and lead coaching conversations with teachers. The outcome is not only school improvement, especially in literacy, but also a community of learners who engage in continuous improvement as a natural stance. Free to Literacy Leader members.
Quote It:
Time is the most valuable thing a man can spend.
—Theophrastus 
That's all for this week!