When I listened to Ellin Keene present at a workshop years ago, I was particularly interested in her information about how word study fits into a reading workshop model. She shared the research that it should be quick and fun, and that if it went on too long, its value was lost.
Those words, quick and fun, have stayed with me all these years. Word study is a favorite time of day in my class. Although a lot of learning goes on, it's quick, fun, and low stakes. We celebrate our language, look for patterns, and play with words. My students love it, and so do I!
I design word study as a mini-workshop model: quick whole-class lesson, independent and partner work, and a share, which connects our work to our reading and writing. I use resources from word study guides, as well as spontaneous word discoveries and questions that come up. We play games, practice writing, do word sorts and word hunts, and create charts together. And I use the students' names as often as I can when introducing a new word study topic.
Here are some sample lessons that have come up in my class. These lessons fall into different categories such as modification of a lesson from a published program, spontaneous opportunities, and read-aloud opportunities.
Modifying a Word Study Lesson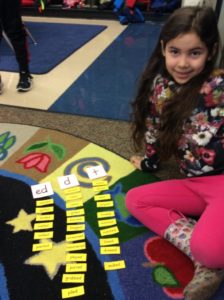 Word families are taught in most published phonics programs. I like to modify lessons when I can, to introduce them with student names and/or design the chart so that we can continue to add to it as our word knowledge grows. These charts are important for reading skills and can also be interactive during writing—either using the chart to help with writing or adding to the chart.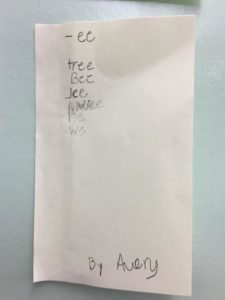 Sample Minilesson: Some words are spelled almost the same. They just have a different beginning. We can call these word families.  They can help us when we're reading unknown words, and can help us in our writing. Let me show you a couple that I found in our read-aloud. I recorded them on these sticky notes so that we could add them to a chart to help us keep track of different word families. Today I want you to look for word families in your word sort and in your reading. If you find one, record it on a sticky note and we'll add it to the chart!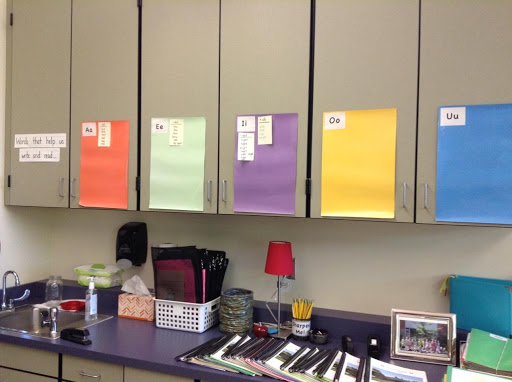 Share: If you know how to read or write a word, it can help you read or write a similar word. We'll continue to add to our chart as you find word families in your reading, and you can use these charts to help you spell words in your writing. If you are writing a word in one of the word families, take the sticky note to your seat and use it to help you in your writing. Be sure to put the sticky note back when you are finished.
Spontaneous Opportunity
Whenever something comes up for me at home or with my class that makes us pause and think about our language, I design a lesson around it.  Examples are holiday words, words that we can chunk into parts we know, and vocabulary that we notice is used often (such as fond, or other words to describe walk or said) in books we are reading.
Sample Minilesson: This morning when I was getting ready for school, my children tried to scare me with some of our Halloween decorations. They kept using the sound oooooo, which gave me an idea for our word study today. Sometimes words have an oooo sound in them. Can you think of any? Let's make a chart of what we come up with. Then in your reading today you can use a sticky note to record those words, and we'll add them to our chart.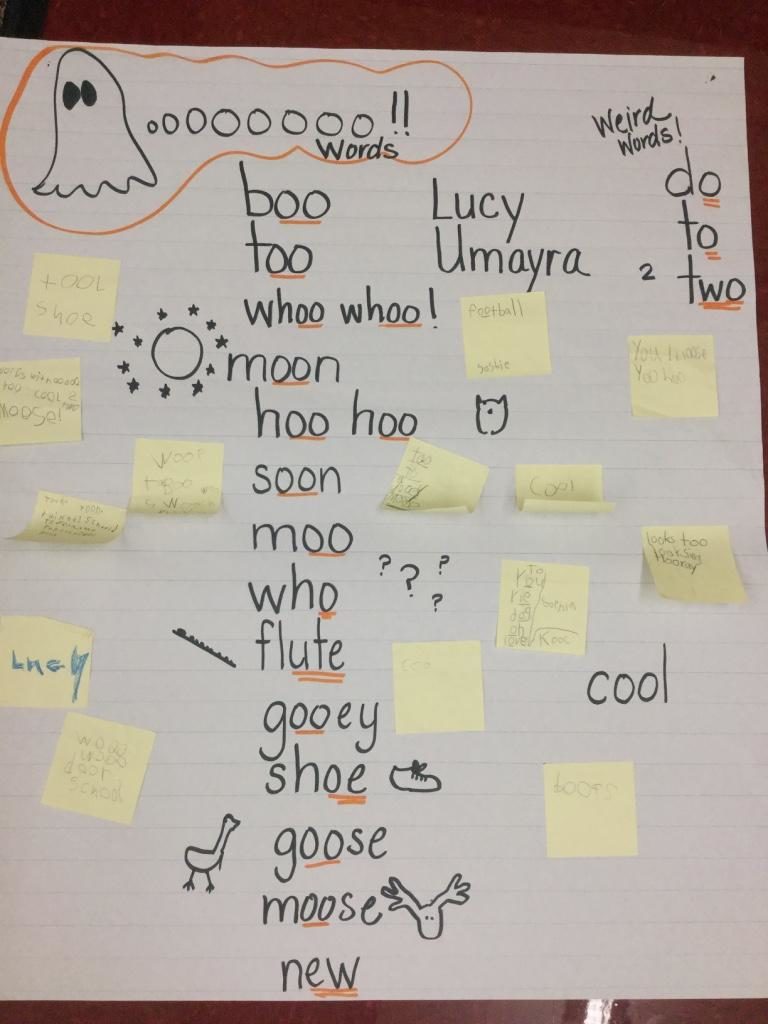 Share: Wow, lots of you found more words for our chart. Do you notice any patterns in how these words are spelled? This can help us in our reading and writing.
Read-Aloud
Another opportunity that often comes up for word learning is during a read-aloud. I use read-alouds for word study all the time. Below is an example that can teach vocabulary as well as enjoyment of our language.  Other read-alouds that work: Knuffle Bunny (the kn sound), Mrs. McNosh Hangs Up Her Wash or Sheep in a Jeep (rhymes) or Don't Be Silly, Mrs. Millie! (double consonant—but don't give away the last page on this one).
Sample Minilesson:  When I read The Word Collector to you yesterday, we talked about collecting our own words that are interesting to us. They are  interesting to say, to hear, or to think about. I thought today we would use our word study time to record some of those words. We can keep adding to our word collection and choose a few each week to talk and learn about.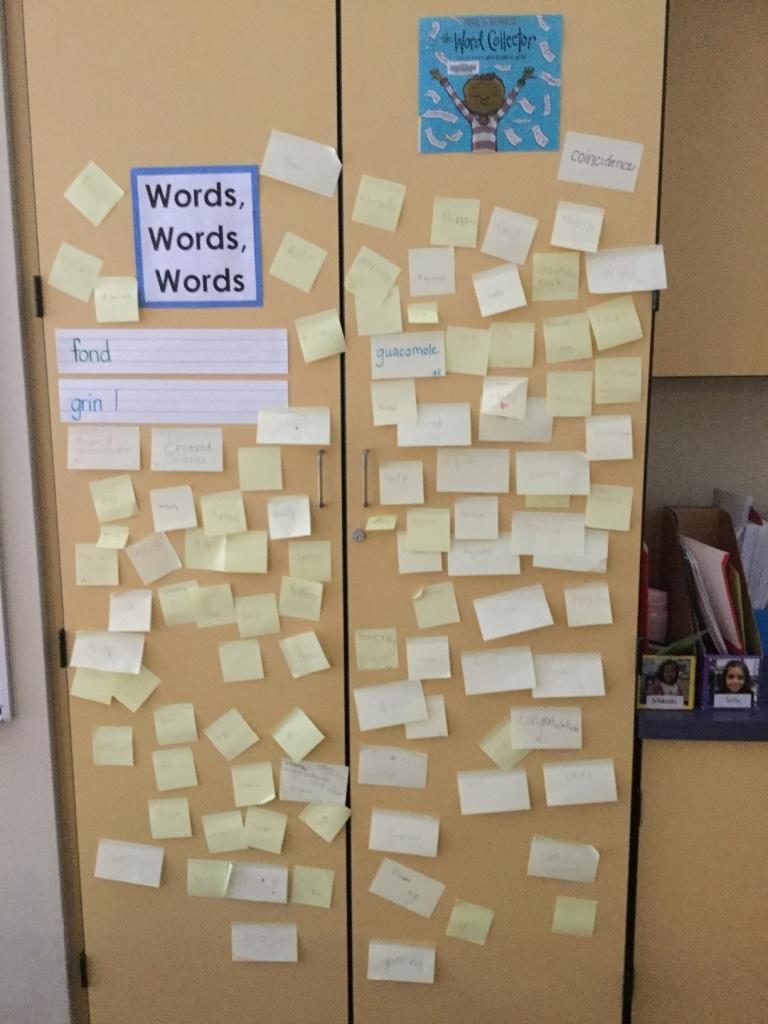 Share: Wow, look at all of these words that we collected already. Does anyone want to share a word that they chose because it feels interesting to say? Does anyone want to share a word they chose because they liked the meaning of it? Does anyone want to share a word they chose because it looked interesting on the page? Let's keep collecting words and talk about a few each week. You can use these words in your writing, and you might see them again in your reading.