It was the first day back after winter vacation, and I looked at the plans that I had penciled in the week before break. "Review reading workshop expectations: independent reading, reading habits, tricky word strategies, and text connections." Later in the week my plans were a little more exciting, such as introducing new books, including Caldecott contenders, and starting a new reading unit on characters and questioning. After the long break it's hard to know just where to start back in, so I didn't question my plan, and sat down with my first graders.
During our community circle earlier that morning, I had heard about their vacation adventures and their favorite holiday treats. Many students looked excited to be back, a few were a little unsure, and all of them looked a little tired, as did I. It's always hard to transition back to alarm clocks and cold, wet mornings. As I gathered my students on the rug to teach my reading lesson, reviewing workshop expectations, I looked out at their expectant faces and I knew my penciled-in plans weren't going to work. In that split second I knew I didn't have the desire to routinely review anchor charts and learning from the fall as I had written in my plans. I knew I needed and wanted something more: a less boring lesson and, more importantly, a lesson that engaged my students, letting them actively participate and practice the learning we had done all fall.
Right then I revised my lesson plan. Instead of following the typical minilesson structure, I simply told my students to think of all they had learned in the fall and turn to share with a partner. I told them to think about how I taught reading lessons and about the charts we had made to record our thinking. Then I told them that today they would be the teachers. Using what they knew about my teaching, especially the anchor charts that we created, today they would teach their classmates. With their reading partner, they would talk and remember all they could about our learning before vacation. And then the two of them would create an anchor chart of the most important learning to reteach their classmates. Once I gave them these instructions, I quickly reviewed aspects that made a good anchor chart, and off they went.
While students took time to talk with their partner, I scrambled to gather supplies for chart making. After pairs told me they had a plan, I gave them a chart-size sticky note. Students drew and wrote, and when they were finished, we hung our charts around the room and studied each other's words. We shared what we noticed about the charts and what good learning we were reminded of.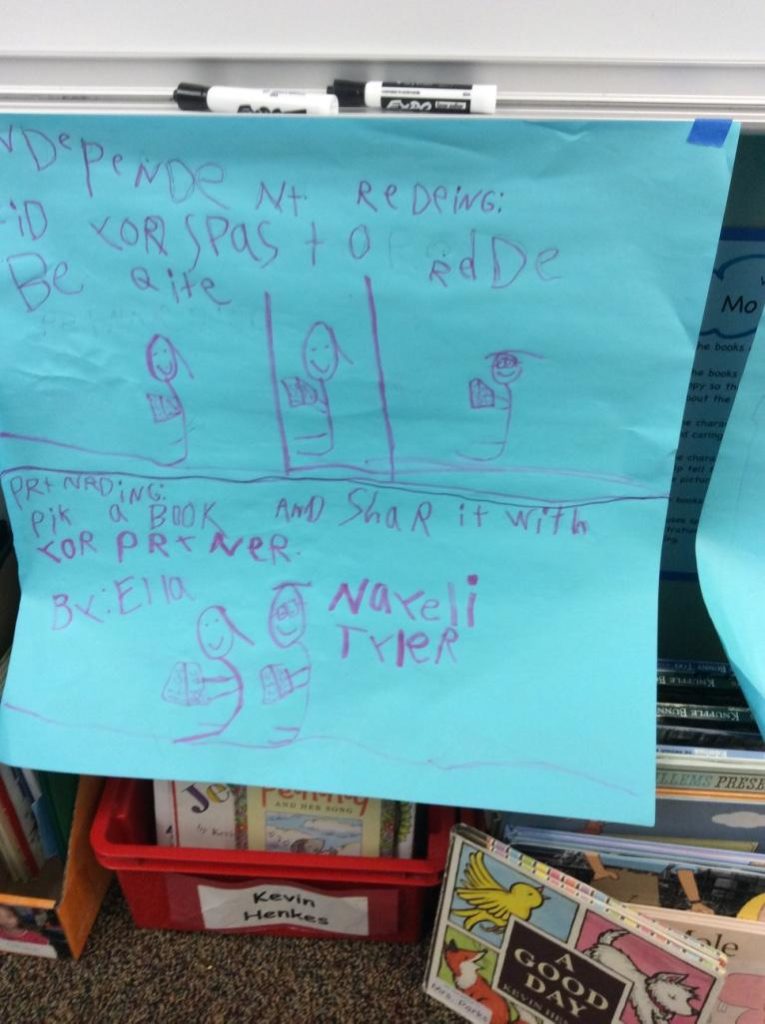 For example, this chart explained what students had learned about independent and partner reading in words and pictures:
Independent Reading:  
Find your space to read.  
Be quiet.
Partner Reading:  
Pick a book and
Share it with your partner.
Students were thoughtful and respectful while studying their peers' work: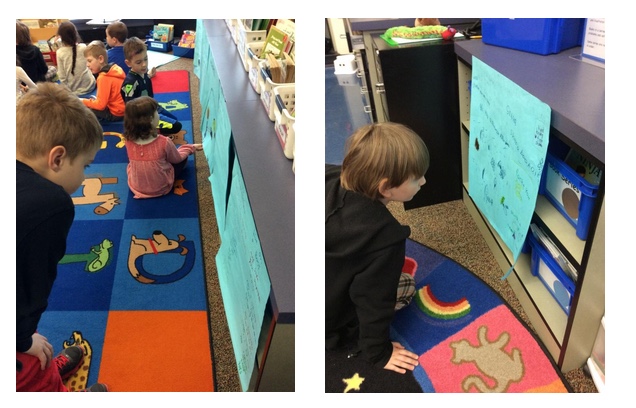 Although this chart isn't specific to reading workshop, I found it sweet to see what this partner team thought was important to remember about our class.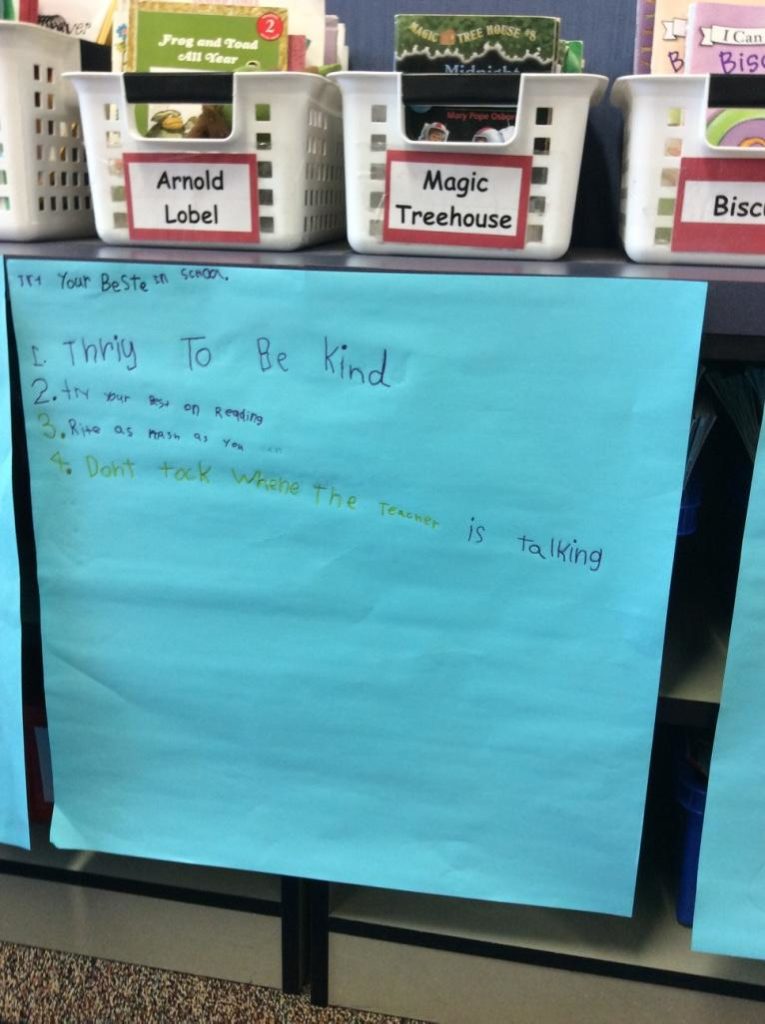 Try your best in school.
Try to be kind.

Try your best on reading.

Write as much as you can.

Don't talk when the teacher is talking.
This lesson was a spur-of-the-moment decision but got the kids engaged, working together, and reviewing our fall lessons.  And the review didn't just involve my students; it let them lead it! We wrapped up the day energized and confident that we were ready to jump back into our workshop routines.
This year as I prepare for break and our return in January, I will definitely revisit this lesson. With a little more thought, planning, and preparation, such as having the materials ready to make the posters and giving students an anchor chart format, I look forward to seeing what my students will come up with to review and to teach each other!