As another set of state test scores reaches our doorway, our grade 3-6 teachers are frustrated at the amount of work they have done with students over the past four years since we moved to the workshop model for reading and writing and the lack of movement in our student growth on state tests.
In our district, we created a large literacy initiative four years ago that included hiring consultants to help us level the playing field for our core curriculum at all of our elementary buildings across the district. We didn't make this change just to change our scores, of course. But we did expect scores to improve naturally as a result of what we have accomplished as a district. We are teaching reading strategies that make sense for all of our students. Our writing units are grade-level specific, and our teachers have had many, many hours of professional development for implementation so that we are finally consistently giving every student across the district the same high-quality instruction. The curriculum is consistent, but teachers have the autonomy to continue to teach with their own flair and style. As one of two literacy coaches who has been part of this initiative from the start, I have seen a big shift in the quality of instruction. During our coaching times together, we have shifted our focus from just learning about the workshop model, to honing our teaching skills to improve student learning in all areas.
Stepping Back to Reflect
I joined in the lament over the scores when we first saw them, but decided to take a step back to think deeply about the reasons why our students aren't demonstrating the growth we have seen. What are we not doing as educators? If students aren't giving us evidence of understanding, it is up to us to change our instruction to make sure they can.
As the months of September and October quickly rolled past in many grade 3-6 rooms, one thing became very clear to me as well as to many of the teachers I work with. The notes students were gathering were superficial, and the conversations they were having around those notes were even more so. Students were definitely turning and talking to their partners, but the quality of the discussions was also on a very superficial level. "I think the main character in the book changed from sad to happy," said partner A. "I agree," said partner B, and they dutifully turned back to the classroom teacher as she continued the discussion for a few minutes, highlighting the same type of discussion she heard from other partnerships, asking students to expand their thinking by citing evidence in the text.
Many of our students were passive learners—giving us just what we asked for, but not more. Our teachers were still working harder than our students. They were doing the thinking and talking, and kids were agreeing. As teachers, we learned that we weren't really listening for quality. We were just glad they were on topic. We thought we could do the pushing when they rejoined us in a whole-group discussion. Years ago, we would have been happy that they turned and talked about the topic we asked them to discuss. Now we knew better. This wasn't effective practice on our part, and we needed to make a change.
Was this possibly one thing that was holding our students back from really showing us what they know? I started to talk about this with every teacher in my coaching cycle. We started to read articles and chapters about accountable talk, thought about our modeling, and watched videos of students having accountable conversations without much teacher input, and we all took a big deep breath. The resources we used included these:
Calkins, Lucy. (2001). The Art of Teaching Reading. Chapter 12: A Curriculum of Talk. pp. 225-246.
Collins, Kathy. (2004). Growing Readers. Chapter 5: Talk Amongst Yourselves. pp. 139-150.
Fisher, Douglas, & Frey, Nancy. (2014). Speaking and Listening in Content Area Learning. The Reading Teacher, 68 (1), 64-69.
Heller-Winokur, Martha, & Uretsky, Marcia. (2008). Fourth Grade Readers. Unit 2: Discussion Skills for Developing Thoughtful Readers. pp. 33-79.
Sibberson, Franki, & Szymusiak, Karen. (2003). Still Learning to Read. Chapter 6: Conversations and Writing to Clarify Thinking. pp. 77-90.
An Inquiry Group of Students Synthesize Their Findings on the Clothing Worn by Pilgrims and Cavaliers (3-5) on Vimeo.
Watch a Small-Group Conversation to See Students Tracing a Theme Across and Within Bud, Not Buddy and Tiger Rising (3-5) on Vimeo.
We began to really look at this during our coaching times together. We listened closely to the students in front of us. We took notes as we listened to student conversations. We thought about the following guiding questions as we listened:
Were partnerships beginning their discussions right away?
Were they able to go back and forth more than one time with on-target topics?
Did students use thinking stems such as "What do you think?" or "Why do you think that?"
Did the conversations seem natural or forced?
Did they seem to really listen to their partner, or were they both just telling what they thought?
The baseline data gathered from our students was compared with the Common Core Speaking and Listening Anchor Standards. We used the information at each grade level as a guide for where to begin. We also noted additional expectations as the grades went up. At times we had to score students all the way back at a kindergarten level because of their inability to continue a conversation through multiple exchanges.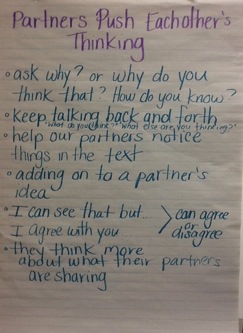 That was our first step. If students were not doing this independently, we modeled what it would look like, sound like, and feel like. We emphasized the importance of eye contact, sitting knee to knee and eye to eye, and of really "listening" when their partner was speaking. We listened for students' ability to continue a conversation and noted phrases they said to keep conversations going. We charted possibilities for them, and discussed why it was important to do this as a reader, as a writer, and simply as a human being. When students were explicitly taught what this looked like and why it was important, the level of discussion began to improve. We have begun to share the checklist with them, and this has helped them see where they can go to increase the level of effective conversations they have with their partners.
We still have a long way to go to get them to converse at a deeper level, but we do think this is a worthy focus for us this year. Our hope is that we will help our students talk out their ideas in a more thoughtful and deep way, which we then hope transfers to being able to write more thoughtful responses in their notebooks. It may also increase the quality of the notes they are taking, so that they come to conversations more prepared with high-quality evidence they gathered for their discussions.