New Members
Welcome and thanks! Your paid subscription allows us to keep Choice Literacy proudly ad-free. We launched in 2006 as a different kind of professional development resource on the web – an extensive multimedia library for teachers, literacy coaches and school leaders that grows week by week. Everything here was created by teachers and for teachers.
Here is how to get the most out of your membership.
The Big Fresh
Be sure to sign up for the Big Fresh, if you haven't already. Our newsletter is where you'll receive updates on the newest content that has been added to the site, delivered to your inbox each week.
Library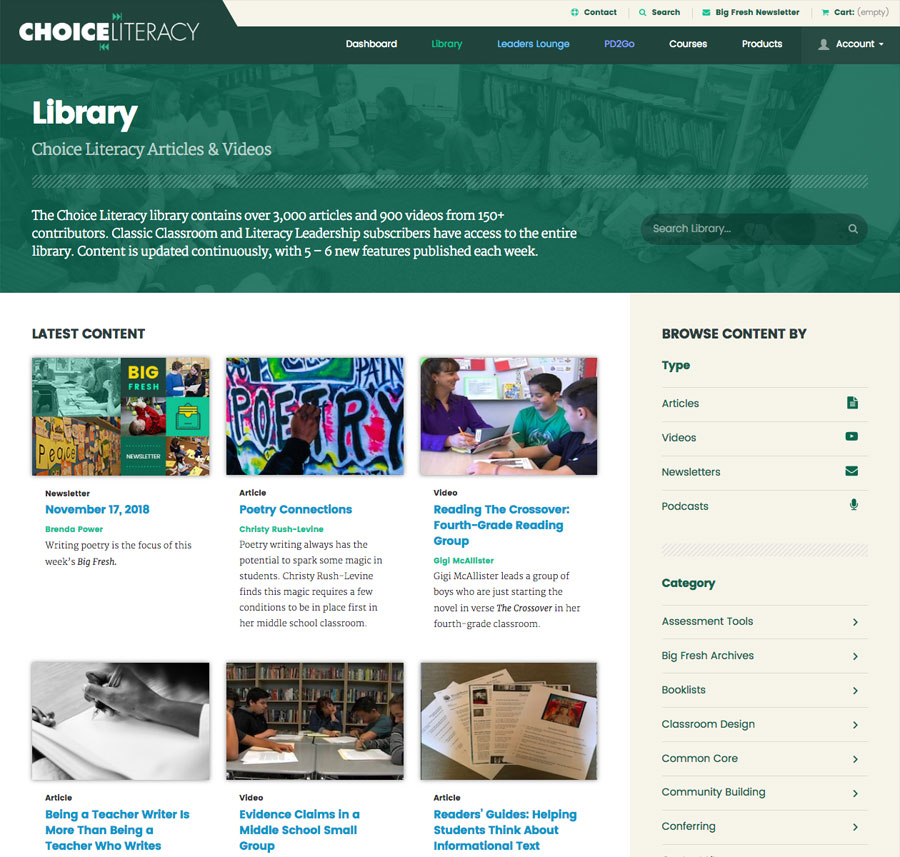 Most of the site content can be found through the Library link. As you explore, when you find an article or video you want to save to read or view later you can save it using in your personal "My Favorites" tool in your account. My Favorites makes it easy for you to sort and group materials to read and view later, or to use in professional development sessions with colleagues.
You can also navigate the Library using the Topic, Grade Level, and Contributor links in the righthand column.
PD2Go
After you've visited the Library, be sure to check out PD2Go. Our PD2Go videos include handy workshop guides and related readings for use in professional development settings. All in easy to download formats, with Common Core Standards listed and discussion prompts provided.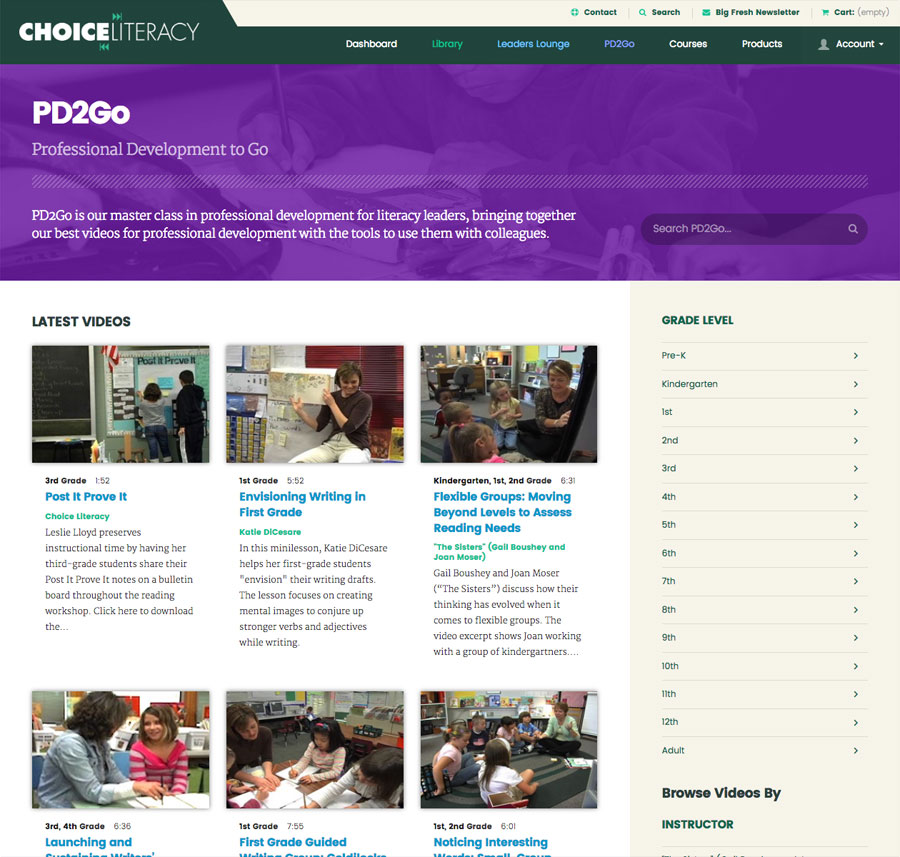 Leaders Lounge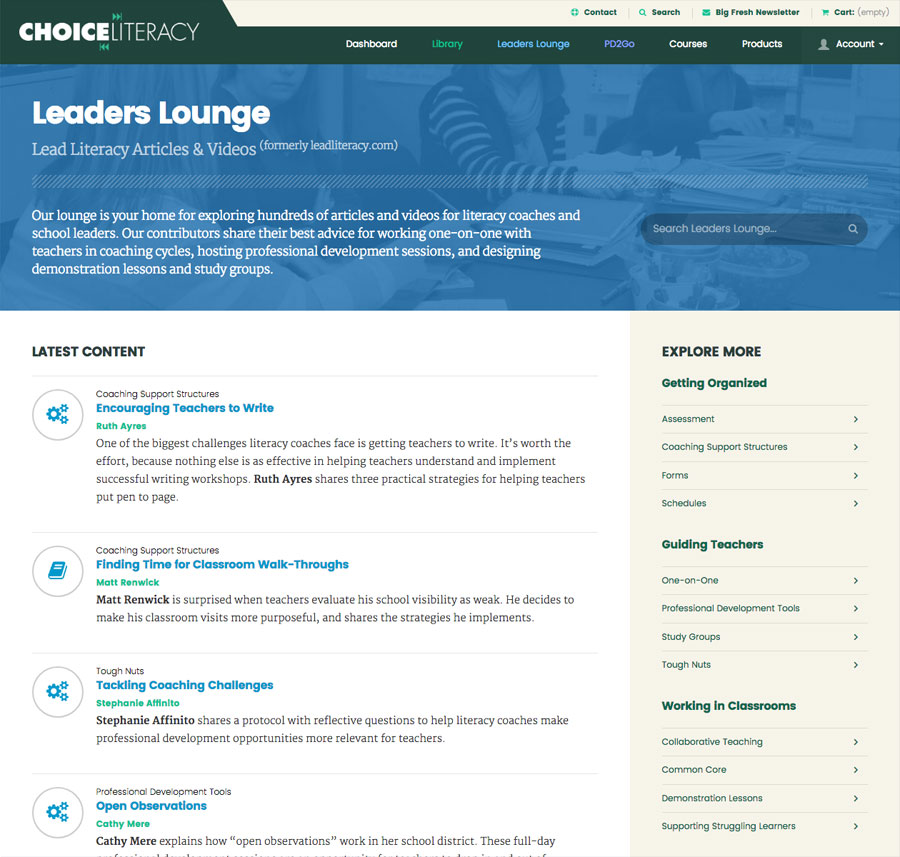 If you have signed up for a Literacy Leadership or Expert Tribe membership, you also have access to the Leaders Lounge.
Our Leaders Lounge is the section of the site developed especially for literacy coaches and school leaders. This is where you'll find tips and tools for leading professional development sessions, tackling whole school and district change initiatives, and coaching teachers in classrooms. With a library of over 700 print features and 200 videos of demonstration lessons and coaching tips, it is a treasure trove of resources for new and experienced literacy leaders.
Products
Your membership includes substantial discounts on our online courses and DVDs (discounts are 20% for Classic Classroom subscribers and 40% for Literacy Leadership subscribers). The discount is applied automatically when you are logged into your membership.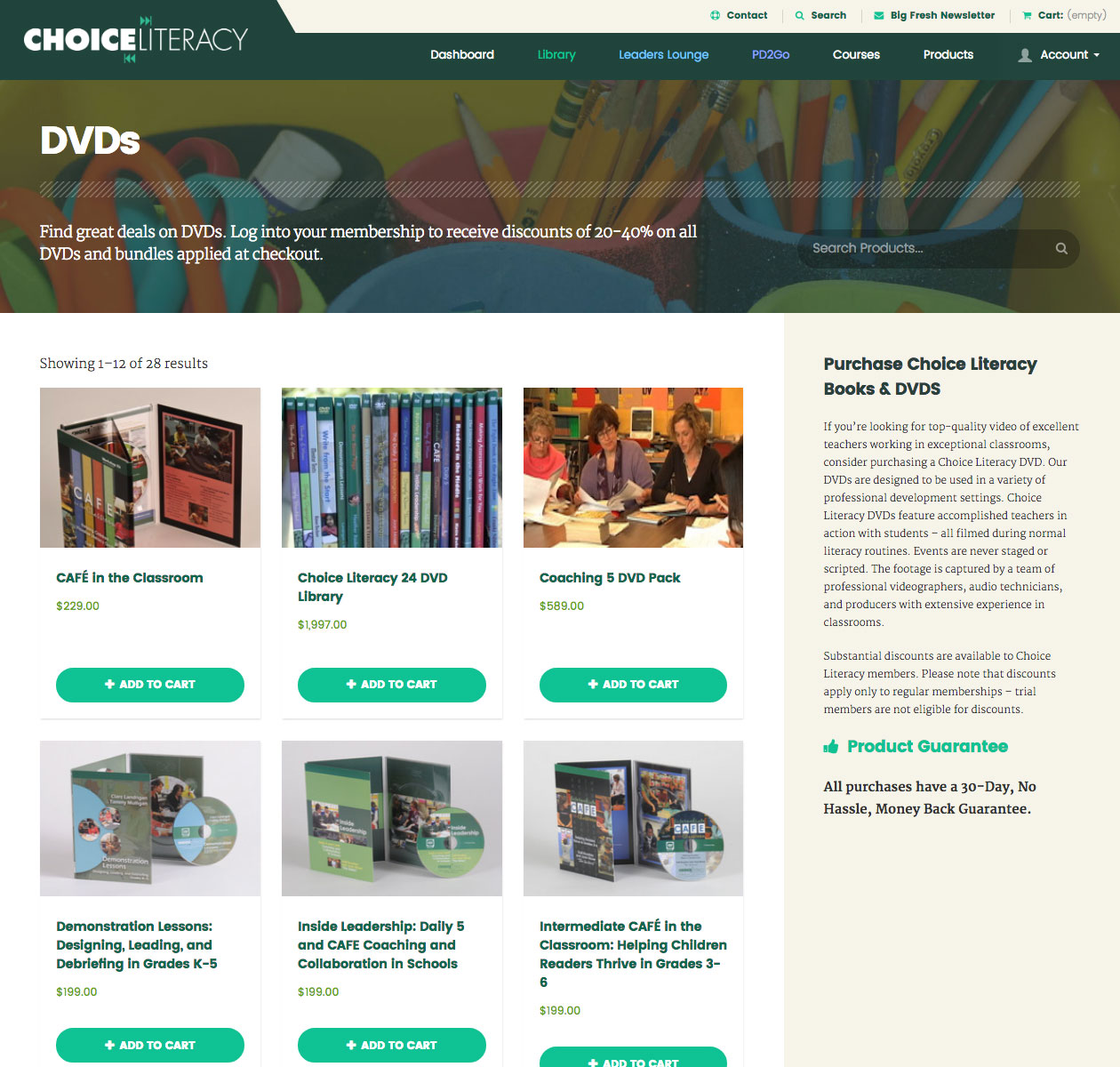 Courses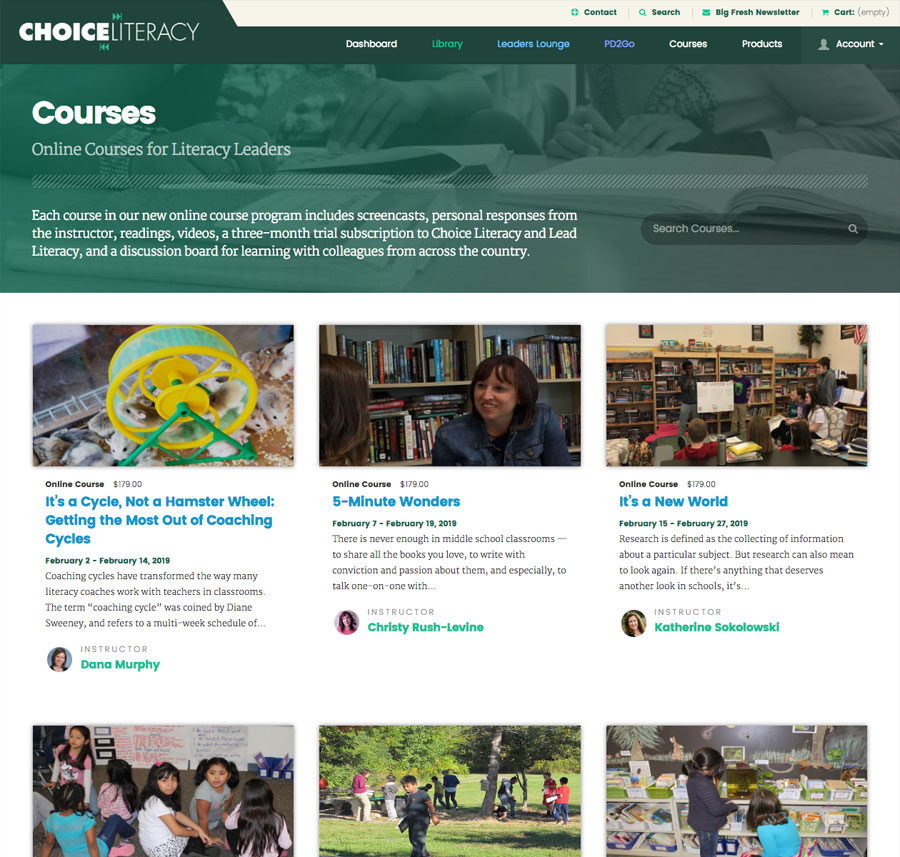 Our self-paced online courses include webcasts, videos, print downloads, and articles, as well as personal responses from our contributors. You can view upcoming courses at the Courses link.
Member Features
There are several areas of the site designed specifically for your membership. Those areas include:
My Courses
This page provides a quick reference to the active courses you've purchased.
My Favorites
This page stores all the content you mark "Add to Favorite" around the site.
Account Settings
This area contains multiple pages to manage your account info which includes your login details, subscription/billing info, and other account related items.
Order History
This page gives you a quick snapshot of your completed orders.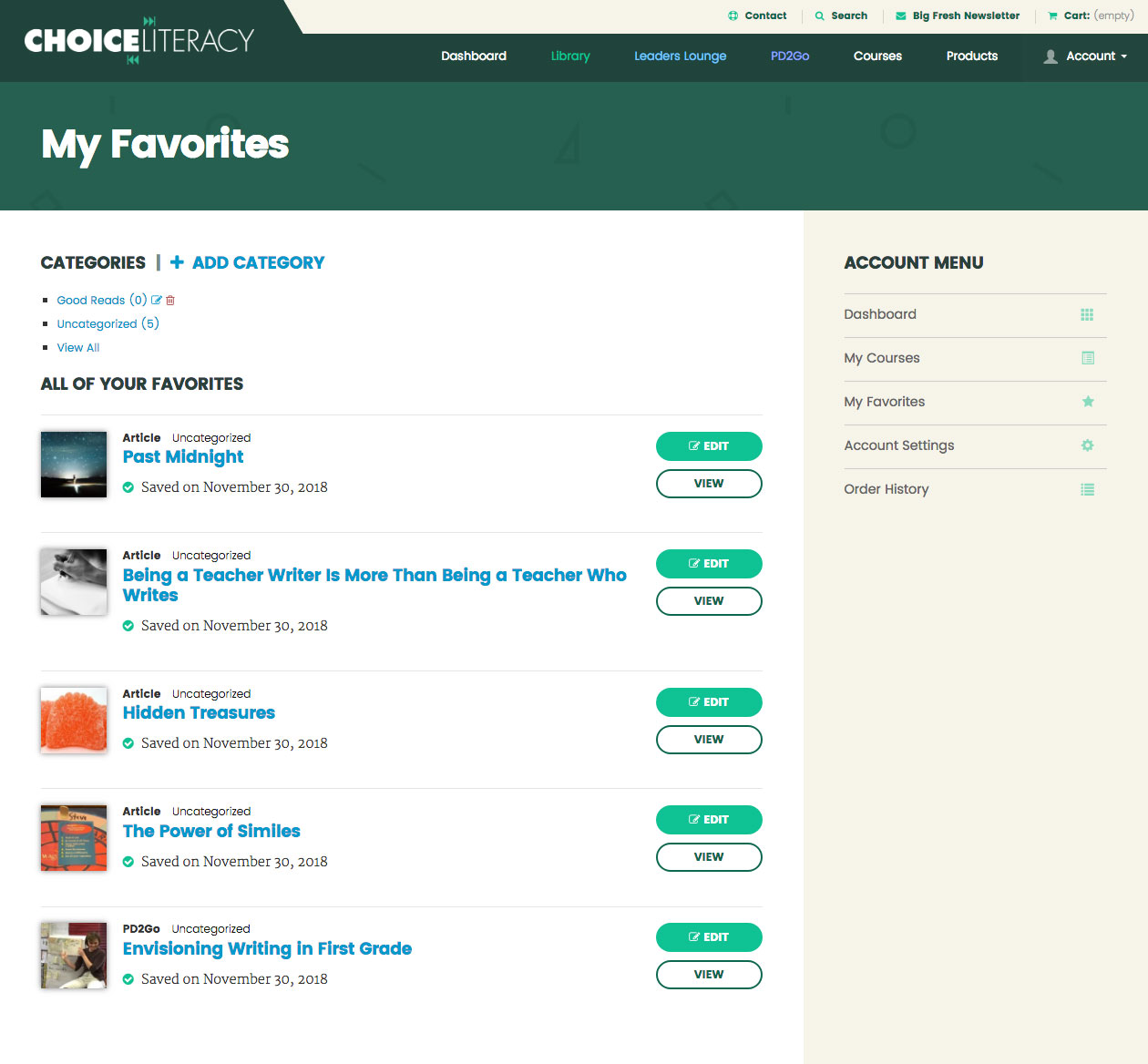 Support
If you have questions, contact us at any time. A real person from our home base in Maine will respond shortly.
Thanks again for supporting one of the largest independent communities of teachers writing about their literacy workshops on the web today. We are so glad you have joined us!