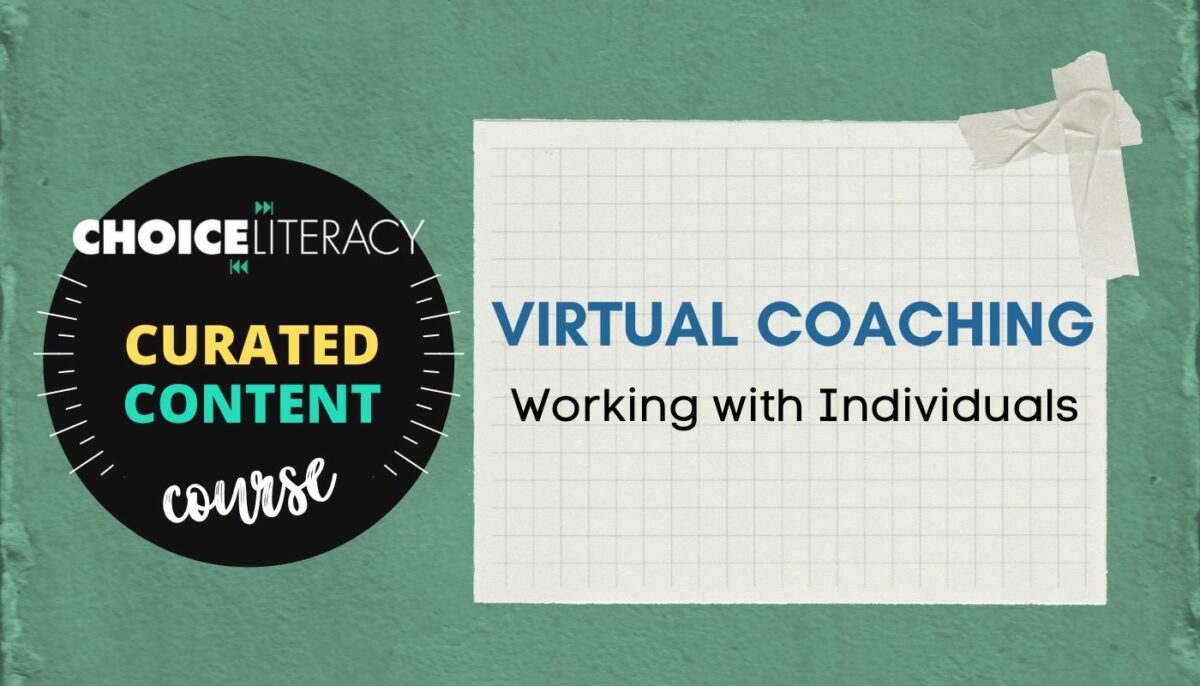 Virtual Coaching: Working with Individuals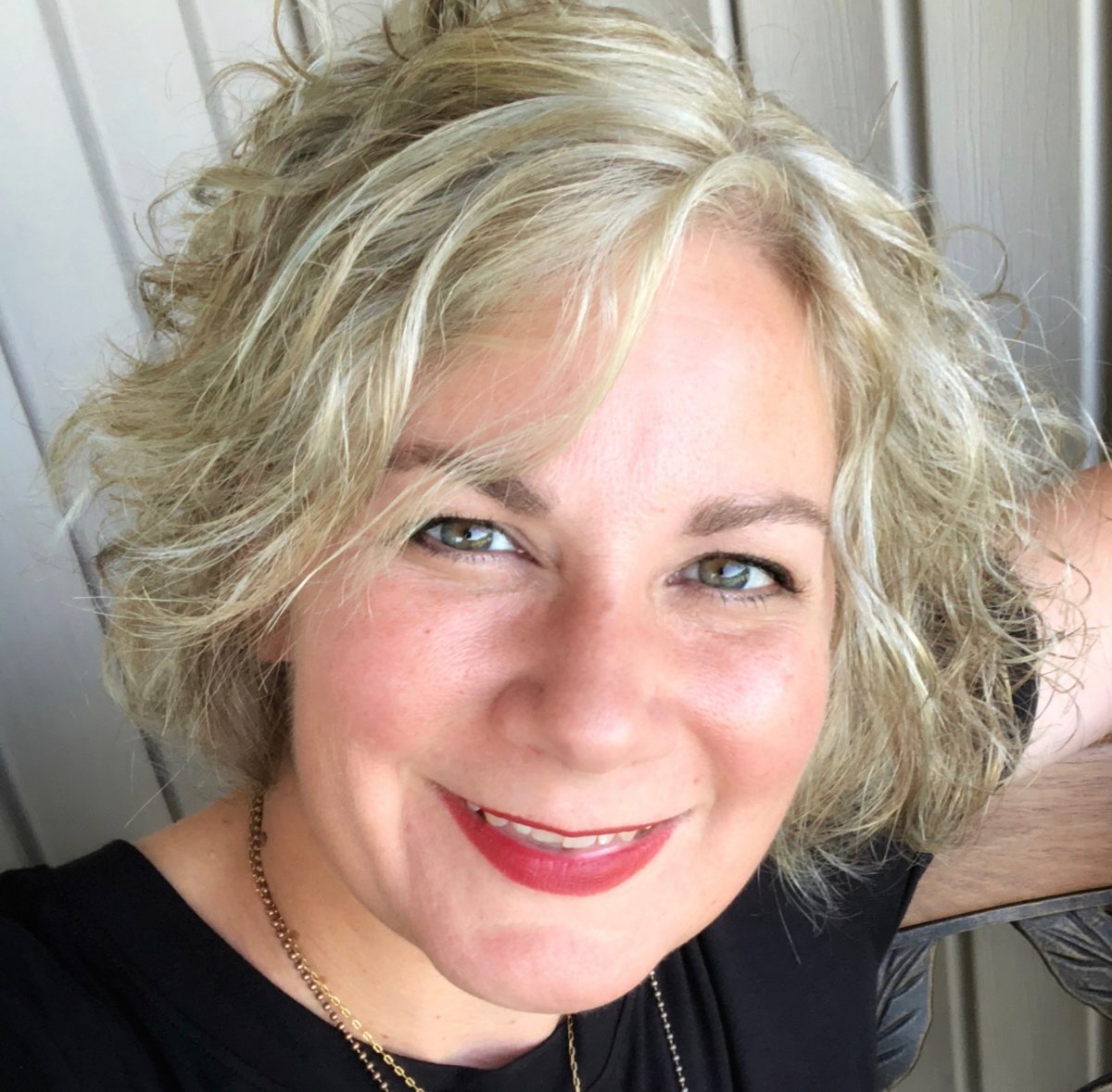 Instructor
Ruth Ayres
Enroll in this Course
Menu
Virtual Coaching: Working with Individuals
Details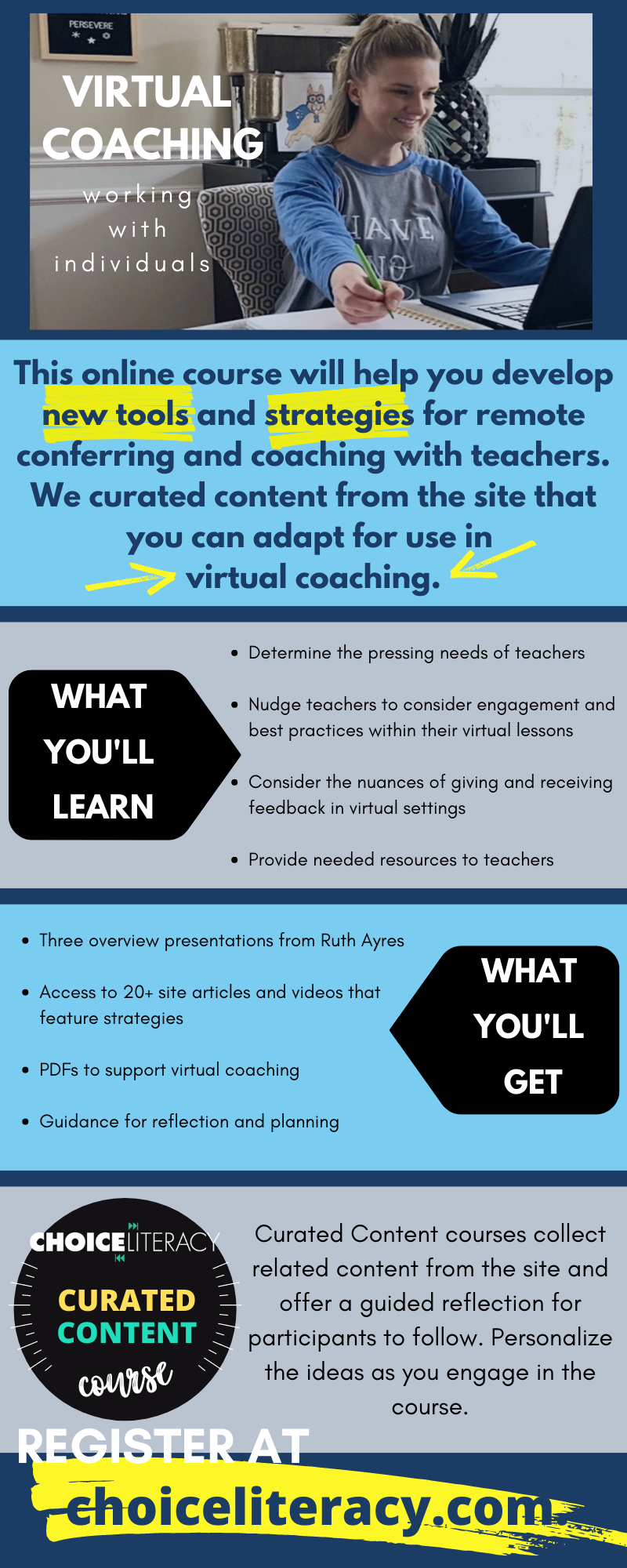 The work of a coach is determining the most pressing need and then filling it. Whether it is making technology work, lifting the level of lesson engagement, or supporting parents as they support learning, a coach is in the unique position of making a difference in the moment with each teacher they guide. As schools turn to remote learning, how can we transfer what we know about instructional coaching to virtual settings?
This online course will help you develop new tools and strategies for remote conferring and coaching with teachers. We curate content from the site that you can adapt for use in virtual coaching.
What You'll Learn
Determine the pressing needs of teachers
Nudge teachers to consider engagement and best practices within their virtual lessons
Consider the nuances of giving and receiving feedback in virtual settings
Provide needed resources to teachers
What You'll Get
Three overview presentations from Ruth Ayres
Access to 20+ site articles and videos that feature strategies
PDFs to support virtual coaching
Guidance for reflection and planning
More Details
Our new coaching mantra is adapt, connect, and thrive. This course will give you insights for how to adapt, a community for new connections, and the materials you need to thrive. So what are you waiting for? We'd love to have you join us. Sign up, grab a notebook, and start exploring today.
Included Contributors
Stephanie Affinito (author of Literacy Coaching)
Jennifer Allen (author of Becoming a Literacy Leader)
Clare Landrigan and Tammy Mulligan (authors of Assessment in Perspective and It's All About the Books)
Melanie Meehan (author of Every Child Can Write)
Cathy Mere (author of More Than Guided Reading)
Dana Murphy (longtime contributor to Two Writing Teachers),
Brenda Power (co-author of The Art of Classroom Inquiry)
Heather Rader (author of Side by Side: Short Takes on Best Practices)
Matt Renwick (author of

Digital Student Portfolios: A Whole School Approach to Connected Learning and Continuous Assessment

)

Jennifer Schwanke (author of You're the Principal! Now What?)
And many others
This course is included with Literacy Leadership and Literacy Team memberships.
Course Curriculum
1
Helping Teachers with Pressing Needs
Focus on determining the most pressing need and then filling it. 
2
Supporting Virtual Lessons
Consider engagement and best practices within virtual lessons.
3
Providing Feedback and Resources
Focus on the nuances of giving feedback in virtual ways, as well as providing timely resources.
Meet Your Instructor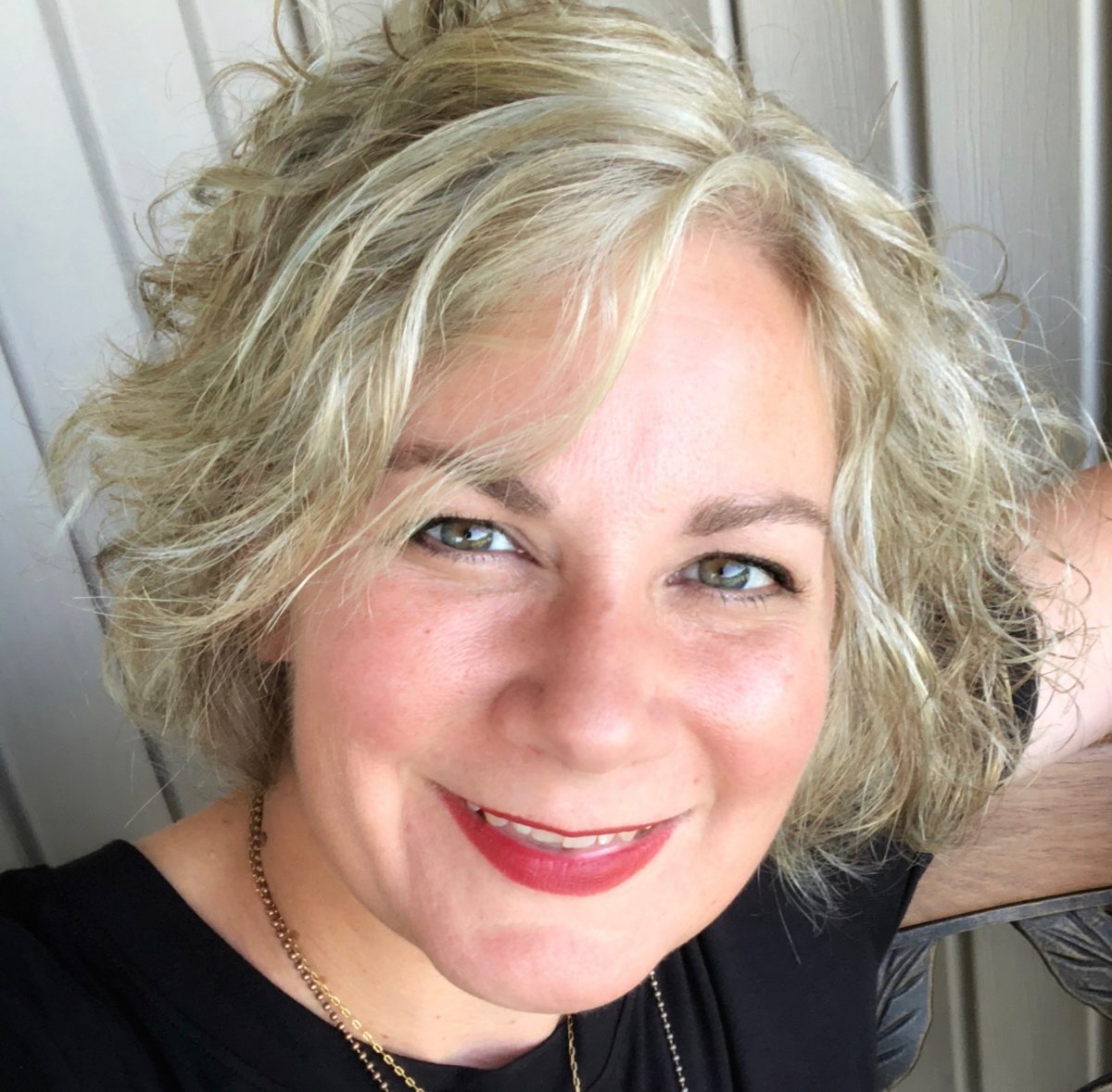 Instructor
Ruth Ayres
Ruth Ayres is the editor of the Choice Literacy site and director of The Lead Learners Consortium in northern Indiana. She spends her days helping students find meaning in their stories and encouraging teachers to reflect on and refine the art of teaching.
Ruth's background includes work as a middle and high school language arts and science teacher, K–12 instructional coaching, and writing books, articles, and lots of blog posts. She has written Enticing Hard-to-Reach Writers (Stenhouse 2017) and many other books.
Ruth and her husband, Andy, have four children. When not writing professionally, Ruth collects stories of adoption, faith, and whimsy. You can follow her at Ruth Ayres Writes or on Twitter.
Enrollment Options