I believe that this corporate machinery of scripted programs, comprehension worksheets, computer-based incentive packages, and test practice curriculum facilitates a solid bottom-line for the companies that sell them, and give schools proof they can point to that they are using every available resource to teach reading, but these efforts are doomed to fail a large number of students because they leave out the most important factor. When you take a forklift and shovel off all the programs, underneath it all is a child reading a book.
                                                               Donalyn Miller
On Tuesday I walked into Kerri Kennedy's fourth-grade classroom. It was the end of the day, with kids eagerly stacking chairs, gathering backpacks, getting last words of advice from Kerri before heading out the door.  Only Evan came right up to me and said shyly but proudly, "All the stuff on this table is mine. I'll show it to you." The round table he led me to near the door was a jumble of rocks, minerals, brochures, and those cheesy varnished crocodile jaws you can buy at any roadside souvenir stand in Florida. Evan picked up a few of the items one by one and explained where they came from, before his bus was called and he bounded out the door.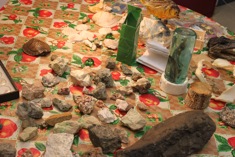 I asked Kerri about the table after everyone had gone, in those quiet moments after the last bus pulled out and just before we headed down to the cafeteria for a staff meeting about the new writing standards in the Common Core. "Oh, the spotlight table — that was something the kids came up with. Evan asked if he could bring in some things from home so we could learn about him. It was so much stuff I decided to dedicate a table to it, and we decided as a class that each week a different student would share what they like in a table display. Sabrina is all set to bring in her stuff next week. I had to give up my conferring table, but it was worth it. I can confer anywhere." The "spotlight" title comes from the small desk lamp Kerri placed in the center of the display.
In the midst of the crazy busyness that is the start of every school year, I loved seeing the spotlight table. Listening to each child and hearing the possibilities for building curriculum from their interests and needs is no small feat when our attention is tugged so many different ways. In the age of the Common Core, we probably need to invest in bigger forklifts to shovel away all the programs, aids, and shiny objects headed our way. Yet underneath it all, there is always a kid who loves animal skulls or ballet or monster trucks — and would like to learn more about them in books. If we want to help students develop the nonfiction reading and writing skills required by the Common Core, what better place to start than a spotlight on what they care about beyond the classroom?
This week we've scoured the web for new resources to support your work with the Common Core. Plus more as always – enjoy!
Brenda Power
Founder, Choice Literacy
Free for All
Amanda Adrian and Heather Rader share some tips for unpacking the Common Core Standards for Using Evidence from Text in this essay from the archives:
http://www.choiceliteracy.com/articles-detail-view.php?id=1170
The Teaching Channel has dozens of free videos of Common Core instruction in action. This free nonprofit site requires a registration, but it is well worth it:
The National PTA has created the Parents' Guide to Student Success based on the Common Core, with individual guides for each grade level to download and share with families:
Christopher Lehman explains how some of the language in the Common Core provides a Grand Opportunity for Grand Misconceptions:
For Members Only
That's all for this week!