Cinderella is proof that a pair of shoes can change your life.
                                                  Author Unknown
We were nearing the end of a day of Choice Literacy workshops in Michigan last summer, with participants crowding around the break table and chatting. One woman was chirping about how much she was enjoying herself. "You know what would make this event perfect next year?" she asked no one particular. "You should set up a display of nice shoes for us to buy during breaks.  New books, smart ideas, and great shoes all at one event — that would be one of the best days of my life."
Everyone around her laughed, and it reminded me of how much whimsy is appreciated. It's why teachers will bop their heads in joy to a silly pop song playing while they stream into the room at the start of a dull day of scoring assessments. It's why people promise to shave their heads or eat a really big bug if a serious bet is won (and then they do). I'm no fan at all of principals kissing pigs in the school auditorium when reading goals are met, yet I understand completely why local reporters come running to document those events. It's all about whimsy — the appearance of being unpredictable and carefree in the midst of difficult work.
Sadly, we have no plans to sell fabulous shoes at our next Choice Literacy workshop. But that comment made me think about how we can raise the bar in delighting participants in unexpected ways through our work. Music, small funny gifts, a food break that surprises — is there room for a little more whimsy in your professional development sessions or work with children?
This week we consider how to infuse more literacy into that old chestnut, show and tell. Plus more as always — enjoy!
Brenda Power
Founder, Choice Literacy
Free for All
Clare Landrigan and Tammy Mulligan share three strategies for A More Literate Show and Tell from the Choice Literacy archives:
http://www.choiceliteracy.com/articles-detail-view.php?id=899
The "seeds and watermelon" metaphor is prevalent in writing workshops for helping students create detailed and specific narratives. The Two Reflective Teachers blog has practical tips to help students fine tune their seed writing:
Leadership from a Dancing Guy is a three-minute video that demonstrates how leadership hinges on the "first follower" — this would be a fun icebreaker for a leadership team meeting:
If you're contemplating a student blogging program, you'll find Pernille Ripp's list of the benefits of student blogging useful:
For Members Only
How do preschool teachers help their young students see themselves as writers? In Writer's Launch, Leslie Woodhouse explains how she works with students early in the year, and provides many samples of starting points for three- and four-year-olds:
http://www.choiceliteracy.com/articles-detail-view.php?id=1394
New PD2Go: Picture Reading in First Grade with Katie DiCesare is a read-aloud with instruction that meets Common Core Standard RL.1.7: Use illustrations and details in a story to describe its characters, setting, or events.
That's all for this week!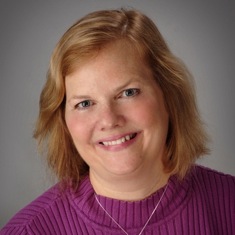 Author
Brenda Power
Brenda Power is the founder of Choice Literacy. She worked for many years as a professor at the University of Maine and an editor at Stenhouse Publishers. Her publications as an author include Living the Questions and The Art of Classroom Inquiry. She has worked as a book editor and video producer for many of the authors featured at this site.
Related Articles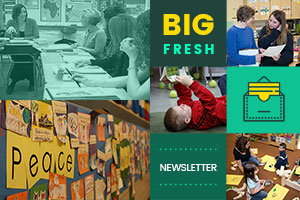 This week's Big Fresh has a wealth of practical suggestions for working with reluctant writers.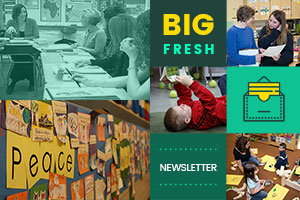 Big lists and minilessons are explored in this week's Big Fresh.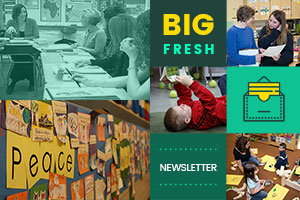 Resources for teaching opinion and argumentative writing are the focus of this week's Big Fresh.