You can fall in love at first sight with a place as with a person.
                                               Alec Waugh
Last month I visited Deb Gaby, an instructional coach in northern Indiana. We met in the "Literacy Room" she'd created for students and teachers. I was charmed by the centerpiece of the room, the "Marketplace," a large wooden structure that looked like a cross between a loft and stalls from a bazaar, all housing dozens of colorfully labeled book baskets.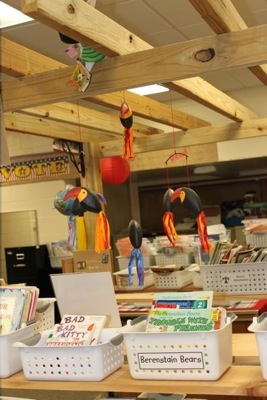 Deb explained, "The room is small, and we really wanted a way to display more books while still giving kids room to roam and explore them. The inspiration was a giant flea market not far from the school, which is very popular with kids and adults on weekends.  I sketched out a design, and my talented husband bought the lumber and constructed it."
Once she explained the inspiration, I looked a little closer and saw more evidence of a festive flea market, including cute hanging windsocks of birds and book-themed knick-knacks integrated with the books. Children not surprisingly love browsing for books in the Marketplace and seeing what's new.
The idea is genius — the structure lifts the eyes and opens the space, and any kid who has ever built a fort or crawled into an attic loves the feeling of entering a play space within a larger space.
As we hurtle towards the end of another school year, libraries and display areas can feel overstuffed and cramped, filled with all the papers, projects, and materials accumulated over a long year of learning. Late spring is a time when many of us get the itch to clean and declutter, with teachers and specialists rethinking their room designs and book displays.
I loved the way Deb started not with generic ideas about libraries, books, and browsing, but with inspiration from the local flea market. It gives students a sense of place, echoing an activity many share with their families that is fun and a treat. She also did the near impossible, finding space when none was left in the cramped room. What is a favorite local hangout that kids and families enjoy in your community? Is there any way to recreate a sense of that place in your book room or classroom library?
This week we're featuring resources to help you think through classroom clean-up this year, as well as inspiration for redesigning your room for the fall. Plus more as always — enjoy!
Brenda Power
Founder, Choice Literacy
Free for All
If you're moving to a different grade level next year, classroom clean-up and design present special challenges. In Redesigning a Classroom: Putting Students First and Technology in Its Place, Mandy Robek explains her classroom design process when moving from third grade to kindergarten. This photo essay is from the Choice Literacy archives:
http://www.choiceliteracy.com/articles-detail-view.php?id=807
We've added some new photos and suggestions from our spring travels to the Choice Literacy Pinterest board Take a Seat:
http://pinterest.com/choiceliteracy/take-a-seat/ 
We've also updated the Pinterest board on Classroom Storage Ideas:
http://pinterest.com/choiceliteracy/classroom-storage-ideas/
Scholastic has some terrific suggestions from teachers for simplifying classroom clean-up at the end of the year:
For Members Only
There may be a group of students somewhere less eager to learn than a class of high school seniors during the last weeks of school, but that group would be as tough to locate as Bigfoot or the Loch Ness monster. Gretchen Schroeder discovers a surprising cure for senioritis — modern poetry:
http://www.choiceliteracy.com/articles-detail-view.php?id=1623
That's all for this week!