The paradox of life lies exactly in this: its resources are finite, but it itself is endless. Such a contradictory state of affairs is feasible only because the resources accessible to life can be used over and over again.
                                                                                I.I. Gitelson
I am fascinated by the ways teachers repurpose items to solve problems of space and light in classrooms. I saw a perfect example of this during a recent visit to classrooms in Oregon. The beauty of Katrina Edwards' first-grade classroom also posed a dilemma. An entire wall was filled with seven-foot-high windows, looking out on a lovely forest and lawn. This is where Katrina put her meeting area and classroom library, so students could work together and listen to minilessons in the sun-dappled space.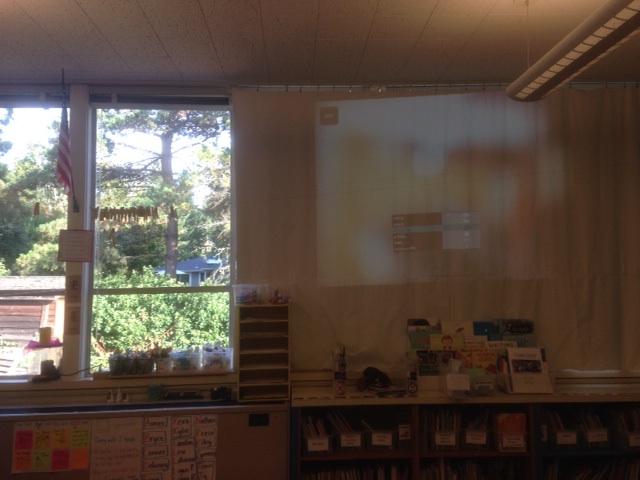 But many of those minilessons also included instruction with video examples of children at work. "I knew I needed a screen in that space, but I didn't want to have a white wall dedicated to occasional instruction." Her solution? Katrina bought curtain backing, which has an off-white matte finish. She hooked the backing on the rod over the windows. When she needs a screen, she pulls it over the window and voila! Katrina can project anything she wants with an LCD. As soon as she is finished, she pulls it out of the way, and students are treated again to the lovely view of the woods and sunshine. Total cost? About $10. I can imagine some school supply company putting this out as a product and charging hundreds of dollars for the same item.

During the same visit, I also noticed four exercise balance discs sitting on a bench. These are used by trainers in gyms everywhere to torture their clients. I asked Katrina how she used them. "Kids love to sit on them! They are a great way for children who are squirmy to get their wiggles out in a contained space during a small group or minilesson." The discs are also inexpensive — you can often find them on sale for $12.
I am amazed by the ways teachers are able to take items from one context and find new uses for them in the classroom. It happens because they are always carrying the needs of students in their mind, and they are pretty ingenious at imagining creative solutions to almost any problem.
This week we look at the creative ways teachers repurpose household or obsolete items for use in classrooms. Plus more as always — enjoy!
Brenda Power
Founder, Choice Literacy
Free for All