Ritual affirms the common patterns, the values, the shared joys, risks, sorrows, and changes that bind a community together. Ritual links together our ancestors and descendants, those who went before with those will come after us.
Last week Heather, Shelly and I visited many schools in Ohio, capturing video, photos, and audio from over a dozen Choice Literacy contributors. It was an inspiring week, rich in small moments that reminded us why we love our work.
When we signed in at the Sells Middle School office in Dublin, Ohio and collected visitor passes, we noticed a misshaped yellow ball on the counter. We looked closely and discovered it was a collection of discarded visitor passes, probably numbering in the thousands.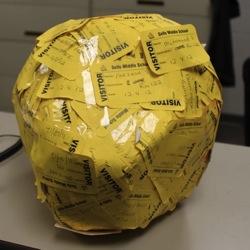 "We're in the fourth year of collecting the nametags," the receptionist explained. "It started out as a small ball, then grew and changed till it looked almost like a square. Now we just call it art!"
I was charmed by this odd object, and the image of visitors adding their tags when leaving each day. What a wonderful ritual, with every person who was a part of the community however briefly represented.  It shows in an instant how much any school is a hub for their community, and how many people take what they see and hear in schools out into the world.
It's the season of rituals and traditions in and out of schools. This week we focus on some literacy rituals, plus more as always. We're off next week for our annual tradition of a holiday break, then back again just before the new year. Happy Holidays!
Brenda Power
Founder, Choice Literacy
Free for All
We love the tradition of many of our favorite websites and magazines publishing their "best of" booklists at the end of the year. But who has time to read them in December? Thankfully there is Chicken Spaghetti's Best of 2012 Children's Literature post, which compiles all the "best of" lists from blogs in the Kidlitosphere and other websites. This is a great link to bookmark and return to when your life is less hectic:
If you're trying to integrate more nonfiction reading into your classroom, you'll enjoy the Nonfiction Monday tradition on many children's literature blogs. The Booktalking blog has information on how it works, and you can scroll down the page for links to all the Nonfiction Monday posts from the past few months:
http://asuen.com/blog/?page_id=27
The Choice Literacy Great Nonfiction for Kids Pinterest board has dozens of nonfiction titles with suggestions of how to use the books in classrooms:
http://pinterest.com/choiceliteracy/great-nonfiction-for-kids
For Members Only
We've posted the third video in our series from Sean Moore's second-grade classroom on adding details and descriptive language to writing:
http://www.choiceliteracy.com/articles-detail-view.php?id=1439
Finally, we join Pete the Cat
and Katie DiCesare's first graders in wishing you a totally groovy holiday season:
That's all for this week. We're off next week, and back on December 29.  Have a joyful break!